Student pays it forward with holiday cards for homeless
Senior media studies and production major Alison Boettlin launched a program to collect cards for people who are homeless this holiday season. She's received hundreds more cards than she expected.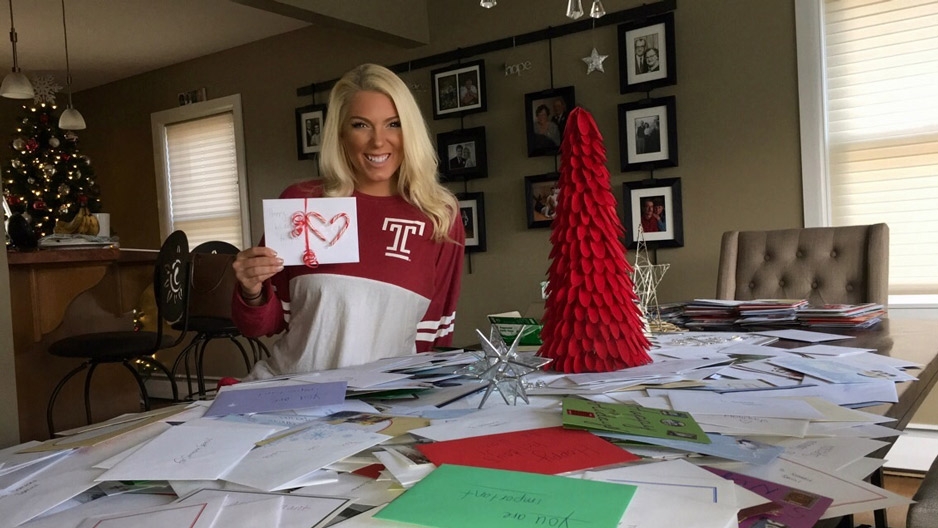 Alison Boettlin grew up helping people who are homeless in her hometown of Reading, Pennsylvania.
So when she came to Temple University, it was only natural that Boettlin, a senior media studies and production major with a minor in public relations, brought that same spirit of giving with her.
"At school in Philadelphia, I wanted to continue to do that and find a way to give back," Boettlin said. "My mom always sends me mail at school, and I get so ridiculously excited every time I get mail. I was thinking one day, wow, that's really something we take for granted. Opening the mailbox and having something there is really a luxury. So I thought for people who don't have a mailbox, why not bring the mail to them?"
Boettlin took to Facebook to drum up support for her cause—and in about a month, she far exceeded her goal of collecting 500 cards. Holiday greetings are still pouring into her house near Main Campus daily from places as far as Arizona, Florida and London, some stuffed with gift cards.
I thought for people who don't have a mailbox, why not bring the mail to them?
-- Alison Boettlin, senior
Boettlin said she's now up to 1,400 cards and counting. She plans to collect them until Dec. 17, when she and her roommates will head to Center City with the cards to hand them out to people experiencing homelessness.
Any cards they don't distribute, Boettlin said, will go to a local shelter.
Boettlin said her stepfather works at the Hope Rescue Mission, a shelter in Reading, where she loves to lend a hand. For her, giving back is a way of life, but she said the support she's received for her card drive has far exceeded her expectations.
"It's absolutely overwhelming. I never thought that it would reach this capacity, and I think that's really great," Boettlin said. "From Facebook, I knew people would be very supportive about it, I just was never expecting this many people to get involved, which I think is the coolest thing."
Read more about Boettlin's story—and how you can get involved—here.