Win or lose, his cherry and white pride shines
Despite a loss, the Owls' appearance in the Military Bowl marked a momentous occasion for Temple fans—especially the most loyal, like alumnus Bill DeSio.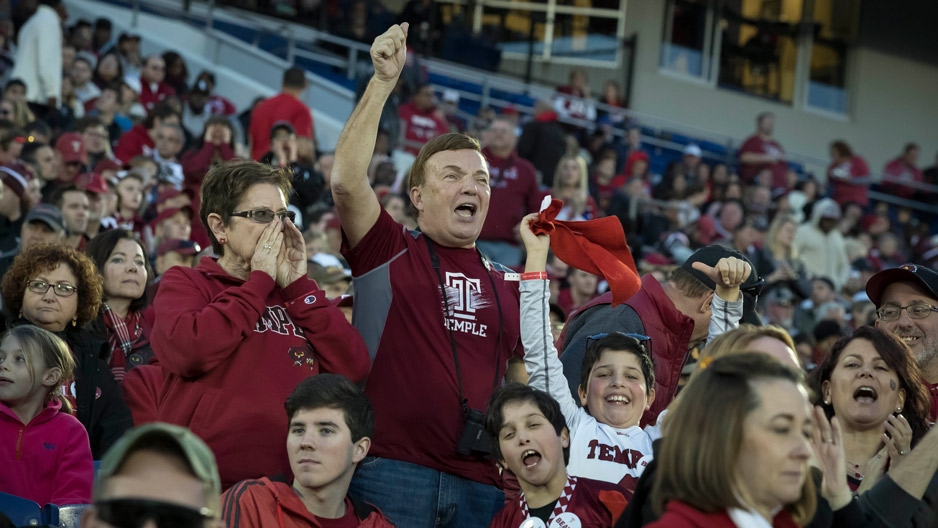 On Tuesday afternoon, Bill DeSio was exactly where he said he'd be: In Annapolis, Maryland, arms waving in a familiar sequence, voice shouting and pride beaming as he stood across from Temple's Diamond Marching Band, proving once again that he never does miss a Temple beat.
"T for Temple U, U-ni-versity," DeSio, 69, cheered from an overwhelming sea of cherry and white, sporting his own cherry-colored sneakers, a Temple T-shirt and Temple hat decorated with two large Temple-themed pins.
Less than two hours earlier, he had arrived, carrying a clear tote bag filled with binoculars and Temple swag, including a pom-pom and towel, for the start of Temple's largest-ever alumni tailgate to kick off the Military Bowl. Within minutes, he had the Temple "T" airbrushed on the side of his face and claimed his complimentary keychain.
"I'm a fanatic about these things," the 1973 graduate of the Fox School of Business admitted.
No one would think otherwise. If DeSio's Temple license plate and Stella iPhone background don't give it away, his home basement in Springfield, Delaware County, might: The room serves as a sort of showroom for his collection of Owl paraphernalia and photos with notable university figures. ("We'd like to downsize," his wife, Kay, 69, said. "But I'm not sure that will be able to be downsized.")
Temple's fans, like its students, are a diverse bunch, representing a wide spectrum of backgrounds and showing their love for the university in a range of ways. But there's no denying that there's a special breed of fans—superfans, if you will—who are so unrelenting in their passion that they never seem to miss a game. DeSio falls into that camp.

Born and raised in Chester, Pennsylvania, DeSio graduated from Chester High School and went on to serve in the Air Force during the Vietnam War, stationing in California, Hawaii and Alaska. He then started college at the Community College of Philadelphia before transferring to Temple to study insurance.
"When I first started, there were seven people in most of my classes," he said. He lived in Ridley Park at the time, commuting to Temple to study while also working.
After his graduation in 1973, DeSio accepted a job with the former Wausau Insurance Company in Wisconsin, kicking off a successful 40-year career in the industry. He retired in 2014 as a national underwriter for Travelers Insurance.
Through it all, he kept Temple with him, and his affinity for the university's teams only continued to blossom. It was a way to stay connected to his alma mater, he figured.
"Everywhere I worked, everyone knew I was a huge Temple fan," DeSio said, recalling that among his retirement gifts was a portrait of famed men's basketball coach John Chaney.
Kay DeSio chalks up her husband's love for the Owls to gratitude.
"He's very proud of the education he got there," she said, adding that Temple has in some ways become his hobby. He's eager to rattle off news about the school, whether that's the latest athletic or academic achievement, to whatever open ear presents itself.
"It's been very good for him," said Kay DeSio, a University of Nebraska alumna who considers herself a Temple fan, too. "When you're retired, you need something to be passionate about."
Bill DeSio has spent the past several years volunteering with Temple's Owl Club. He brings his therapy dog, an 11-year-old boxer named Bianca, to Paley Library to help students relax during finals. He's hosted international students. And he's been a season ticket holder for men's basketball and football games for 30 years.
Even during the football program's struggles, he maintained his loyalty. "I always went, always had hope something would happen," DeSio said. "It's a good thing I kept that hope."
A good thing, he figures, because it all led to moments like this season, the first in which the Owls appeared in back-to-back conference championship games and bowl games. He also notes that it was the first time Temple ranked among the top 25 schools for student-athlete graduation success.
In early December, DeSio traveled to Navy-Marine Corps Memorial Stadium in Annapolis to witness the Owls win the American Athletic Conference Championship with a 34-10 victory over Navy, marking the first conference title for the team since 1967.
On Tuesday, he was back for the bowl game with a group of nearly 20 other Temple supporters he regularly sits with—a camaraderie born at games over mutual adoration for the school. Among the group was Hal Goldberg, a former Owl and father of a Temple alumnus, who met DeSio through tailgating.
"Bill's like a little kid in a candy store with Temple," Goldberg, of Drexel Hill, laughed. "He's one of the biggest fans you'll ever find."
I'm a diehard. I decided a long time ago, whether they win or lose, I support them."
-- Bill DeSio, Temple alumnus
That was evident throughout the bowl game against Wake Forest as DeSio's disappointment at the score was quickly followed by continued optimism as he watched from his seat in Section 29, five rows from the field. He drummed his hands against the seat in front of him and commanded the fans in his section to rise through the fourth quarter.
"There's still hope," he told a passerby, whom he said he once met on a flight to see the Owls play in the Gildan New Mexico Bowl in 2011.
In the end, the game didn't conclude as DeSio or the scores of Temple fans around him had hoped. But that's OK, he said with a recovering voice the day after the game.
"I'm a diehard," he said. "I decided a long time ago, whether they win or lose, I support them."
And being a diehard means DeSio will be back in the stands next season to cheer on the Owls—there's no doubt.
Video Production:
Gina Benigno and Louis Peluyera