What a bowl game means for Temple
Temple football soared to new heights this season—and the team's success hasn't been contained to the field.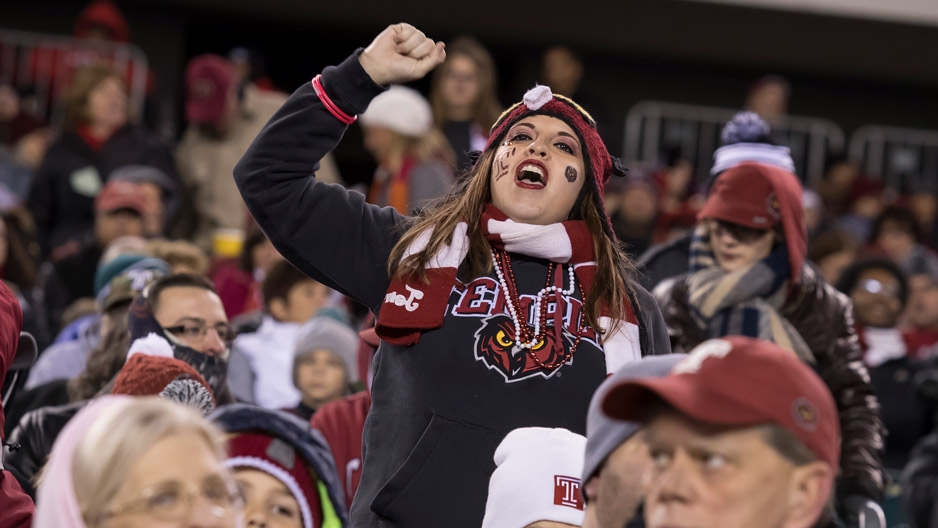 Temple football soared to new heights this season, reaching back-to-back championship games and bowls for the first time in school history.
The Owls also rank in the Top 25, entering the Associated Press Poll at No. 23. and the College Football Playoff rankings at No. 24 after a dominating win against No.19 Navy in the American Athletic Conference Championship. With an 11th win on the line in the Military Bowl against Wake Forest, the Owls will look to break a season record in Annapolis, Maryland.
"I think there's tremendous motivation and carrying the momentum is important for us on getting that 11th win," said interim Head Coach Ed Foley, who will lead the team through the bowl before Geoff Collins takes the reins. "It would mean a lot for our kids to call themselves the best Temple football team ever."
Temple isn't only seeing impacts on the field. The university received record-breaking admission applications for its incoming freshman class in 2016, a 15 percent spike in applicants.
Temple's student-athletes are also graduating at a higher rate than ever before.
Data released by the NCAA earlier this year revealed that Temple ranks for the first time among the top 25 institutions as measured by graduation success rate for student-athletes. Owls posted an 88 percent graduation success rate—a school record for the seventh consecutive year, with a three percentage point gain over the previous year's record.
It would mean a lot for our kids to call themselves the best Temple football team ever.
-- Ed Foley, interim head coach
Since winning the American Athletic Conference Championship, the football players had some fun with their new hardware before hitting the gridiron to prep for the Military Bowl.
After their win against Navy, players took a "Trophy Tour," making stops on ESPN's SportsCenter, Fox 29 Sports Sunday and numerous local television programs with the 2016 American Athletic Conference Championship prize. During the tour, they surprised Temple alumnus Kevin Negandhi, SMC '98, HON '15, on SportsCenter.
"We made history, it's a good feeling," defensive lineman Haason Reddick told Negandhi. "We feel blessed and thankful we went out there and got the win."
Win or lose, the Owls' appearance in the Military Bowl—broadcast live on ESPN from Navy-Marine Corps Memorial Stadium at the United States Naval Academy—will leave its mark on the university.
"Having the 'brand' presented on a national television stage helps efforts to grow Temple awareness and shape perceptions of the university, which can help with recruiting students, faculty and staff, while building relationships with alumni and supporters," said Aubrey Kent, associate dean for the School of Sport, Tourism and Hospitality Management.
The Owls kick off against the Demon Deacons at 3:30 p.m. on Tuesday, Dec. 27.