Geoff Collins opens up about Temple's momentum and his move
In a one-on-one interview with Temple Athletics, Geoff Collins talks about his move to Philadelphia and his plans as the football team's new head coach.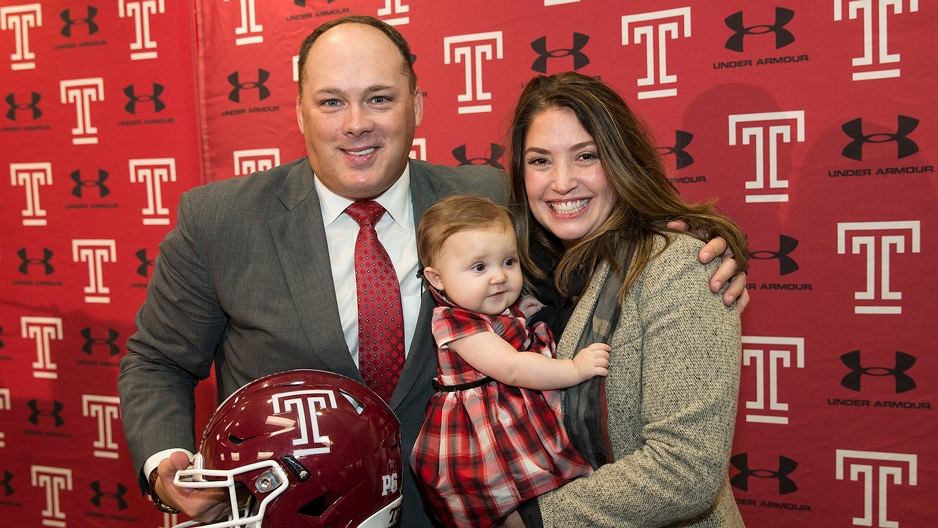 Geoff Collins knew what he was taking on when he came to Temple as the new head football coach. He'd already been keeping an eye on the team for years.
"Ever since Matt [Rhule] was the head coach—he and I are close friends—I followed this program with a passion," Collins told Temple Athletics' Morgyn Seigfried in a one-on-one interview. "[I] love the way these kids play, love the way they handle their business. Then I get on campus, and I meet these phenomenal people who just love this place so much, and they just reeled me in ... it's just an honor."
Collins, last a defensive coordinator at the University of Florida, said the quick move to Philadelphia was a bit of a whirlwind for his family. He and his wife, Jennifer, have a 7-month-old daughter, Astrid, who made a few cameos on Collins' arm in this behind-the-scenes look at the new coach's first day at Temple.
[I] love the way these kids play, love the way they handle their business.
-- Geoff Collins, head football coach
"It was like moving an army," Collins joked, adding that Temple's support in his transition has been "phenomenal" and that everyone involved has been a step ahead in every move.
"It's just great to be a part of," he said.
In his first meeting with the players, who are currently preparing to head to Annapolis, Maryland for the Dec. 27 Military Bowl, Collins said he told them some changes will come under his leadership, but they can expect his full support.
"There's going to be new direction, a new person in that head coach's chair, but there is going to be somebody in that position that cares about them, that loves them, that will do everything he can to support and provide and help them be better players, better students, better men," he said. "I'm committed to that."
He's also committed to continuing the momentum the team built over the last two years, winning 10 games in back-to-back seasons for the first time in program history, including this year's win over Navy in the American Athletic Conference championship.
"I'm just excited to be a part of it. I'm glad to be a part of the Owl family, the Owl nation," Collins said. "Let's keep this thing going."