Securing more than victories
Temple police officer James Jones protects and mentors the football team.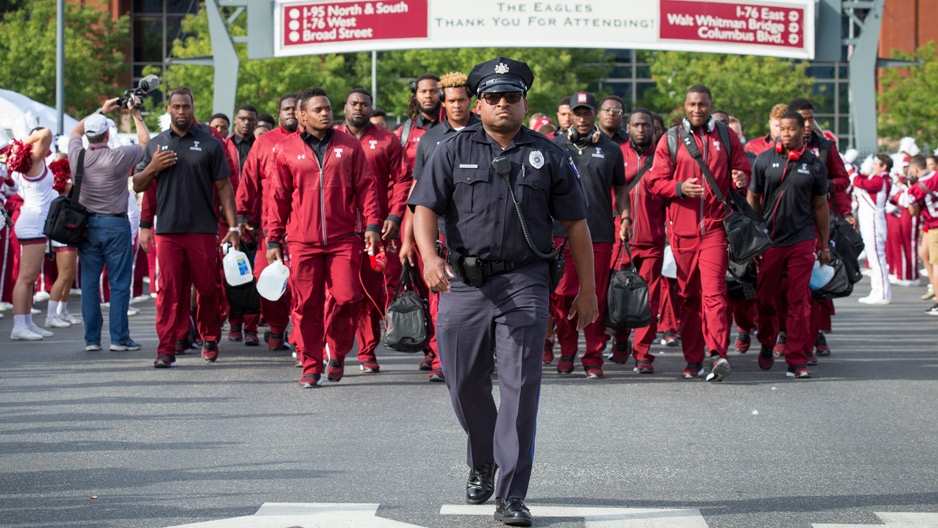 James Jones grew up playing street football and has a natural love for the game. Thanks to regular weight training, he carries the kind of muscle that would leave a mark.

Suited up and standing on the sidelines for every Temple football game, he watches with laser focus, ready to act at a moment's notice. But his uniform isn't cherry and white.

It's police blue.

"I always joke about me getting in and playing if we're up by 30," he said recently with his trademark laugh.

Jones is the Department of Campus Safety Services' liaison to the football team, a role he's maintained since 2011. In a position common to major collegiate football programs, Jones escorts the team; provides security to players, coaches and staff, including during games; and mentors the 100 student-athletes on the roster at any time, day or night.

"Officer Jones is an indispensable member of our program," said Scott Wallace, director of football operations. "He of course protects us and helps us travel safely, but just as important are the relationships he develops with our players and the good nature he brings to everyone he meets. He is one of the most spirited people I've ever been around."

Jones also leads the team into Lincoln Financial Field during the player fly-in and accompanies the head coach for the postgame handshake. As such, he's a recognizable figure for fans. He's also known to show a little emotion on the sideline, flashing a grin after a big win or giving a slap on the shoulder pads for a job well done.
I want to build a bond, a friendship, so that the players can feel comfortable coming to me.
-- Officer James Jones
"I want to build a bond, a friendship, so that the players can feel comfortable coming to me," he said. "During the course of that, we grow close. So of course I'm happy for their success, and they understand I'm with them."
Jones is approaching nine years with Temple's police force, having joined the department after serving as a correctional officer and then as a Philadelphia police officer in West Philadelphia's 16th District.
"He has an uncanny ability to get along with people from all walks of life," said Temple police Capt. Jeffrey Chapman, who previously served as the football team's liaison. "He's a people person, and he can reach and relate to players where they feel comfortable coming to him. We just saw it as a perfect fit."
Being so close to the team, Jones sees firsthand how much dedication the players have to their sport. Practices, classes, homework, team meetings, weightlifting, watching game film. Finding time to sleep and eat, and then starting again the next day.
He's also had a unique vantage point for a historic program turnaround, from 2-10 to 6-6 to consecutive 10-win seasons. Now, after winning the American Athletic Conference Championship, the upcoming Military Bowl presents the opportunity to win 11 games for the first time in program history.
"When you're in college, this is a pivotal time because this is when you find out who and what you are, when you get an idea of the direction you may be headed in life," Jones said. "They're winners. As long as they carry that attitude forward, they'll be fine."