Cross-cultural connections
Meet Natalia Deng and Vinit Shah, two international students who had the chance to reconnect with the alumna who hosted them for their first Thanksgiving dinner last year.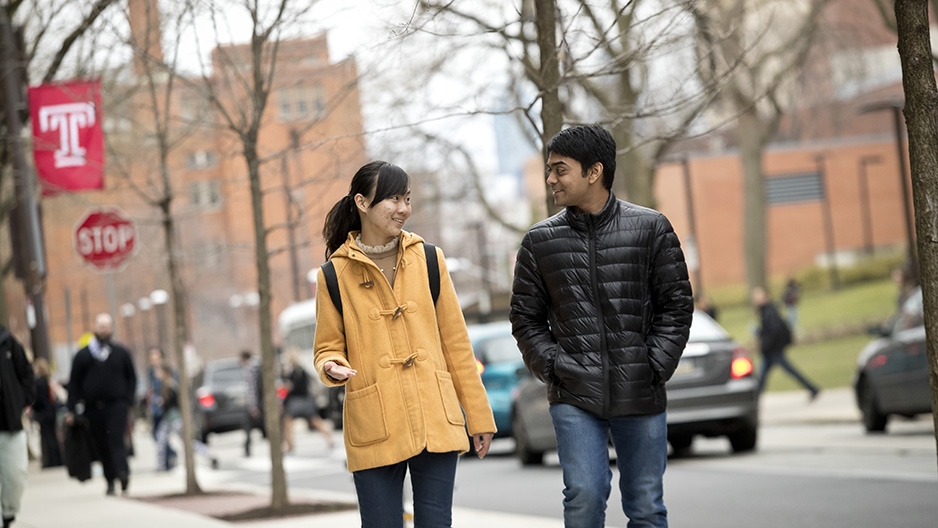 On an unseasonably warm Sunday afternoon in February, every door to the Draught Horse was propped open. The chatter from Owls fans gearing up for the men's basketball game against UConn at the campus watering hole floated down Cecil B. Moore Avenue.

Carol Smith, CLA '84, and her husband, Joe, were among the crowd, both sporting cherry T-shirts.

"They just texted me that they're here, but it's hard to find anyone in here right now," Carol Smith said.

She was looking for Natalia Deng and Vinit Shah, two international students that the Smiths hosted for Thanksgiving dinner at their home in Yardley, Pennsylvania last year. On Feb. 19, the host families were invited to campus to reconnect with the students and enjoy a reception at the Draught Horse followed by the basketball game at the Liacouras Center. It was the first time the Smiths, Deng and Shah were able to come together since November.

"I've been thinking about how we can all get together again. I was so delighted to be invited to come back to campus for the basketball game," Carol Smith said.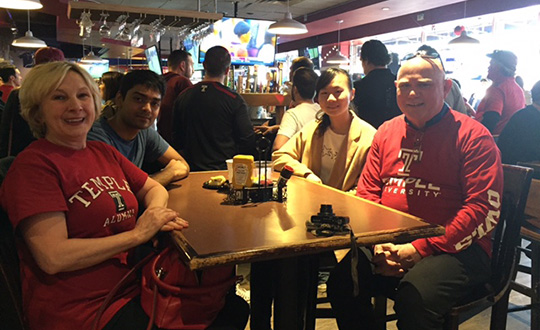 Photography by: Courtesy of Carol Smith 

When they all found each other, the Smiths, Deng and Shah exchanged a round of hugs and quickly settled into reminiscing about their time together. Joe Smith was still surprised that their notoriously shy cat warmed up to Shah in record time. The students tried to remember all the pies that they sampled—there were six different kinds—and laughed thinking back to how many slices Deng took with her to share with her friends back on campus.

"When I received an email from International Student Affairs saying that they were looking for alumni to host international students, I jumped on it," Carol Smith said. "This opportunity helped me feel more connected and makes me want to make more of an effort to stay connected."

Assistant Director of International Student Affairs Leah Hetzell has the opportunity to see firsthand the positive impact that comes from fostering friendships between students and the university's alumni.

"In a global sense, our hosts are practicing diplomacy and promoting relations abroad by ensuring that visitors to our country get a real experience in a real home," Hetzell said. "This type of practice helps eliminate stereotypes and promotes cross-cultural understanding."

Temple's student population represents 129 countries and as the international student population grows, so does the alumni community who hosts students for Thanksgiving. For many alumni, the hosting program is a launch pad to become more involved. Several of those who have hosted are part of TemPALS, a collaborative venture with Alumni Relations through which students are matched with alumni and attend events with them through the academic year.

Often, alumni who volunteer to host have a personal connection to the international community—many studied abroad themselves or made international friends while at Temple.

"They [alumni] really understand how difficult the cultural transition process can be and how much international students value connections with Americans. Many student and alumni matches have stayed in touch for a few years, which is amazing to witness," Hetzell said.

This opportunity helped me feel more connected and makes me want to make more of an effort to stay connected.
-- Carol Smith
This rings true for Carol Smith, as she spent a year after graduation at Temple as a study abroad advisor. Deng and Shah explained that the Smith's and their family were welcoming and curious about their cultures—Deng is from Nanjing, China and Shah is from Vadodara, India.
Thinking back to November, Shah admits that he was a little nervous as he rode the train to the Smiths' Bucks County home.
"In India, it's considered rude to bring food to a party at someone else's home," Shah explained. "I was kind of confused because different cultures have different manners and I didn't want to make a mistake."
All of his fears melted away when he met the Smiths. He and Deng enjoyed their first Thanksgiving meal before even knowing that they would be experiencing another first with the Smiths—a Temple basketball game.