Support community, clean water and education through OwlCrowd
The current OwlCrowd campaigns will help people as far as Peru and as near as North Philadelphia.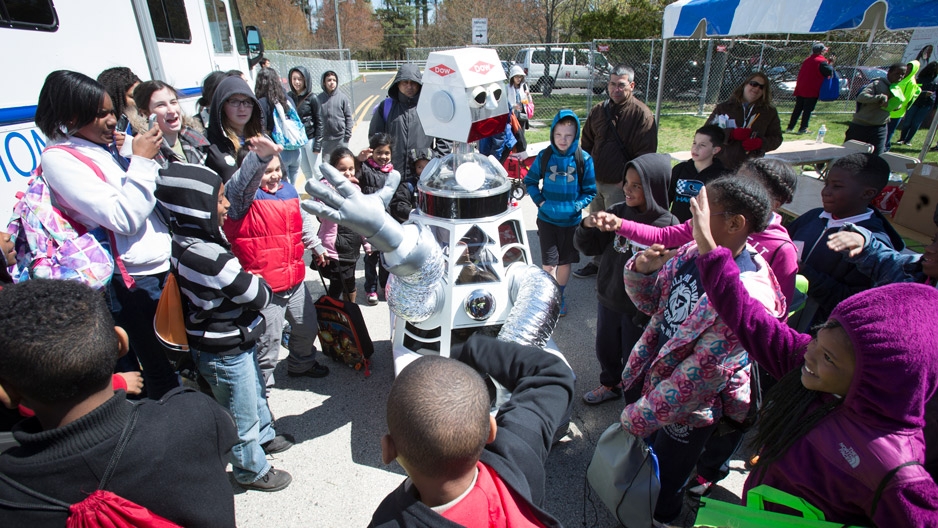 From baby boxes handed out at Temple University Hospital to keep newborns safe at home to more than $30,000 to provide fresh fruits and vegetables to local families, OwlCrowd, Temple's crowdfunding campaign, has supported some incredibly impactful projects.
And the current OwlCrowd initiatives are no different—they'll help schoolchildren learn at Temple Ambler's EarthFest, support an Engineers Without Border project bringing clean water to a village in Peru, fund scholarships for veterans, help grow the Philadelphia Aphasia Community at Temple, send students to the Grace Hopper Celebration of Women in Computing and give North Philadelphia elementary school students books to take home. Here are details on the campaign's current projects, open for donations until May 4:
EarthFest Transportation Angels
For more than a decade, EarthFest at Temple Ambler has been educating schoolchildren about the environment and sustainability.
The annual event features exhibits from museums like the Franklin Institute and the Academy of Natural Sciences to agencies like the Environmental Protection Agency, as well as grassroots organizations, like the Wissahickon Valley Watershed Association.
Dozens of schools throughout the Philadelphia region, including several in the city, attend EarthFest, which will be held on April 28 this year. To help defray costs of transportation to Temple's Ambler campus, which is about 15 miles from Temple's main campus, the university set up the Transportation Angels fund. This year, they're hoping to raise $5,000 to help more than 1,250 students attend EarthFest.
"EarthFest is kind of like a giant show and tell," said Jim Duffy, co-coordinator of EarthFest. "It's exposing kids at an early age to ideas and concepts that they might not otherwise generally be exposed to."
Engineers Without Borders Clean Water Project
When students in Temple's Engineers Without Borders chapter visited a village in Peru earlier this year to determine whether they could help them get access to clean water, they were amazed by the people's strength and graciousness.
"They were extremely thankful for us being there [and] they just are really motivated and really want this project to work, and they are putting in as much effort as we are," said Nick Torba, a sophomore mechanical engineering major and member of Engineers Without Borders.
It would definitely change their lives in a positive way."
-- Nick Torba, Engineers Without Borders
The student group decided to take on the project, which will build a system to bring fresh spring water to the village, and are working to raise funds to support it through OwlCrowd. They plan to return to Peru this summer to complete it.
"It would definitely change their lives in a positive way," Torba said.
Supply clean water to a village.
Veterans Honor Service Scholarship
Temple is known to be one of the most military friendly colleges in the country, and the Veterans Honor Service Scholarship supports education for those who have served. The $1,000 scholarships go to veterans in need who are involved in the veterans group on campus.
If the OwlCrowd goal of $5,000 is met, five veterans will be supported in their education at Temple.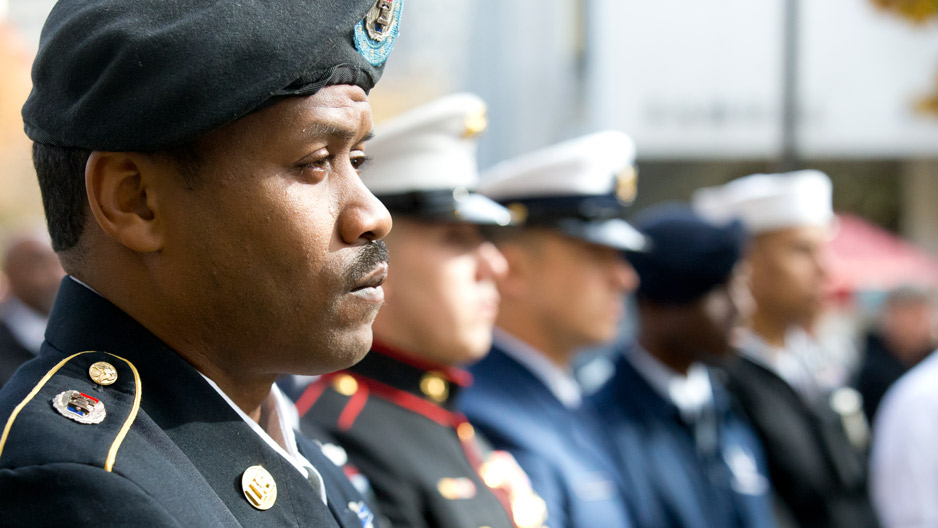 The Veterans Honor Service Scholarship gives students who served in the military $1,000 toward their Temple education. (PHOTO: Ryan S. Brandenberg)
"What makes veteran students so special is these are the men and women who put their lives on the line for us, and they make it possible for us to live in a free country," said Laura Reddick, associate director for adult and veteran student recruitment in Temple's Military and Veteran Services Center. "They've made so many sacrifices, not just personally, but professionally as well. The least we can do as a university is when they choose Temple, we also choose them, and do everything we can as a university to make sure they're successful."
Philadelphia Aphasia Community at Temple
Imagine suffering an injury or illness that rendered you unable to communicate fully. That's what people with aphasia face every day.
The Philadelphia Aphasia Community at Temple (PACT), though, provides an important service to support people living with aphasia. PACT helps people with aphasia—a common disorder that can happen after a stroke or a head injury and affects a person's ability to produce words, understand speech, read and write—to better cope with the chronic condition. PACT is growing rapidly, and funds raised through its current OwlCrowd project will help bring the best possible service to its expanding base of clients.
"People who have aphasia often become very socially isolated, and that comes with a lot of negative health effects," said Gayle DeDe, director of the Philadelphia Aphasia Community at Temple. "Part of what [these] groups do is provide a place for people with aphasia to be with others who have similar impairments, people who understand them."
Be a part of Temple's work in the community.
Grace Hopper Celebration of Women in Computing
Each year, the Grace Hopper Celebration of Women in Computing connects women in the technology industry with each other and with job opportunities. It is the largest gathering in the world of women in the field.
The Grace Hopper OwlCrowd project is raising $3,500 to send three women who are College of Science and Technology students to this year's conference in Orlando.
"It's very empowering for them to see these women, and they also have the ability to network with these very famous, successful women," said Claudia Pine-Simon, an instructor in CST who takes students to the conference.
Pine-Simon said a Temple student who attended a past conference landed a job at Microsoft thanks to connections she made there, and another went on to work for Amazon after attending the conference.
"You can actually see the students who are a little bit shy become more confident, more poised, after the conference," Pine-Simon said. "It's just an extraordinary experience."

Books for Dunbar Elementary
Some children don't have access to books at home, but Temple's chapter of Phi Beta Kappa and locally based nonprofit Books in Homes are teaming up to change that.
The Books for Dunbar Elementary project will provide students at the elementary school, located in the heart of Temple's campus at 12th Street and Montgomery Avenue, with books to call their own.
"Our mission is that the children we work with get to choose their books and bring them home," Jessica Bradbury, STH '11, director of development at Books in Homes, said. "For some of these kids, this is the first book they've ever owned."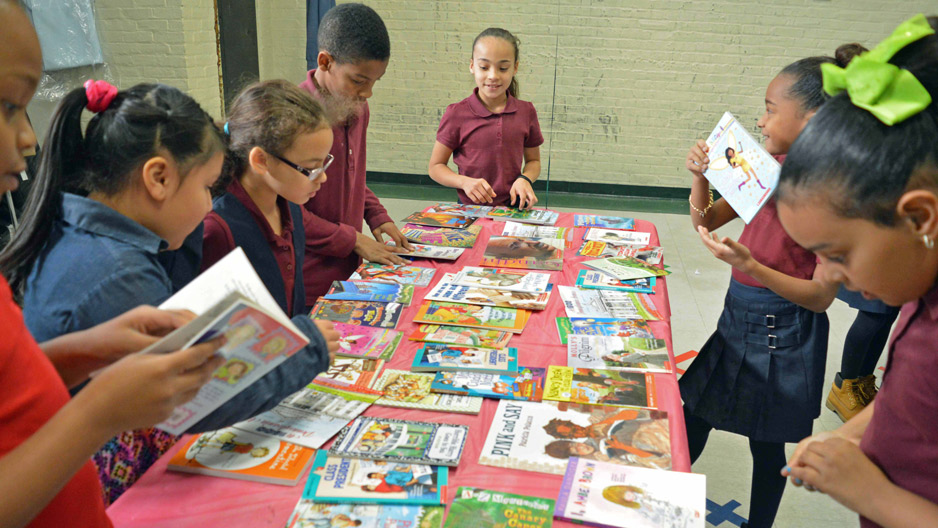 Students at Dunbar Elementary School will receive books to bring home as part of one OwlCrowd project. (PHOTO: Books in Homes)
If Phi Beta Kappa and Books in Homes reach their fundraising goal of $3,000 this year, they'll be able to provide at least 1,500 books to the students.
"This is a great opportunity for us to put our philosophy, which is 'Let wisdom be the guide of life,' into practice by putting books into bookless homes and into the hands of young intellectuals to be," said Associate Professor Matt Wray, president of Temple's Phi Beta Kappa chapter.