Next stop: Greeley and Hansen
After Commencement, civil engineering major Shawn Rodier will begin his full-time job at the water resources engineering firm.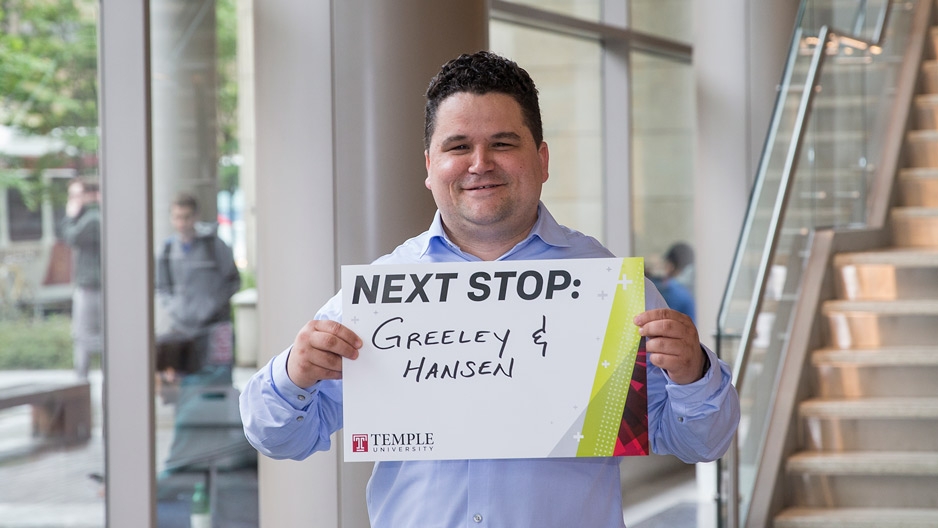 For Philadelphia native Shawn Rodier, Class of 2017, nothing could be better than a job based in Center City.
After he graduates with a degree in civil engineering with honors, Rodier will go to work for Greeley and Hansen, a civil and environmental engineering firm in the heart of Philadelphia that specializes in water resources engineering.
Actually, he'll continue working for Greeley and Hansen. He's been active with the firm since he began an internship in summer 2016.
"I started interning for them last summer to do some water quality sampling and I just kept at it with them. Eventually they brought me into their office to do some design work and some analysis with hydraulic modeling," Rodier said. "I guess they liked what I did and they offered me a job."
Although his path forward is now clear, he hit some bumps along the way. After enrolling at Temple as a traditional undergraduate, Rodier had to withdraw when he was diagnosed with leukemia. After dedicating his time to treatment, he entered full remission six years ago.
"That part of my life is behind me," he said. "The experience has only given me more perspective and it's really driven me since I've returned to Temple."
Rodier was initially apprehensive about his status as a returning student and the possibility of being considered an outsider among his new cohort. "As hesitant as I might have been, that fear was put to the side after just a few weeks of coming back," he said.
His refusal to sit on the sidelines during his education has resulted in incredible opportunities, strong relationships with faculty and even stronger academic achievements.
In addition to his course work, he's active in the American Society of Civil Engineers and the American Water Resources Association, and is a part of the Golden Key Academic Society, a group that recognizes college students in the Top 15 percent of their class across disciplines.
And for his senior design project, Rodier and his teammates spent three semesters developing a hydraulic and hydrologic model of a watershed just outside of Philadelphia, in Montgomery County.
"My team proposed different green infrastructure to address flooding and water quality issues in that area," he explained. "It's a really exciting project, not just from an engineering perspective but from a community perspective. We actually worked with the Tookany/Tacony-Frankford Watershed Partnership and were able to sit in some of their meetings and present our findings."
The experience helped bring his career goals into focus and gave him practical experience that he'll soon be able to apply in his position with Greeley and Hansen.
"I'm very fortunate," Rodier said. "I'm very lucky."