Next stop: Panther Creek Pharmacy
Temple University School of Pharmacy graduate Megan Rubino is carrying on a family tradition in Nesquehoning, Pennsylvania.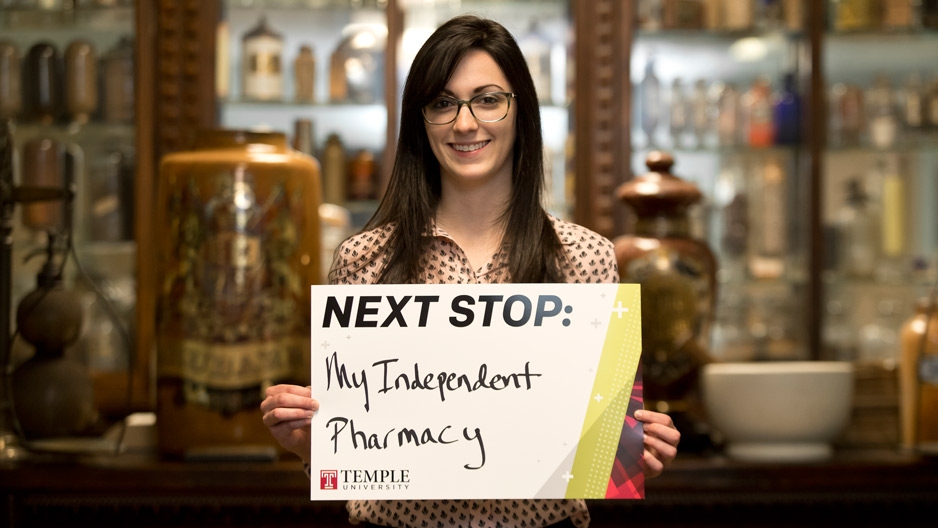 Name: Megan Rubino
Hometown: Nesquehoning, Pennsylvania
Next Stop: Independent pharmacy owner
Degree: Doctor of Pharmacy
Following in the footsteps of her grandfather, Henry Rubino, PHR '58; great uncle, Frank Rubino, PHR '63; mother, Paula Rubino, PHR '86; father, Louis Rubino, PHR '86; cousin, Frank Rubino Jr., PHR '86; aunt, Suzanne Laplante, PHR '92; and cousin, Francis Rubino, PHR '12; Megan Rubino, Class of 2017, will be accepting her School of Pharmacy degree from Temple this month.
The Rubino legacy at the School of Pharmacy is impressive in and of itself, but the Rubinos also maintain another family tradition—as independent pharmacy owner-operators. Rubino's grandfather and great uncle each owned and operated independent pharmacies in Philadelphia's Northeast.
In fact, Frank Sr. still works alongside his son, Frank Jr., and his two sons—Francis and Anthony (a School of Pharmacy Class of 2018 student)—at his family-run Friendship Pharmacy in Mayfair. Megan Rubino's parents currently own and operate Hometown Village Pharmacy in Tamaqua, Pennsylvania. And now, Rubino has set her sights on opening Panther Creek Pharmacy in her hometown of Nesquehoning, Pennsylvania.
The graduate said she was drawn to pharmacy because she had both a knack for science and an interest in helping people and making personal connections.
"I like the idea of being able to be a real resource for people," Rubino said. "I saw people stop my grandfather on the street to ask him a medical question, and that's a role I want to be able to play in my community."
But the family pharmacy streak wasn't always a done deal. Rubino initially enrolled at Temple as a pre-dental student; however, her rebellious period didn't last long.
"One day I was helping out in one of the family stores and everything just seemed to click," she said.
In an industry dominated by chain stores, the opening of an independent pharmacy is a rarity. But with generations of cherry and white in her blood, Rubino is sure to succeed.