U.S. Coast Guard veteran Derek Suomi made the most of his time at Temple.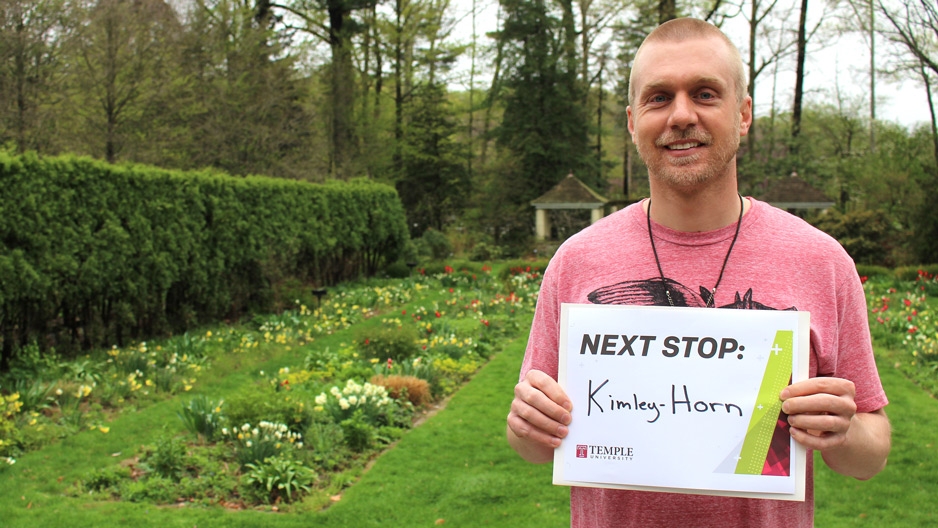 Derek Suomi, Class of 2017, became interested in landscape architecture when he was working in the construction trades in his native Maine. The work provided him the opportunity to get hands-on experience with design and landscaping, instilling in him a passion for the field. 
Suomi began his landscape design and horticulture education at a community college in Portsmouth, Virginia, while simultaneously serving in the U.S. Coast Guard. After four years of service, Suomi decided to enroll in the landscape architecture program based at Temple Ambler.
"Temple made it very easy for me to transition back into the classroom," he said, noting that Temple's location was a further draw for Suomi. "In Philadelphia and the surrounding suburbs, there is a lot going on in terms of landscape architecture."
Once in the program, Suomi thrived. He was awarded Veteran Student of the Year at Temple Ambler's Student Leadership Awards Banquet in 2016; served as vice president of the Landscape Architecture and Horticulture Association; and acted as student president of the American Society of Landscape Architects. He also helped create Temple Ambler's award winning exhibit, After the Blast: Recollecting Roots and Resources at Hopewell Furnace, at the 2016 Philadelphia Flower Show.
Suomi credits the program's emphasis on the environment, paired with a solid technical curriculum, for preparing him for his next stop as a landscape architecture analyst with Kimley-Horn, a planning and design consulting firm.
"I am going to be working on all phases of the design profession, from conceptualization to construction documentation," Suomi said. "Leaving Temple, I have a lot that I am able to show my employer as far as what I can do and the talent I will bring to a firm. Now I'm ready to get to work!"
Read more about students graduating from Temple Ambler.