Joining a national movement, Temple's Surplus Property program aims to reduce waste and generate revenue.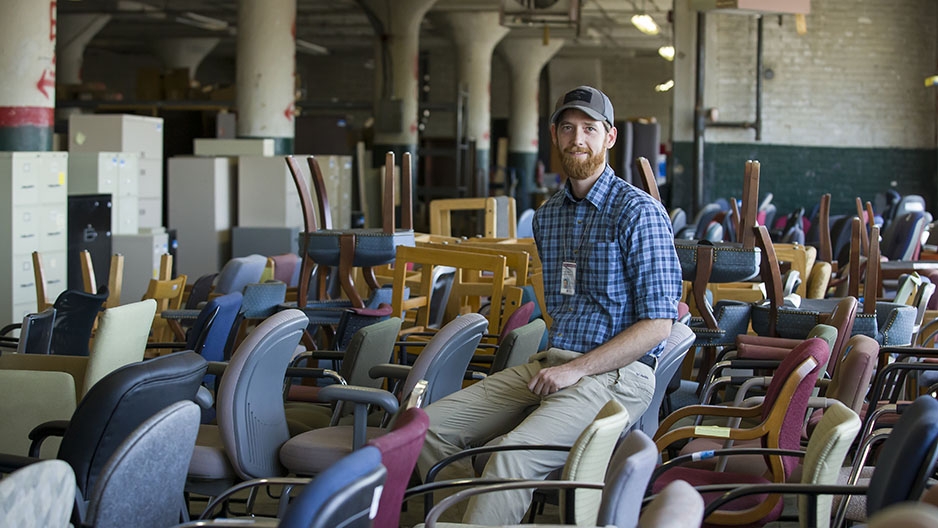 As Eric Grzybowski, Temple's surplus property coordinator, walks through the university's off-campus warehouse space in North Philadelphia, he passes by a sea of office chairs in grays, reds and blues. To his right, about 150 filing cabinets of every variety await their next destination.

Before, these items may have been stored, unwanted and untouched, for months or years, taking up precious space in a Temple building or at the central warehouse. Now, under a quickly growing Surplus Property program, Temple departments may schedule free removal of surplus items and share in the revenue generated from their sale.

Departments may also browse surplus inventory online for redistribution within the university—surplus items are free other than a delivery fee—or shop for personal use via an online auction site. If items go unclaimed by members of the Temple community, they are automatically listed for public sale after 15 days.

"The best thing we can do at Temple is reuse the item internally because there will always be an opportunity to sell it later," said Kathleen Grady, Temple's director of sustainability, who oversees the program with Mark Gottlieb, associate director of operations and logistics.

Grzybowski, who operated an online sales business before joining Temple in January, estimates that Temple has listed about 500 items for sale, with 80 to 150 added weekly. In March alone, the program generated $19,000 in revenue—before it was even officially announced—with individual transactions averaging $50.

The numerous benefits of surplus property programs include avoiding costly disposal fees when large items are thrown away; enhancing the university's sustainability efforts through reuse; creating a new revenue source for Temple; and, if items go unclaimed or unsold, helping local community organizations by donating material.

The program builds off of the expertise of Temple's Computer Recycling Center (CRC), which handles the reuse and resale of electronics. A central policy, adopted in 2016, encompasses both the CRC and the surplus program. Temple is a member of the University Surplus Property Association and joins most other major public universities in offering such programs, some of which generate hundreds of thousands of dollars annually.

As Temple's program grows, Grzybowski has celebrated some early victories. An eBayer on the prowl for a specific chair to match one he already had snapped it up for $350. Four lots of folding tables and stacking chairs—each originally listed at $75—sold together for $1,600.

And about 80 pieces of shelving, tables and chairs recently sold to a local doctor. The items were headed to Pakistan, where the material from Temple will help outfit a hospital.

For more information about Temple's surplus property program, visit the Campus Operations website.