Temple student wins USA Climbing Collegiate National Championship
Zoe Steinberg, a junior neuroscience and psychology major, recently won the female bouldering competition in the USA Climbing Collegiate National Championship.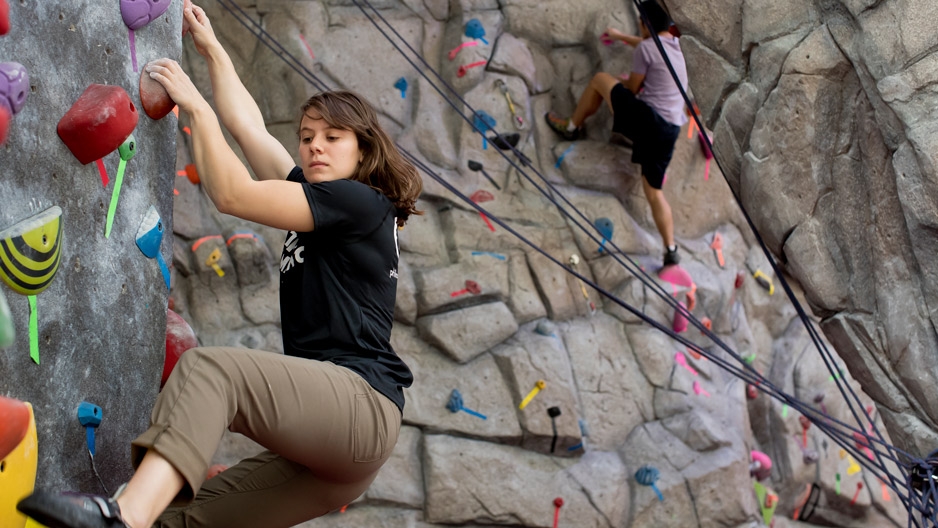 In class, junior Zoe Steinberg, a neuroscience and psychology major, might seem like an average college student.

But outside the classroom she has an unusual pastime: bouldering. Steinberg has already won a Bouldering Youth National Championship in 2011, and recently, she added another piece of hardware to her trophy collection by winning the USA Climbing Collegiate National Championship in the female bouldering competition.

The championship took place in April in San Diego and consisted of more than 470 collegiate athletes who competed in bouldering, sport and speed events. Steinberg bested 111 competitors in the female bouldering division, bringing the trophy to North Broad Street.

Never heard of bouldering? Steinberg can help.

"Bouldering involves climbing short, difficult routes that usually stop around 20 feet," Steinberg explained. "The goal of bouldering is to get as high as you can—ideally to the top of the wall, since the movements are difficult and on smaller holds—as opposed to climbing for the fastest time. You do not have a rope or harness; instead, you fall onto gymnastics-style pads."

This was Steinberg's first time competing at this event, though she has competed in tournaments across the country and around the globe, including in Scotland, Italy, Ecuador and Canada. She has tested her skills at both youth and open national championship events, PanAmerican youth championships and open-level international competitions.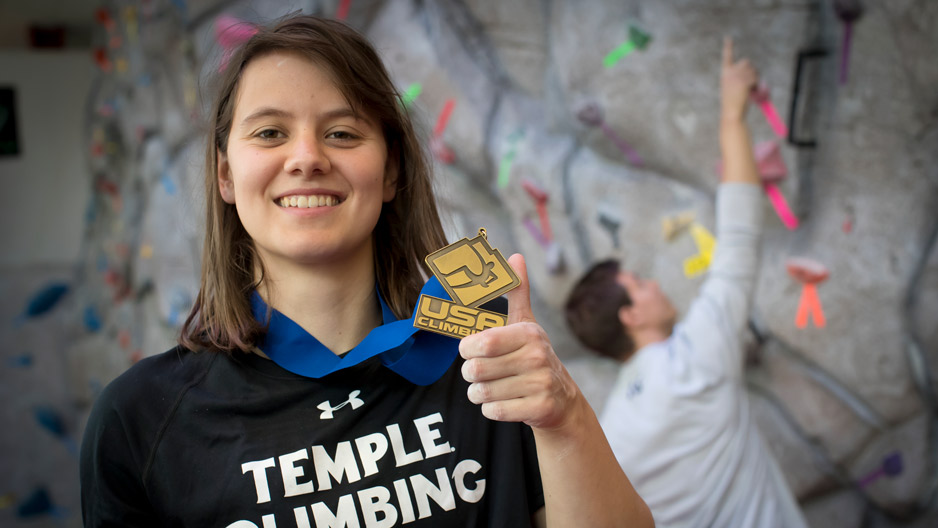 "Receiving the support and enthusiasm from a big crowd is one of the best parts of competitive climbing," Steinberg said. "It's a great feeling to have a crowd behind you and pushing for your success, and is a big part of why I love competition climbing."
An active member of the Temple Climbing Club, Steinberg is sponsored by shoe apparel company Five Ten. Other sponsors include Practical Climbing, FrictionLabs, Sterling Rope, and Black Diamond Equipment. In her free time, she works as a coach at the Philadelphia Rock Gym.

Campus Recreation was key in supporting Steinberg's and other members of the Temple Climbing Club's journey to the tournament. Thanks to fundraising and support from campus partners, Steinberg joined seven of her teammates in San Diego for the competition. Temple's club also brought home another honor, placing 14th out of 59 schools in its first USA Climbing National Championship event.