Posted
September 20, 2017
Energy-efficient and durable LEDs are Temple's new lighting standard.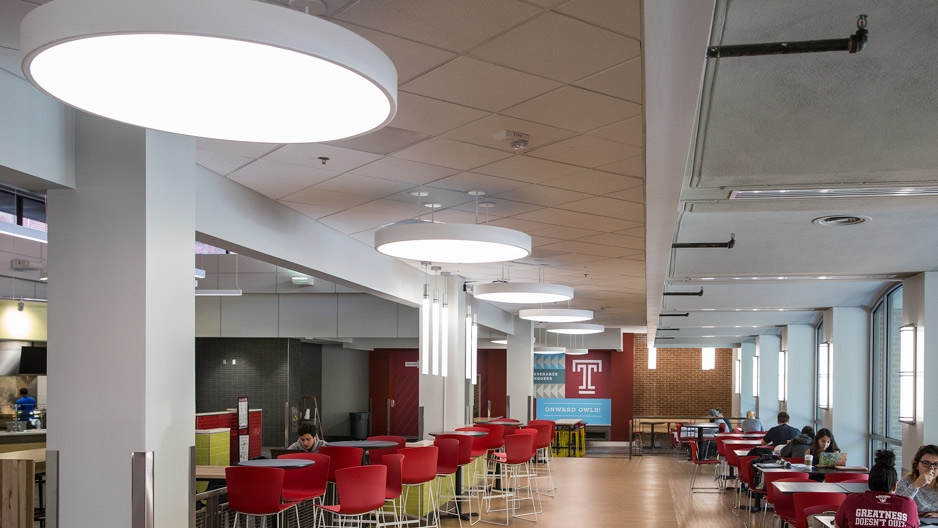 Students walking into the renovated Howard Gittis Student Center food court can't help but notice the new dining options, modern furniture and inviting layout. It just feels brighter.
That's because it is.
Construction and renovation projects at Temple now include LED lighting as the new standard. LEDs (light-emitting diodes) are the most energy-efficient and among the most durable lighting options available.
In an ongoing efficiency project led by Jon Brighton from facilities management, Temple's trades staff has been busy re-lamping 220 classrooms across Main Campus with LED tubes (T8 models, to be exact), which are 66 percent more energy efficient than standard fluorescent bulbs, their predecessors. LED tubes also last 40 percent longer.
"Not only are we saving energy and improving lighting quality, we are also reducing maintenance costs due to the longevity of LED lighting," said Joe Monahan, associate vice president of facilities and operations.
Other planned lighting enhancements include replacing the current high-bay lights in the Tyler School of Art's first-floor art studios with LED versions that provide brighter and cleaner light.
New LED smart-lighting technology—which can detect when an area is occupied—is planned for Temple's high-rise emergency stairwells, which on average are in use less than 2 percent of the time. In total, these replacements will result in an energy reduction equaling the power consumed by 62 homes for an entire year, according to ­­Andrew Holden, manager for Temple's utilities and energy group.
The ongoing lighting initiative accompanies related sustainability efforts such as the recent installation of hand dryers in the Student Center's restrooms to reduce waste and service costs. Both projects are being completed by Temple's trades staff in partnership with the university's Office of Sustainability.
All of these projects are part of Temple's commitment to creating a sustainable and resilient campus while working to meet carbon-reduction goals. An update to Temple's Climate Action Plan is being pursued this fall, and the campus community has opportunities to participate in
town halls and other events
.