Students distill viral videos into viral book, getting lesson in overnight success
Two Temple freshmen used old Vine videos to create a popular book.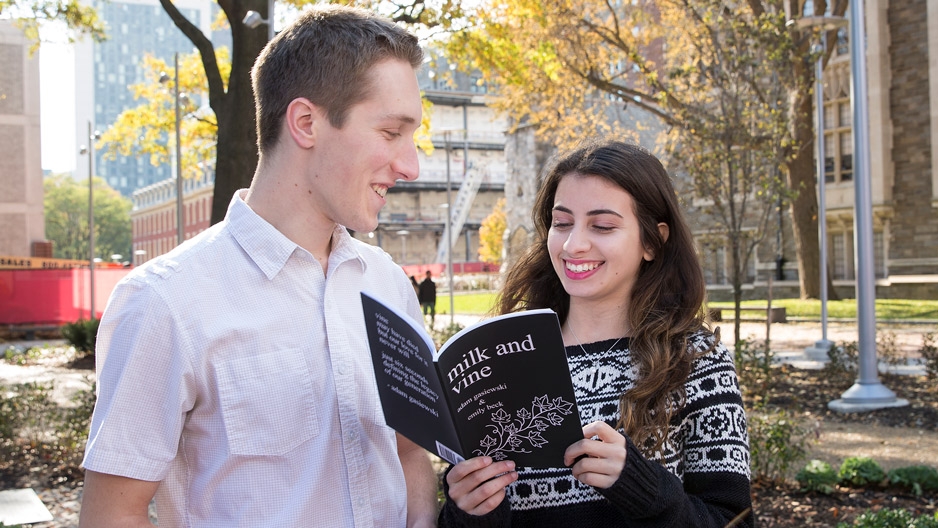 Vine, the popular, now-defunct video platform known for its looping, often bizarre content, was built on the idea of brevity. Six-second limits, to be exact.
So it's fitting that when two Temple freshmen decided to craft a 74-page ode to the late social channel, the time it took to self-publish on Amazon and climb to the top of its coveted best-seller list was nearly as rapid.
Adam Gasiewski and Emily Beck created Milk and Vine on a whim in mid-October. The two were perusing a Center City bookstore when they stumbled upon Rupi Kaur's Milk and Honey and quickly resolved to create a parody that included transcriptions of some of their favorite Vine videos, which they frequently watched for laughs.
"We thought it would be funny," Gasiewski said. "Someone picks this book up and you're thinking you're going to read this deep poetry and it's really just these ridiculous quotes."
Those quotes range in topic from a young boy letting the world knows he has an approaching basketball game to someone being scared into almost dropping his croissant; perhaps meaningless words to those unfamiliar with popular content from the social channel.
Within days, Gasiewski had formatted a book and Beck had whipped up sketches on her iPad for each of the entries. Then, they used a self-publishing tool on Amazon to put their book up for sale. Gasiewski and Beck figured their friends would be the extent of their readership.
By early November, after some tweets helped garner attention and a community of former Vine creators and fans flocked to the book, it became a best-seller, surpassing titles like Obama: An Intimate Portrait—an appropriate time to tell their parents.
"My parents called and asked, 'What is this book you wrote?'" Beck, a political science major with aspirations to become a lawyer, said. The Northeast Philadelphia native explained the premise of the book and how the colorful content was sourced. "They understood [then]—it's knowing my audience."
As it turned out, there was also a lot more to know. There were legal questions, copyright law, agent inquiries and interest from major publishing companies.
"It's been crazy in a short span of time to manage all that stuff," said Gasiewski, a computer science major who is pursuing a minor in business. "I'm 19 years old." (Not to mention a full-time student who, at the time of this interview, was fresh off a calculus exam.)
But Gasiewski and Beck found a reliable and convenient partner in Temple's Blackstone LaunchPad, a free, on-campus resource that advises and mentors budding entrepreneurs. Gasiewski had been a regular in the office, on the lower level of the Student Center, since his first weeks on campus, often discussing his startup, Rotovest.
"We want to encourage all students to think of themselves as innovators and entrepreneurs," said Julie Stapleton Carroll, director of Blackstone LaunchPad at Temple.
Blackstone has quietly helped a number of interesting and successful ventures by students and alumni spring to life. To name two: Pound Cake, a student- and alumnus-founded cosmetics company focused on creating products for all skin tones, and Vitris, a company that connects customers whose devices need repairs with area shops and technicians.
Often times, Carroll said, entrepreneurs come to Blackstone with a whole slew of ideas that don't quite pan out before they land on the one that works. For that reason, Milk and Vine—which has sold some 100,000 copies thus far—was a bit of an anomaly.
"I would say that's not very typical. But I think they've handled it really well," she said. "It's a balance between moving forward and making sure you're doing the right thing."
With the help of Blackstone, Gasiewski and Beck have retained attorneys to help them navigate their newfound stardom and assess how to handle the handful of copycat books that have cropped up. The two said they're working on ensuring the Viners whose work they sourced are given credit.
And they're pursuing another book, in which one major publishing company has expressed interest. Gasiewski said they're eyeing an early 2018 release, months before they wrap up their freshman year.