Meet Katherine Berry, cadet battalion commander of Temple's Army ROTC
Katherine Berry, a senior nursing major, knew a thing or two about the military lifestyle before she joined Temple's Army ROTC as a freshman. Now, she's the cadet battalion commander of Temple's Red Diamond Battalion.
Video Production:
Louis Peluyera
Growing up with a father who served as a drill sergeant in the Coast Guard taught Katherine Berry a thing or two about dedication and discipline.
"I'd be woken up early to go work out with him some days, and my room had to be clean," Berry said with a laugh. "So I was kind of used to that lifestyle, and I do enjoy it."
It's no surprise that Berry, a senior nursing major, was selected this year to be cadet battalion commander of Temple's Army ROTC Red Diamond Battalion.
"When they asked me to be battalion commander, I was really shocked, and I said yes, and I'm glad I did," said Berry, who came to Temple to join its Army ROTC—or Reserve Officers' Training Corps—so she could simultaneously train to be a nurse and an Army officer. "It's definitely been a challenge for me … but I think it's been good for my leadership skills, and it's been a really rewarding experience."
Being in ROTC and having that community actually really helps me, and it gives me kind of a purpose, and I really do enjoy it."
-- Katherine Berry, Class of 2018
When she came to Temple as an ROTC cadet on a scholarship, Berry was already very familiar with the military lifestyle. Her father recently retired from the Coast Guard as a master chief, and she has one brother in the Marines and another in the Air Force. Throughout her childhood, her family moved around the country 12 times, living in Florida, San Diego, Rhode Island, Texas and Virginia. If anywhere is home, though, Berry says it's Cape May, New Jersey.
"I've moved there four different times, so that's kind of like my home, " she explained.
For ROTC cadets, balancing coursework and rigorous Army training is a challenge throughout college. As a nursing student and cadet battalion commander—a role that requires her to devise the overall vision and goals for the battalion and ensure cadets have the right training to meet them—Berry faces a particularly heavy load.
On a typical day, Berry wakes up before dawn to head to Geasey Field for an hour and a half of physical fitness training with her fellow cadets. After that, she stops home to get ready for class, and heads to a day of nursing classes that stretches until early afternoon. Then, she goes back to Temple's ROTC headquarters in the basement of Ritter Hall to complete her ROTC training in areas including Army logistics, intelligence, leadership and military operations, among others.
"Being a nurse and being in ROTC is definitely very challenging. You are expected to study a lot for nursing, and you take a full credit load every semester. You have clinicals, so you're working in the hospital while taking these tough science classes, so it is a lot of time management," Berry said. "But being in ROTC and having that community actually really helps me, and it gives me kind of a purpose, and I really do enjoy it."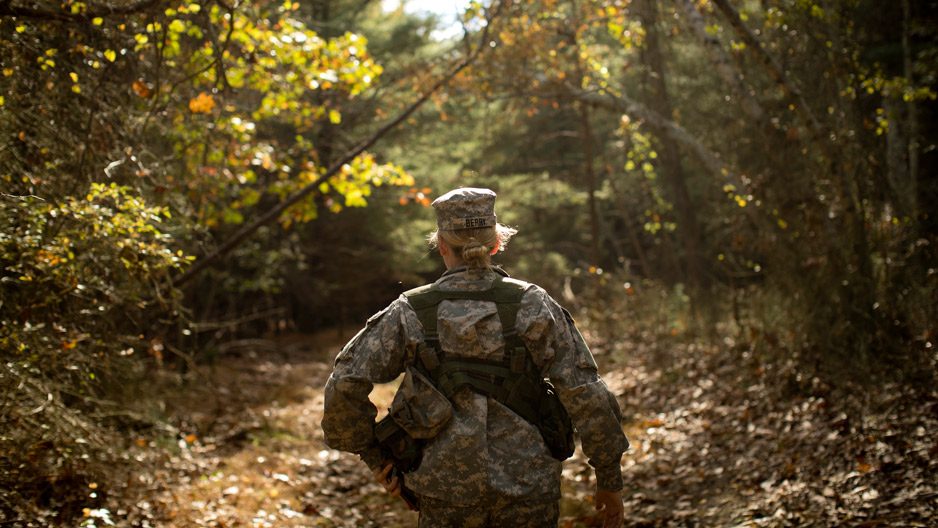 Katherine Berry trains at Fort Dix, New Jersey. (Photo by Ryan S. Brandenberg)
Despite the balancing act, Lt. Col. Keith Benedict, a professor of military science in Temple's Army ROTC program, said Berry excels in both her roles.
"It is exceptionally rare for a nursing student to manage both ROTC and curricular responsibilities to the level that Katherine maintains. Indeed, I doubt there are more than a handful of nursing students across the 275 Army ROTC programs selected to serve as cadet battalion commander," Benedict said. "She possesses an unrivaled enthusiasm and embodies all of the attributes and competencies we seek in our uniformed leaders and will excel as an Army nurse."
As cadet battalion commander, Berry is committed to furthering Temple ROTC's mission of ensuring that younger ROTC cadets have the same supportive environment she's had for her four years at Temple.
"Even though we're at training so much, we still take time out of our training schedule to meet with cadets to make sure they're doing OK," Berry explained. "There are a lot of freshman nurses that I'll meet with just to see how they're doing, make sure they're handling the stress of nursing school and ROTC well. There's a lot of accountability and a lot of caring here."
After graduation, Berry will travel to San Antonio, Texas, for two months of training before completing a one-year residency at a military hospital. After that, she said, she's looking forward to being deployed and realizing her dream of being a nurse in the Army.
"I'm really excited to travel and just pursue a specialty in nursing. I'm considering emergency department nursing or flight emergency nursing, so there are just so many options I can choose from," Berry said. "It's nice just to have all those doors open to me right now."