Temple's Army ROTC Red Diamond Battalion recently took home first place in the Regional Ranger Challenge Competition. Next up: attempting to "shock the world" at an international competition.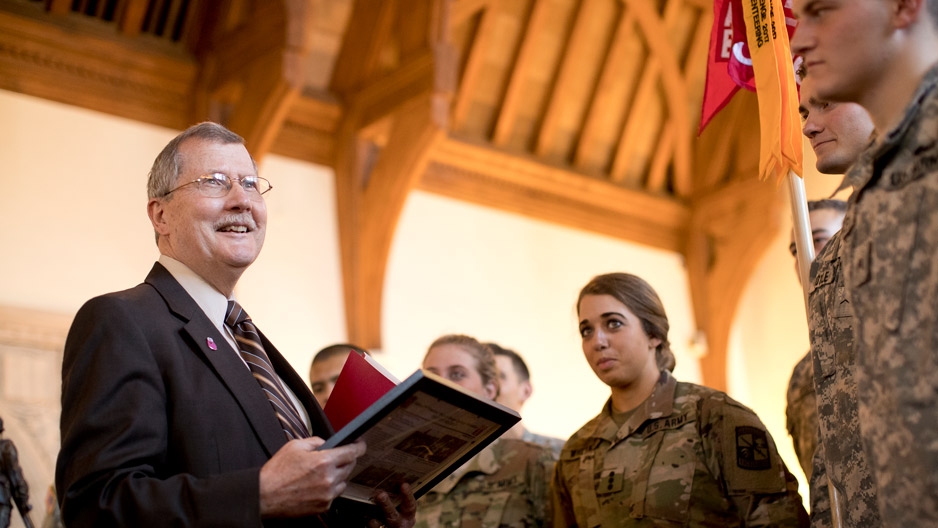 Following its unofficial motto, Temple's Army ROTC plans to "shock the world" at an international competition this spring after winning the Regional Ranger Challenge Competition for the first time in 30 years of the event. More than 40 ROTC teams from across the Northeastern United States competed in the challenge held at Fort Dix, New Jersey.
Temple's Red Diamond Battalion sent 12 cadets ranging from freshmen to seniors who were specially selected to compete and trained on a daily basis to prepare. 
Trainings for the challenge were intense.
"We trained for months, that included a six-mile run on Kelly Drive with a rucksack that weighed more than 50 pounds," said Carter Crowley, a junior kinesiology major and the battalion's co-captain. 
The Ranger Challenge events included team and individual competitions consisting of crew drills, a team tug-of-war, an individual tug-of-war, tactical combat casualty care, an obstacle course, weapons assembly and a 50-foot rappel.
During the Ranger Challenge, cadets are chosen at random to compete in specific events. They don't learn their results until the end of the contest, making it that much more competitive.
For Ryan Boyle, a freshman biology major with a fear of heights, the toughest challenge was rappelling 50 feet down a wall. 
"At first I was pretty nervous, but I knew I had to overcome my fear and get down the wall as fast as possible," Boyle said. 
"Thankfully, I survived." 
The Red Diamond Battalion competed against other schools in the U.S. Army Cadet Command 2nd Brigade, including Penn State, Princeton, Lehigh University, the University of New Hampshire and the University of Maine.
"Beating Penn State was a huge accomplishment for us this year," Shane Boston, a junior criminal justice major and co-captain of the team, explained with a big smile. "We always joke about beating Penn State since they win the challenge almost every year, but this year we finally did it."
Temple's Army ROTC program is relatively small—with a total of 132 cadets—compared to those at other schools, such as Penn State, which is the largest pure ROTC program in the nation with over 300 cadets. This makes Temple a true underdog, as many other schools pull from a larger pool of cadets for the competition.
Winning the Ranger Challenge qualified Temple's team to compete against foreign teams in the Sandhurst Military Skills Competition in April 2018 at the U.S. Military Academy at West Point. There, they'll face 61 teams including ones from the United Kingdom, China, Mexico, Canada and Australia.
To honor Temple's ROTC, Philadelphia's City Council will present two resolutions Nov. 9 to the Red Diamond Battalion commemorating the 70th anniversary of the founding of the program and highlighting the recent Ranger Challenge victory.