Recognizing our women veterans
Senior Tammy Barlet credits the Women Veterans Forum for much of her internship success throughout her tenure as a public health major at Temple.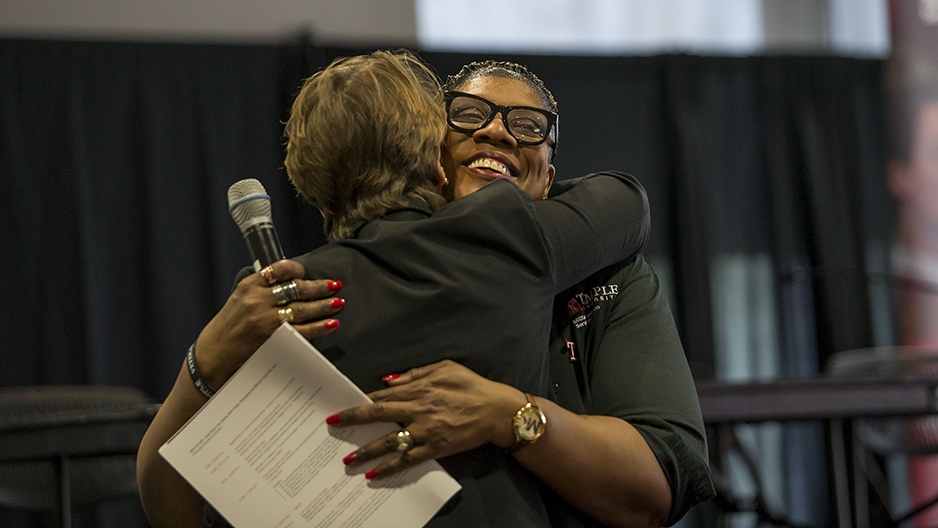 When Tammy Barlet first arrived at Temple, she wasn't interested in the Temple Veterans Association. As a freshman, she attended one meeting, looked around, and was disappointed by what she saw: no other women.

"We [female veterans] have a tendency of hiding. We don't like coming out unless there are others already out in the organization," Barlet said.

But after spending eight years active in the United States Coast Guard—and dreaming of coming to Temple since her junior year of high school—Barlet isn't one to give up easily. The following semester she went to Temple's Women Veterans Forum to connect with different organizations and make a plan for what she wanted to do over the summer.

At the time, she didn't know that at the forum she would meet a woman who would propel her life forward in a matter of moments.

"I ended up talking to this woman Bonnie Johnson. She was like, 'Why don't you volunteer down at the Veteran Affairs Hospital?' and I thought, 'Why don't I?'," Barlet said, laughing at the simplicity of the exchange.
Both veterans and interested in healthcare, Barlet and Johnson had an immediate connection. Johnson herself volunteers at the Philadelphia VA Medical Center and set Barlet up to get started shortly after their meeting.
"As a volunteer, I was like a secret squirrel. I would stand against a wall and and observe the health care providers' hygiene practices," said Barlet.
After one year, Barlet easily gathered more than 100 volunteer hours working with the infectious control quality assurance team at the medical center that she was able to use towards her degree.
The connections she made there helped her land an internship with the City of Philadelphia Department of Public Health, where she worked with a team to inform long-term care facilities in the city about infection control and emergency preparedness.
"I really busted my butt to knock out all of my general education courses so I could free up my time to do anything, anywhere, wherever life leads me," Barlet said.
For her, wherever meant Alaska.
As part of a required 400-hour public health full-time internship, Barlet spent her last semester before graduating in Anchorage, working with the All Alaska Pediatric Partnership. There, she worked to better the lives of Alaskan children through immunization work. She also has the opportunity to get hands-on experience working with a population that's different from what she was already used to in Philadelphia.
"Going to Alaska really snowballed from Temple's Women Veterans Forum," said Barlet.
The empowerment and connections that Barlet made at her first forum lead her to a wealth of internship opportunities that are setting her apart as she starts interviewing for post-graduation jobs—but, for her, the forum is about more than just networking.
"It's the opportunity needed for women veterans to be recognized because we are not always recognized," Barlet said. "Because we are women we are different, we have different needs and we need opportunities to pass on knowledge and educate those who are our advocates."