Temple veterans find a home on Main Campus
Student military service members and veterans are able to easily access information and resources with the opening of the Military and Veteran Services Center on Main Campus.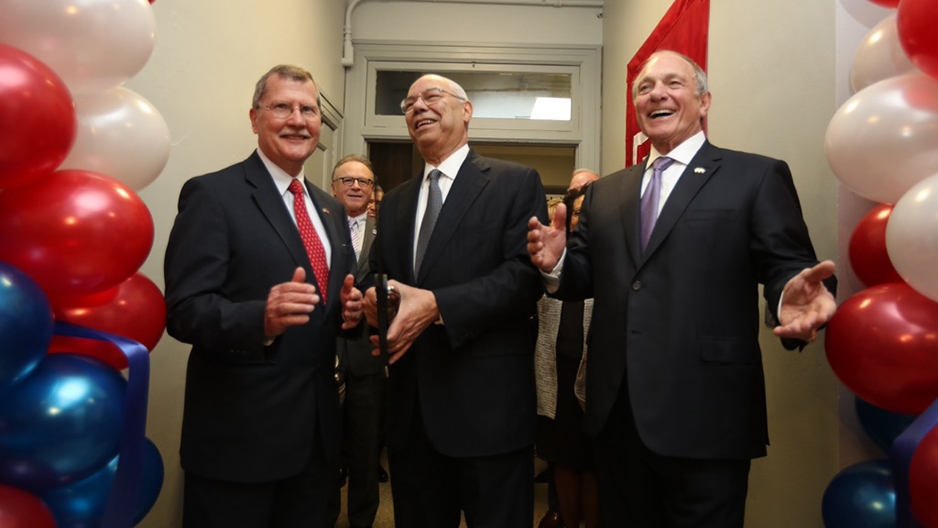 When Chiquitta Evans served on a base in Willow Grove, Pennsylvania, she would regularly drive past Temple Ambler's campus.

"I would always say, when I retire I am going to come back to Philadelphia and go to Temple," said Evans, originally from Alabama.

After serving in the U.S. Marines for nearly 16 years, Evans is now a human resources management major in Temple's Class of 2018.

"This wasn't here when I started," Evans said as she looked around the sixth floor office in Conwell Hall that overlooks Broad Street. The furniture is all new thanks to a $10,000 grant from the Student Veterans of America in partnership with the Home Depot Foundation.

The Military and Veteran Services Center officially opened on Main Campus in August after more than five years without a centralized location. On Nov. 15, the center held a grand opening ceremony with a little help from a special campus visitor—Gen. Colin Powell cut the ribbon that marked a milestone in Temple's history.

"I think the American people appreciate what our veterans do and will always be there for our veterans, but it really takes local activity—it takes what you've done here at Temple. It's a remarkable facility," said Powell in an interview with CBS Philly.

The center develops programs and streamlines services to enhance the transition to a successful university experience for veterans, service members, and their dependents and survivors. The office provides a one-stop service center and is also home to the Temple Veterans Association.

The office was first developed in
2010 and led by Laura Reddick, associate director for adult and veteran student recruitment and dedicated advocate for service members. When the office was first created, it was housed under Temple's University College, which encompasses all of Temple's regional satellite campuses. Reddick operated out of two offices, one at Temple University Center City and another on Ambler's campus.
"There was no space on Main Campus for the office, and just the fact that there was going to be an office, I was willing to go anywhere," said Reddick.
Now, there are close to 1,300 military service members and veterans in the student population.
"The more students you have, the more comprehensive services you need to offer," Reddick said. "We needed a center on Main Campus."
Nick White, a former nuclear operator with the U.S. Navy, has faced the difficulties and frustrations of not having a service center on Main Campus.
"I had a really bad transition, and I came out of one of the best circumstances. I was already living in Philadelphia. I was all set up and I had a terrible time going from the military to the civil sector," White says. "I knew there was a veterans group, but there was no central location, so in order to get connected with them I had to hunt them down."
The new center is organized so that student workers, like Evans and White, are always available during office hours.
"Here, you can walk up and just ask for help. If I needed help I had to find it myself, so that's one of the reasons I wanted to work here and help people out," White said.
White, a chemical engineering major in the Class of 2018, works as VA work study student at the center and is the benefits officer for Temple Veterans Association.
"We're trying to make information more visible, getting it out there and making it more accessible," he says. "I studied the 9/11 GI Bill. I wanted to be able to answer the questions for people so that we're not operating off of rumors—what people have heard from others about the bill."
Even if a student walks into the center with a question the staff is unable to answer, they'll be pointed in the right direction and make a connection in the process.
"When I meet another Marine, it's like we've known each other forever," said Evans.
"We can provide insight. We're all veterans and we've all been through this," White added.