Temple's Jessica Sandberg makes influencers list
The international admissions director was saluted by The Chronicle of Higher Education for her role in the #YouAreWelcomeHere campaign.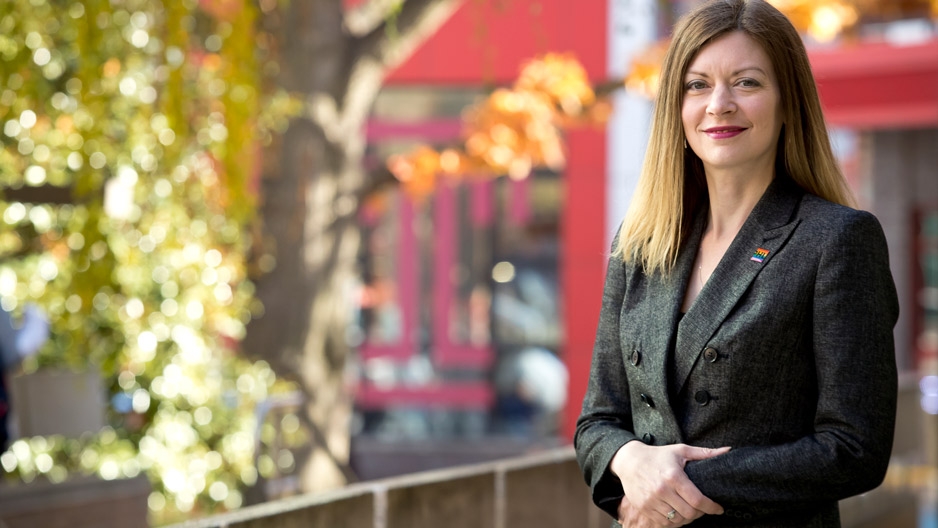 Every December, The Chronicle of Higher Education—arguably the most influential media outlet covering America's colleges and universities—ends the calendar year by publishing a list of the people who "made a difference" and "had an outsize impact" in higher education. Eight people made the Chronicle's "Influence List" in 2017, and for the first time ever, a Temple person was among them.
Jessica Sandberg, the director of international admissions in Temple's Office of International Affairs, was selected by the Chronicle for her role in spearheading the
#YouAreWelcomeHere
movement, a campaign to let prospective international students know that Temple and the United States continue to be open and hospitable places for students from across the world—a welcome message for international families at a time when some have expressed anxiety about studying in the U.S.
Video Production:
Office of International Affairs
"Adopting the slogan #YouAreWelcomeHere, Ms. Sandberg and her Temple colleagues started an online campaign, posting videos of [Temple] students, professors, and even local residents urging foreign students to continue to come to the United States and sharing positive messages via social media," wrote the Chronicle's Karin Fischer in the year-end salute. "[#YouAreWelcomeHere has] now gone viral, with some 325 colleges and 60 international-education groups—and counting—participating."
The members of
"The 2017 Influence List"
were chosen by the editors of the Chronicle because they "affected federal policy, campus culture and the national conversation in 2017" and "are likely to remain influential in the year ahead."
The citation wasn't Sandberg's only high-profile appearance in the higher-education media this year. The innovative #YouAreWelcomeHere campaign (which kicked off in November 2016 with
this video
) and her understanding of international prospective students and their needs made her a frequent commentator in publications such as
The Wall Street Journal
,
Inside Higher Ed
and
The PIE News
(U.K.).
"I'm glad that the #YouAreWelcomeHere campaign—thanks to the passion and hard work of my colleagues in Temple's Office of International Affairs—is earning international attention," Sandberg said. "Our goal was to connect with international students and let them know that the United States is a great place to study. We know this message is resonating worldwide because our own international students tell us how much they like the campaign—and how proud they are that their university is leading the way."