Temple sets 350K-pound goal for 2018 RecycleMania contest
Temple is one of roughly 700 colleges and universities nationwide that participates in the annual contest focused on recycling and sustainability.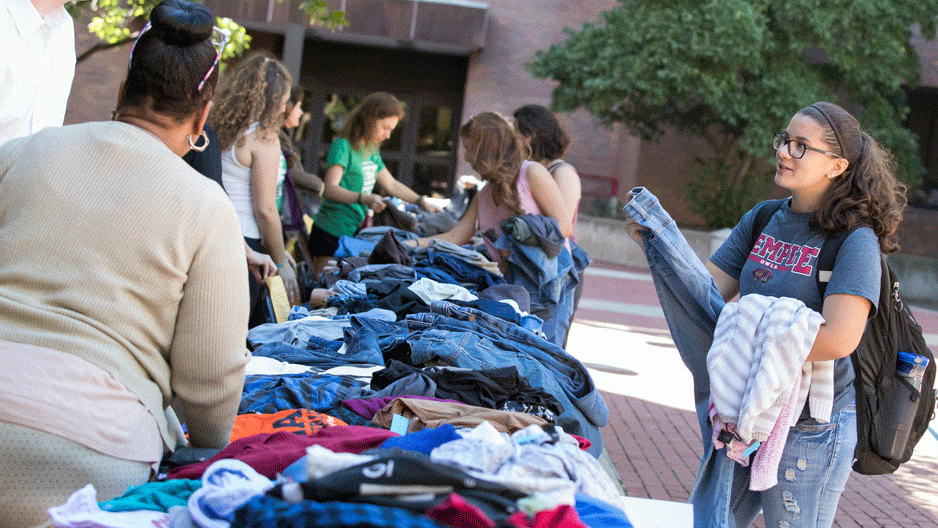 Temple has been participating in
RecycleMania
, a nationwide competition among colleges, for a decade—and Director of Sustainability Kathleen Grady has a feeling this year could be the year the university wins.
"We have a good chance of placing higher than we have in the past with the volume coming out of the university," Grady said. 
Between Feb. 4 and March 31, recycled materials on campus will be weighed and added to Temple's total pounds recycled for the contest. Last year, the university recycled 295,000 pounds. This year's goal is 350,000 pounds. 
Whether you're a faculty member, staff or a student, you can play an important role in recycling at Temple. Grady answered a few common questions about RecycleMania, as well as recycling and sustainability at Temple.
How can I get involved?
Grady: You can participate in a paper purge and office supply donation drive happening in buildings around campus during the contest. Faculty and staff can also create an account for Temple's surplus program, so instead of purchasing new office furniture or other supplies, you can obtain recycled items.
An easy way the entire Temple community can help is by using reusable water bottles and mugs. 
Why is recycling so important, and where can we have the most impact?
Grady: When we are thinking about our climate commitment, which is to reach carbon neutrality by 2050, we need to recognize how much embodied energy goes into making products. So we know that while greenhouse gas is only 4 percent of emissions, Temple has a larger carbon footprint associated with our consumption. We need to shift consumption patterns if we're going to impact climate change. 
Doesn't Temple work with the city in a recycling partnership?
Grady: The university partners with the City of Philadelphia in working toward its goal of being zero waste by 2035. It's about being a good neighbor, and without Temple, it would not be possible for the city to achieve that goal. 
What RecycleMania events can I attend?
Grady:
There are several earth-friendly events taking place on campus as part of RecycleMania, including a clothing swap Jan. 30, tabling to spread awareness throughout the competition and water bottle giveaways the week of Feb. 26. V
isit the Office of Sustainability's website
for a full list of events, and follow the office on
Twitter
and Instagram (@tusustainability).