Temple to open food pantry to serve university community
The pantry is slated to open in the Howard Gittis Student Center in February.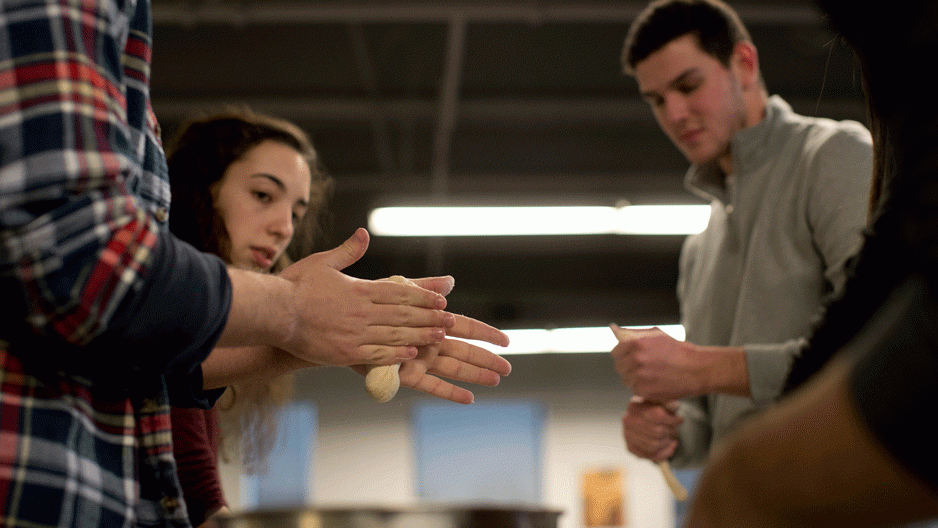 A task force formed by President Richard M. Englert and Provost JoAnne A. Epps in November to address food insecurity and related issues made the recommendation to establish the pantry. They were responding to a recent survey that showed that roughly 35 percent of Temple's undergraduate students experience "low" or "very low" food security, as assessed by a 10-item module developed by the U.S. Department of Agriculture and used around the world. College of Education Professor Sara Goldrick-Rab worked with her team at the
Wisconsin HOPE Lab
and Temple's Office of Institutional Research and Assessment to field the survey online in early fall 2017.
Temple is a place where people can get college degrees even if they weren't born into wealth. That means when a student falls short, they can't expect their family to take care of it. That's why we need to help each other."
-- Sara Goldrick-Rab, professor
"We have several areas where students come to us and talk about challenges they're facing, and food insecurity is one of those challenges," Vice President for Student Affairs Theresa Powell said. "It was often a matter of 'I owe rent, my bills are past due and I need to buy books, so I don't have enough money for food.' People will generally give up something they think they can give up—like food. And they don't really have a choice—they have to pay utilities, and they have to have a place to live."
Temple's food pantry is slated to open on the second floor of the Howard Gittis Student Center Feb. 19. Students and other members of the university community will be able to visit the pantry and select items they need free of charge.
The pantry's opening will coincide with a Feb. 19 event, "Combat Campus Hunger," slated to take place at the Rad Dish Co-op Cafe in Ritter Hall at 7 p.m. Feb. 19.
This was the first time Temple students were surveyed about food insecurity, and more than 2,300 undergraduate students participated. Students did not take the survey in order to raise awareness of food insecurity; rather, the broad survey was about their college experience. Within it, the USDA module assessed if, while working and going to college, students also suffered from a lack of reliable access to a sufficient quantity of affordable, nutritious food.
Because many higher education institutions across the U.S. have never surveyed their students on food insecurity, Goldrick-Rab said
it's difficult to say
definitively how Temple's numbers compare. "But my gut is that these numbers are similar to those at other urban universities," she said, adding that the number of students who are food insecure at community colleges is estimated to be roughly 56 percent.
Goldrick-Rab said there are a number of reasons that food insecurity has become a major issue for college students nationally, including soaring tuition rates, decreasing financial aid for students, dwindling state support for public institutions and increasingly stringent requirements to qualify for food assistance programs.
"Temple is a place where people can get college degrees even if they weren't born into wealth," she said. "That means when a student falls short, they can't expect their family to take care of it. That's why we need to help each other."
Goldrick-Rab added that a campus food pantry is a good first step in starting a conversation about addressing the larger problems that contribute to food insecurity. It's why she helped bring the
College and University Food Bank Alliance
and its director, Clare Cady, to Temple last year, and why she recently supported a new emergency aid fund on campus.
"If we're going to educate students, we need to take care of students," Powell said. "We want students to come to Temple, we want to retain those students and we want them to graduate. It's important for us to do all that we can to help them be successful, and this is a very simple part of helping students to realize their dreams."
Food items (canned and nonperishable) can be dropped off at the food pantry, on the second floor of the Student Center North, at the following times.
Thursday, Feb. 8, 1 p.m. to 3 p.m.
Tuesday, Feb. 13, 9 a.m. to noon
Wednesday, Feb. 14, noon to 2 p.m.
To donate items, take the elevator next to the Information Desk to the second floor.
The following items are typically most needed by pantries, but all appropriate donations are welcome.
Canned fish or poultry
Canned fruit
Canned vegetables
Cereal and oatmeal
Crackers
Granola bars
Juice
Peanut butter
Pasta
Pasta sauce
Rice