State lawmakers honor Rhodes Scholar during Owls on the Hill Day
Each year, Temple students travel to the state capital to advocate for continued funding of Temple during Owls on the Hill Day. This year, Hazim Hardeman, Temple's first Rhodes Scholar, received a special honor.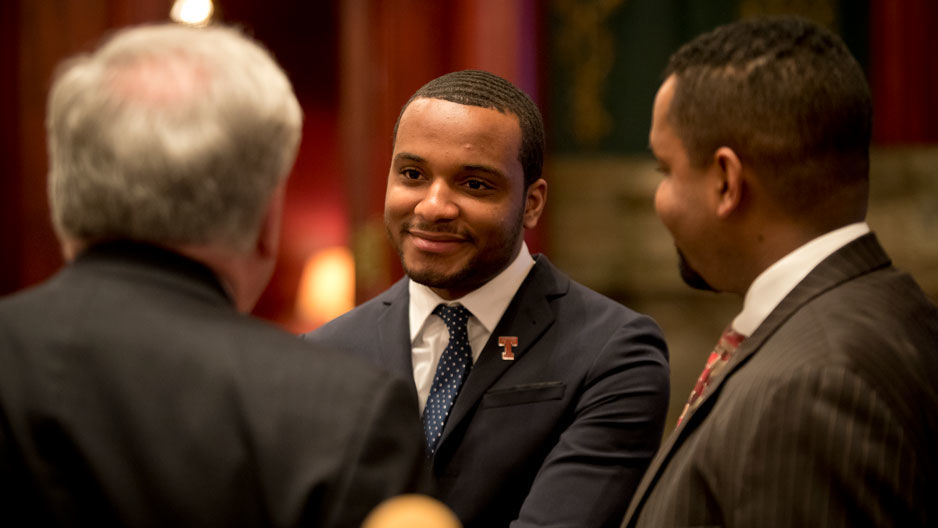 Temple students, many wearing red- and white-striped rugby shirts, fanned out across the Pennsylvania State Capitol April 17 as part of the annual Owls on the Hill Day. The students traveled by bus to Harrisburg, where they were joined by fellow students participating in the Capital Semester Program, to advocate for continued funding to Temple from the Commonwealth of Pennsylvania.
Armed with packets of materials highlighting Temple's impact on the state, a university fact sheet and a copy of Temple magazine's recent issue spotlighting
Hazim Hardeman
,
KLN '17
, Temple's first Rhodes Scholar, the students visited legislative offices to meet with members of the Pennsylvania General Assembly and their staffs.
Hardeman, who grew up near Temple's Main Campus, was also in in the Capitol for Owls on the Hill Day. He met with legislative and administration officials, including House Democratic Leader Frank Dermody, Democratic Appropriation Chair Joseph Markosek and Pennsylvania Department of Education Executive Deputy Secretary David Volkman. Hardeman was also formally recognized in the Pennsylvania House and Senate.
In the House, the citation honoring Hardeman was introduced by Rep. Vanessa Lowery Brown (D-190), who at one time participated in Temple's Center for Social Policy and Community Development New Choice New Options programs; Rep. Thomas Murt, EDU '17, whose district includes Temple's Ambler campus and who recently earned his doctorate from Temple; and Rep. W. Curtis Thomas, EDU '76, whose district includes the university. Senate recognition of Hardeman was co-sponsored by Sen. Sharif Street, whose district includes Temple's Main and Health Sciences campuses, and Sen. John Rafferty, LAW '88.
In addition to visiting with members of the General Assembly, the Temple students also met with Lt. Gov. Michael Stack, a member of the university's Board of Trustees; toured the House chamber, where they met state representatives Joanna McClinton, who also teaches in the Beasley School of Law; Morgan Cephas; Harry Readshaw; and Michael Peifer, who also chairs the Pennsylvania Higher Education Assistance Agency's board of directors; and toured the Governor's Reception Room, where they reenacted a bill signing.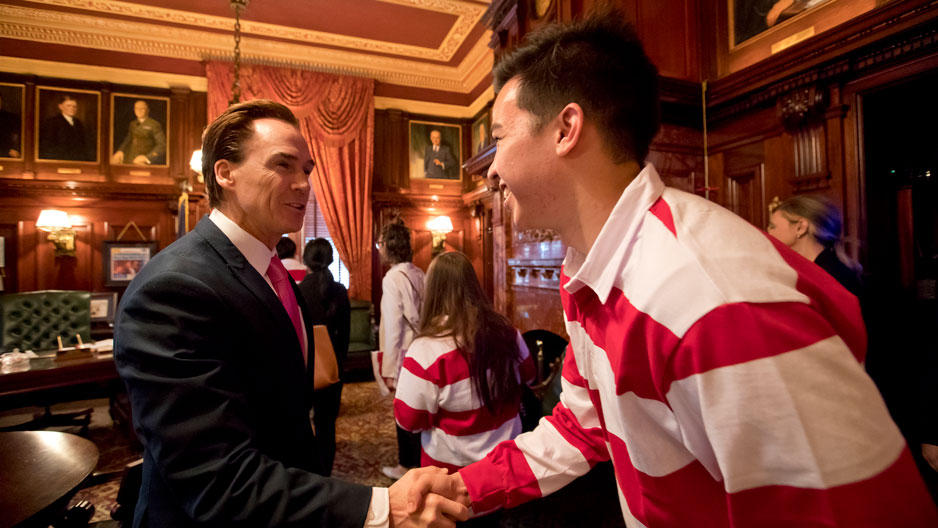 A Temple student shakes hands with Lt. Gov. Mike Stack during Owls on the Hill Day. (PHOTO: Ryan S. Brandenberg)
"Owls on the Hill Day is an important opportunity for the members of the General Assembly to personally meet and hear from the students they are investing in with commonwealth dollars," said George Kenney, Temple's associate vice president and senior advisor for government affairs. "It is these students telling their personal stories that really illustrates why Pennsylvania should continue its longtime investment in Temple University."
—Preston Moretz