Temple graduates largest class in history
More than 10,000 students from as near as a block away in North Philadelphia and as far as Indonesia earned degrees in the Class of 2018, Temple's largest class on record.
Video Production:
Gina Benigno and Louis Peluyera
As members of the 10,030-strong Class of 2018—the largest class in Temple University's history—packed the Liacouras Center in their caps and gowns and prepared to embark on their post-college journeys, U.S. Sen. Cory Booker left them with words of advice.
"Every moment, you have a chance to manifest your light, to show your power, to make a difference. I say to you, Class of 2018, you are powerful now, and my prayer for you is that every day of your life, you manifest that light, that brilliance, that hope and that promise," said Booker, who delivered the Commencement address and received an honorary degree. "If you do that, I know that you will live a life so bright and so brilliant that generations yet unborn will bathe in your brilliance, your light and your hope."
Booker, the first black U.S. senator for New Jersey, regaled graduates with stories to illustrate hope and humility: of going with his mother to meet Congressman John Lewis on the day Booker was sworn in to the Senate; of his parents only being able to purchase their home in an all-white New Jersey suburb in the late 1960s with the help of attorneys; and of eventually tracing his roots to find some of those attorneys in recent years and thank them.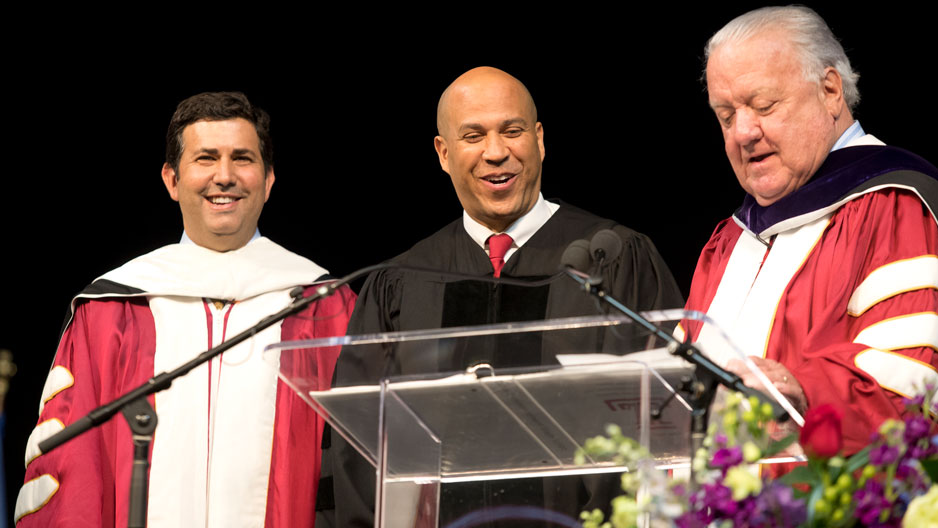 U.S. Sen. Cory Booker, center, flanked by Trustee Drew Katz, left, and Board of Trustees Chair Patrick J. O'Connor, receives an honorary degree before addressing graduates at Temple's 131st Commencement. (PHOTO: Ryan S. Brandenberg)
Paige Hill, CLA '18, the student Commencement speaker, also offered her classmates words of wisdom, reminding them that—in the words of the late U.S. Rep. Shirley Chisholm—if they aren't offered a chair at the table, "bring your own chair."
"This tenacity, this drive to succeed no matter what you look like, where you come from, who refuses to support you is what makes us Temple Owls," Hill said.
Of 2017-2018 graduating students, 6,369 received their degrees in the spring semester, and hundreds participated in Temple's 131st Commencement ceremony May 10. Still more will celebrate at individual school and college ceremonies to be held during the coming week.
Graduates of the Class of 2018 hail from an impressive 96 countries, two U.S. territories (Puerto Rico and the U.S. Virgin Islands), and 48 states, plus Washington, D.C. More than 180 are from the seven ZIP codes immediately surrounding Temple, and 18 percent—1,763 graduates—are from Philadelphia. The graduate who grew up closest to Main Campus comes from just a block away on North 13th Street, while the one who traveled furthest hails from Indonesia. 
"You are the reason I have been at Temple more than 40 years, and I am immensely proud of you," President Richard M. Englert said in his opening remarks. "You are forever Philly made and Temple made."
This tenacity, this drive to succeed no matter what you look like, where you come from, who refuses to support you is what makes us Owls."
-- Paige Hill, CLA '18
Englert reminded the graduates that they attended Temple at a pivotal time in the university's history, as it gained national prestige. During the last four years, significant strides in HIV research have been made at Temple, and Temple marked the naming of its first Rhodes Scholar, Hazim Hardeman, among other notable accomplishments. 
Women outnumbered men in this graduating class, with 5,315 women earning undergraduate or graduate degrees and 4,699 men earning degrees. The most common name among men graduating is Michael, while Emily is the most common name among women. 
Four sets of twins graduated together, and 18 spring graduates also celebrated birthdays on May 10, Commencement day. The youngest person to earn a bachelor's degree in this class is 20, the oldest 68. 
Many members of this class are repeat Temple alumni: Two earned their fourth degrees from Temple, 18 earned their third and 334 earned their second. 
In addition to Booker, Robert Bogle, chairman, president and CEO of the Philadelphia Tribune, and Meryl Levitz, the outgoing founding president and CEO of Visit Philadelphia, also received honorary degrees at this year's Commencement.
"Today, you graduate into your second family—your Temple family," Provost JoAnne A. Epps told the graduates. "Thank you for sharing yourselves with us. Now go on to make us TU proud."