New Temple Student Government leaders kick off community, campus efforts
IgniteTU plans to focus on building community relationships, as well as improving safety and student services.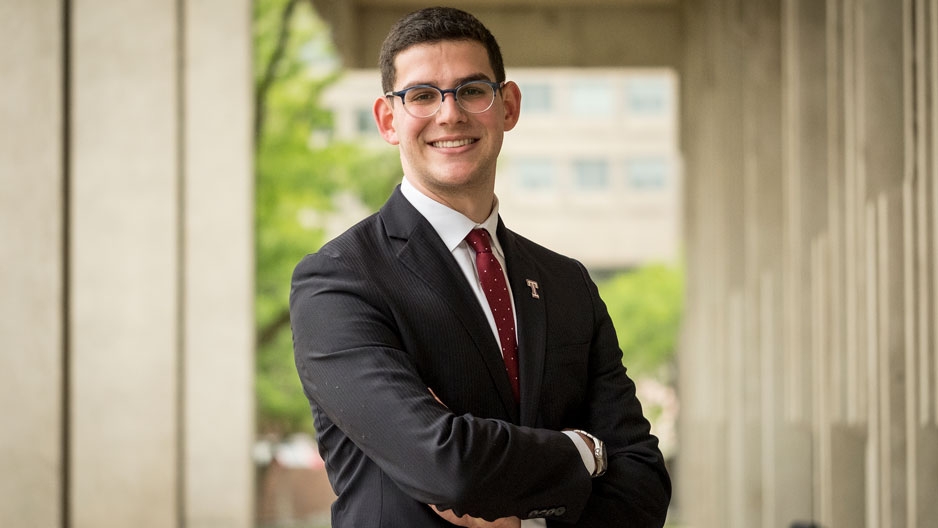 A new Temple Student Government administration was inducted April 30 to represent the student body for the 2018-19 academic year. 
After its win, the IgniteTU team will begin its ambitious three-part governing platform to "enhance, amplify and empower" community relationships and student life on campus.
Temple's positive relationships with North Philadelphia neighbors are a top priority for the new administration. IgniteTU calls for more transparency between TSG and the local community.
"Our administration plans to hold monthly community forums so that we are continuously listening to any and all of the concerns that the North Philadelphia community might have," said TSG President Gadi Zimmerman. 
The new administration also looks to further expand Temple's reach to local youth by meeting with donors to establish more scholarship opportunities.
IgniteTU also plans to reinstate monthly cleanups in the areas surrounding campus and install a compost facility that would be available to community members as well as students. 
On campus, TSG plans to partner with Dining Services to improve dining halls to be more eco-friendly, pledging to be plastic-free by 2020, and to support the university's efforts to be carbon neutral by 2050. 
In addition, the team plans to enhance on-campus security, improving the efficiency of Flight—Temple's on-demand evening shuttle service—and increasing lighting at Temple's Regional Rail station.
IgniteTU takes a strong stance when it comes to the quality of student life, promising to maintain a position of openness, awareness and communication through improvement of several services across campus. 
The team wants to boost transfer student orientation and peer mentorship programs, advocate for more funding for Tuttleman Counseling Services, accelerate implementation of recovery housing and addiction recovery efforts, and fight campus hunger and homelessness. The team aims to accomplish the latter by building a stronger relationship with Aramark to offer more meal swipes for students in need.
There will also be a push for additional support for various marginalized populations on campus, a Mental Wellness Week each semester and an effort to expand upon the annual Sexual Assault Prevention Week.
"One of our main goals that we plan to work on throughout the year is making sure that Temple Student Government as a whole is more approachable," Zimmerman said. "We want to make sure that all students on Temple's campus are aware of TSG and all of the resources that we offer." 
—Nicole Quaste