Urban Youth Leadership Academy fosters lifetime of opportunity
Temple's Urban Youth Leadership Academy is built on the idea that an opportunity is not an opportunity if its existence is unknown.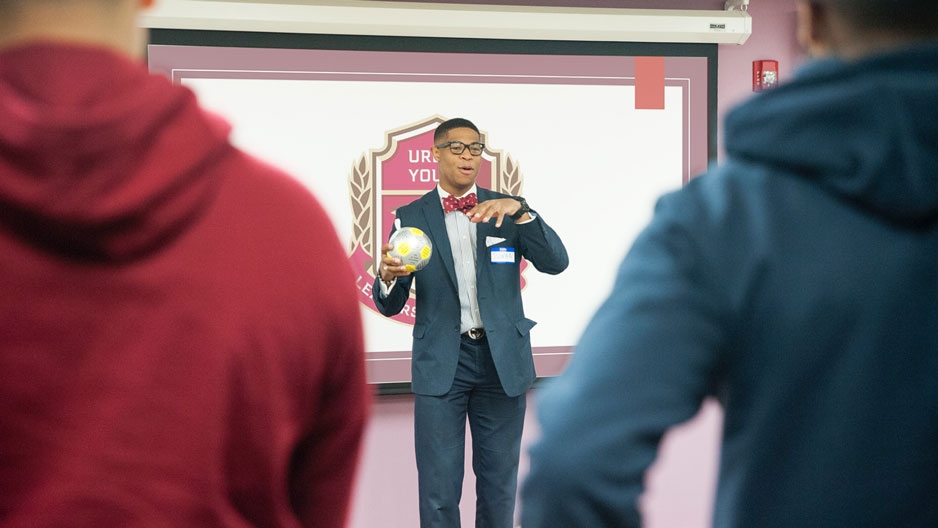 It was a kindergarten teacher who helped set the course for Juwan Bennett's successful academic career, suggesting early in his life that Bennett, who grew up in South Philadelphia, attend the prestigious Girard Academic Music Program (GAMP) middle and high school nearby.
Little did Bennett know at the time, the suggestion by that teacher, Jennifer Arevalo, that he attend GAMP, where he would go on to participate in a dual-enrollment program and earn an associate's degree before he graduated high school, would set him on a trajectory of academic success.
Now a PhD student in Temple's Department of Criminal Justice and a program coordinator for the College of Education, Bennett, CLA '14, '16, is paying it forward by overseeing the Urban Youth Leadership Academy (UYLA), a mentorship program created specially for middle school boys to guide them to similar paths of success through and after high school.
"My brother and I were really fortunate to have this great teacher telling us we should apply to GAMP," Bennett recalled. "There are a lot of students who come from inner cities who could take those kinds of opportunities. But there's no opportunity if it's not known." 
Bennett, who played football for a North Philadelphia club team through high school, settled on classical French horn during his time at GAMP. Eventually, he came to Temple as an undergraduate to play football, but when that didn't work out as planned, he joined the McNair Scholars Program, which prepares undergraduates for doctoral studies, and went on to pursue his PhD.
McNair inspired parts of UYLA, Bennett said. Piloted during the 2016–2017 academic year, principals from local middle schools—the Tanner G. Duckrey School and Paul L. Dunbar School near Temple's Main Campus—were asked to select students who would most benefit from the initiative.
Six eighth-grade boys from Duckrey and Dunbar participated in the program, which paired the students with mentors throughout the continuum of school and early career years and culminated in each boy developing a service project for his middle school.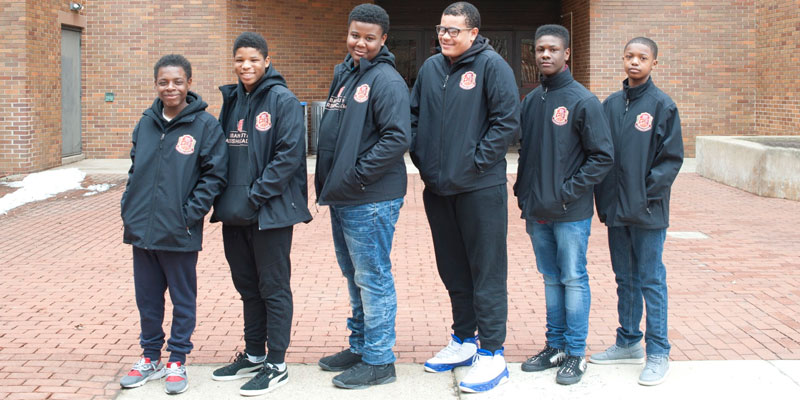 Six students from local middle schools participated in the first Urban Youth Leadership Academy at Temple.
"We traditionally see these mentoring programs and college access programs serving high school students, but we're starting at that middle school level. We think it's crucial, because in Philadelphia, the high school application process begins in middle school, and it mirrors the college admissions process," explained M. Meghan Raisch, a former Philadelphia public school teacher and an education engagement specialist in the College of Education who helped develop UYLA. "It's that rigorous, with interviews and often, project presentations. This process is an often overlooked entry point to the college pipeline that we are trying to make more accessible."
The goal of UYLA is to connect students with those opportunities they may not access otherwise and to provide them with the skills necessary to navigate those admissions processes. Bennett said the goal is to create a "college to career" pipeline by helping shepherd participants through not just the high school admissions process, but the college admissions process as well.
Pairing the students with mentors who are college-age and professional men gives them a window into their futures. Familiarizing them with being on a college campus at a young age fosters a sense of belonging and comfort. The flagship service projects each boy created for his respective middle school—which included establishing a community garden, organizing a home-run derby fundraiser, and hosting a supplies drive for kindergarten classrooms—taught them how to develop and pitch ideas, create budgets and execute projects.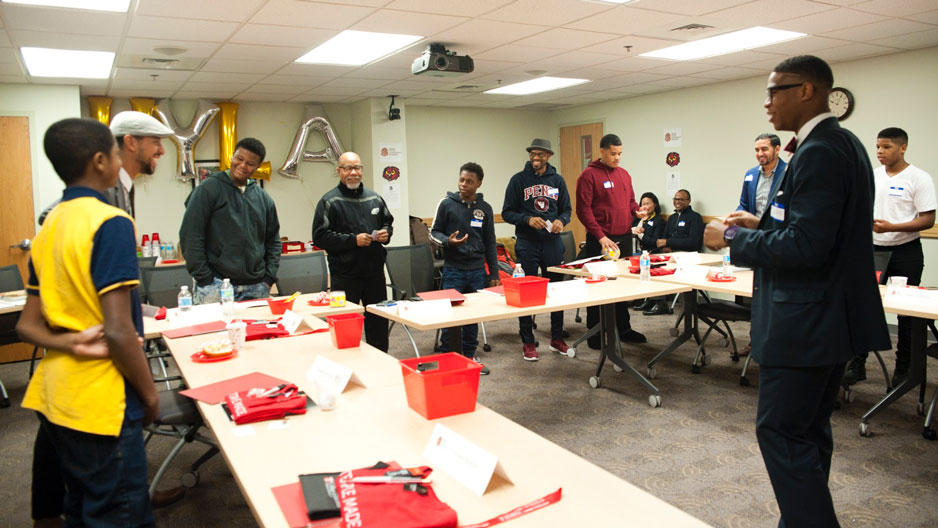 Students participate in a session with mentors during Urban Youth Leadership Academy.
Program participants also visited Washington, D.C., as part of UYLA and spent the day at the National Museum of African American History and Culture and on campus at Howard University. At Temple, they attended mentoring sessions and workshops held in smart classrooms on weekdays and weekends. All programming was designed to be open-ended to allow mentors to work with individual students based on their needs and interests. 
"We have this motto that you can't be what you can't see," Bennett said. 
"The UYLA taught me that I possess the potential and ability to change my life," Takir Spain, one of the UYLA scholars, said. "And when I surround myself with people who are just as motivated as me, anything is possible." 
Spain now attends Northeast High School. The other boys who participated in the program will soon begin their sophomore years at other city schools, including Jules E. Mastbaum High School and Parkway Center City High School, both magnet schools. 
Bennett, whose focus in his PhD studies is on juvenile justice, said programs like UYLA not only set the stage for success in high school, college and beyond, but also have a protective effect on youngsters growing up in under-resourced neighborhoods.
"In my field, we talk a lot about prevention methods, but a lot of our prevention methods are really intervention methods, so youth have already been labeled that they're going down the wrong path, and we create some kind of intervention to deter them from that path," Bennett said. "Our program is unique in that it is truly preventative in that we take boys who have no title, they have no label. To have a truly preventive program is interesting, so they don't have to be at risk, and their grades don't have to be slipping below average. We really look for individuals who have promise."
The six participants of the pilot program continue to stay in touch with Bennett, Raisch and James Earl Davis, professor of policy, organizational and leadership studies and the Bernard C. Watson Endowed Chair in Urban Education, who also had a hand in creating the program. 
Bennett, Davis and Raisch have big visions for the program's future—including creating a version for middle school girls and expanding it to showcase post-secondary options beyond college, such as trades and real estate. But they have not yet found the funding to continue it for a second year.
"We were fortunate to be funded by a very generous alumni donor for the pilot, but we're still trying to secure other funding to keep this going," Davis said. "To do the program that's been envisioned and implemented by Juwan, it can be expensive."
They hope to continue the program in an upcoming academic year with a new cohort.
Bennett said his own upbringing is what inspired him to pursue academic studies and work that combines criminal justice and education—of which UYLA is a prime example.
"We grew up surrounded by a housing project, and then we grew up at 26th and Wharton, which is very crime-ridden, and to really understand the landscape, I think for me, scholars got it wrong, because they were talking about a place of hopelessness," Bennett said. "But I see people with a bunch of potential. The way we think about crime and safety, and education and criminal justice needs to have a better marriage."