Temple Takeover: 22 students interned at QVC this summer
The 22 Owls learned the ins and outs of working for a leading digital retailer.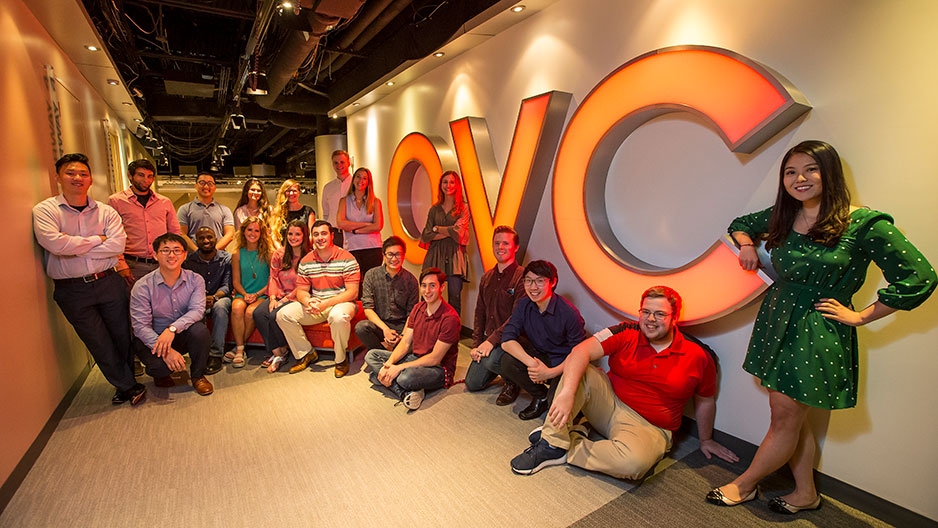 Temple students did some incredible things this summer here in Philadelphia, around the world, and in West Chester, Pennsylvania, where one group of Owls took up residence at QVC headquarters. 
The global digital retailer offers an array of internship opportunities for undergraduate and graduate students. This summer, the company employed 99 interns—and 22 of them were Temple students.
What is it about Owls that landed so many of them at QVC? 
"Temple students are eager to get a hands-on experience," said Shannon Geddes, university relations partner at QVC. "They come in and are always ready to hit the ground running. QVC is very fast-paced, and Temple students fit right in."
From coding in the IT department to operating cameras in the control room, from tracking real-time results on QVC's website to scripting a show, Temple interns "get well-rounded experience and are involved with their team," said Geddes. 
Alexandra Safir, an MBA student in the Fox School of Business, was a graduate intern this summer focusing on global diversity and inclusion. One of her tasks was to design a scorecard that measures diversity and inclusion indicators across Qurate Retail Group's brands (which includes QVC, HSN, Zulily and Cornerstone Brands). 
She was also part of a team responsible for developing a marketing and brand strategy to help QVC reach a new customer demographic, which she and her team members presented to senior leadership. 
Throughout her internship Safir noticed her graduate education coming into play, from using Excel to analyze and visualize data to directly applying lessons and frameworks in marketing and design thinking to large-scale projects
"I'm looking forward to applying what I have learned from this experience to the second year of my MBA studies and my future career," Safir said. 
The diversity of professional experience is one of the many perks that drew so many Temple students to QVC headquarters this summer.
"QVC is incredibly supportive of its interns, ensuring that we have access to team members beyond our departments, setting up 'lunch and learn' sessions with different teams, and organizing a field trip to one of the fulfillment centers," Safir said. "I have even spotted a celebrity or two."
For some Temple students, the journey isn't over when the internship ends. Marissa Giletto was a Temple student studying broadcast journalism and public relations when she landed the position of talent intern at QVC in spring 2017.
"I loved it so much and could see myself building a career there," Giletto, KLN '17, said—and that's exactly what she did. 
After graduating from Temple, the alumna accepted her first job at QVC as an eCommerce associate, and later transitioned into the senior coordinator role in affiliate marketing. 
And Giletto isn't alone.
"Our conversion rate of interns to full-time positions continues to grow every year," said Geddes, adding that it's more than a conversion rate. "They aren't just interns—they are members of our team."
Learn what other Temple students were doing this summer at QVC.

—Nicole Quaste