Moy, a longtime Temple staffer with decades of experience in workforce development, took the reins as executive director of the new Lenfest North Philadelphia Workforce Initiative this summer.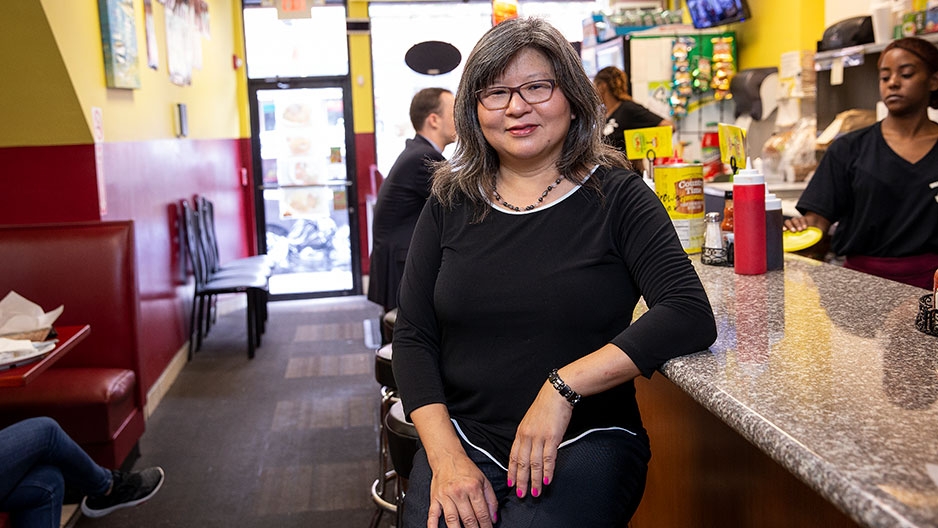 Shirley Moy is no stranger to helping oversee workforce development programs at Temple and in North Philadelphia. She earned her master's degree from Temple's School of Social Work in 1988 and led the Center for Social Policy and Community Development (CSPCD) in Temple's College of Public Health for nearly a decade.
So when the Lenfest Foundation awarded Temple a $512,000 grant to establish the comprehensive Lenfest North Philadelphia Workforce Initiative (LNPWI), connecting community residents with education and job-related opportunities, Moy was a natural fit as executive director. She officially took the helm of the new initiative in July. Here, she shares her expertise, ideas and vision.
QUESTION: What is your vision for the first year of the LNPWI?
MOY: The Lenfest Foundation gave an initial grant that was meant to support research to look at what the strengths and opportunities within North Philadelphia are, so our goal is to really understand what the community wants, what opportunities are being developed, and also to get a handle on what the university already does in this arena. I think very often that's not coordinated well enough or understood well enough—we may know each pocket in different programs, but we don't know the sum of all the university programs. So by understanding that, we end up with a strategy for where to address gaps or expand existing programs that are successful.
I've learned through the conversations I've had with people in the community, the university and stakeholders in the public workforce field that the target has to be employers. If employers are not engaged, we can do all the training in the world, but if they're not hiring locally, we're going to miss the opportunity to increase employment for people living in North Philadelphia.
Q: Why are initiatives like this so important for this community in particular and for the city as a whole?
MOY: We know that employment leads to higher wages. That's a logical connection. We also know that education increases opportunities for higher-paying jobs, and that higher household income contributes to people being able to invest in their own homes, their families and their communities. So in large part, I see this as a community investment project helping to address issues of poverty and increase wealth.
Q: How does the job market for North Philadelphia compare to that of the city overall? 
MOY: That's part of the first-year study, to really understand North Philadelphia. We know that North Philadelphia in general has higher-than-average unemployment and poverty rates. So that's one of the reasons it's important to focus efforts here. North Philadelphia is identified in the city's strategic plan as a target for workforce development, because this is an area that has a higher need.
North Philadelphia has a lot of strengths, but there are things the data will suggest. Educational attainment is lower; we have populations who may have more challenges to overcome or issues they need to address, and there are programs they could benefit from.
Q: Which industries offer the most opportunity for growth for people in this area?
MOY: If you look at the high-priority occupations, the healthcare and information technology (IT) fields are growing industries. Customer service and retail is a growing industry, although they probably pay less than others. I would say there is a huge need in the early childhood education field. We've met with a few of those employers, and they have shortages and a lot of turnover. I think construction is a good area, too. Philadelphia is having a huge construction boom.
Q: What are some of the barriers preventing people in North Philadelphia from accessing meaningful career opportunities?
MOY: If you don't have your high school diploma or GED, it's a challenge. It's a challenge even if you have a high school diploma, if you have literacy issues and challenges reading and interpreting numbers.
Returning citizens are faced with stigma and challenges with finding employment, and they may be great assets to any company, but just being stigmatized can create a barrier to employment.
There are challenges for people related to the digital divide if they are not computer-literate. Today's economy is heavily dependent on technology. Being computer illiterate is an additional barrier, because you even have to apply for jobs online.
 
People who speak English as a second language face challenges. They can be supported by their communities, but if they're trying to integrate into the mainstream and they have limited English proficiency, that's a challenge.
It's also a challenge for folks who are over 55. They may have been laid off or their company may have closed. They may have been employed for 20 years, and then they find themselves displaced and trying to reinvent themselves. Again, there could be a technology issue, or it could just be a limited skill set. And a lot of people need to work past 55.
Q: What are some of the most notable benefits the LNPWI will bring?
MOY: The hope is that there will be greater employment of North Philadelphia residents at Temple and local businesses. Increased employment of local residents is key. To get to that, the goal is to increase educational levels. So if you don't have a high school diploma, you get a high school diploma; if you have a high school diploma but you're at a low level of literacy, your literacy skills are increased.
It also has to do with credential attainment, meaning people receive occupational skills training, for example, community health worker training, or training in customer service or IT. There's also training on supportive skills that make you successful in the workplace, such as crafting a résumé and communicating effectively.
Beyond employment, it's some kind of subsidized or unpaid work experiences— internships for high school students, or a pre-apprenticeship program, so it may not be paid, but it gives people an idea of what that career path is. It can be paid apprenticeships, paid internships or community service—something that gives people with limited work experience that experience, so they can put it on their résumé.
Q: How can people best utilize this initiative?
MOY: The LNPWI is not providing the service. We are engaging people throughout the university who are providing this service to be the access point for community residents. So it is creating the hub to know what the resources are and offer them to folks.
Q: What are some of the longer-term goals of the LNPWI?
MOY: The plan is for the Lenfest Foundation to commit funding for three more years, with an option of renewing for another three years, depending on how successful the university is in terms of reaching its outcomes. With the goal of additional funding come 2019, gaps in what's not being provided will be filled by either a Temple department or in collaboration with a community partner,influenced by the information generated through the city's assessment study and the strategic plan for workforce development. We're bringing all those forces together and producing something that's evidence-informed.