Ongoing project provides custom devices to children with cerebral palsy
Temple students delivered specially designed cardboard adaptations to students at West Philadelphia's HMS School for Children with Cerebral Palsy as part of Adaptive Design Greater Philadelphia.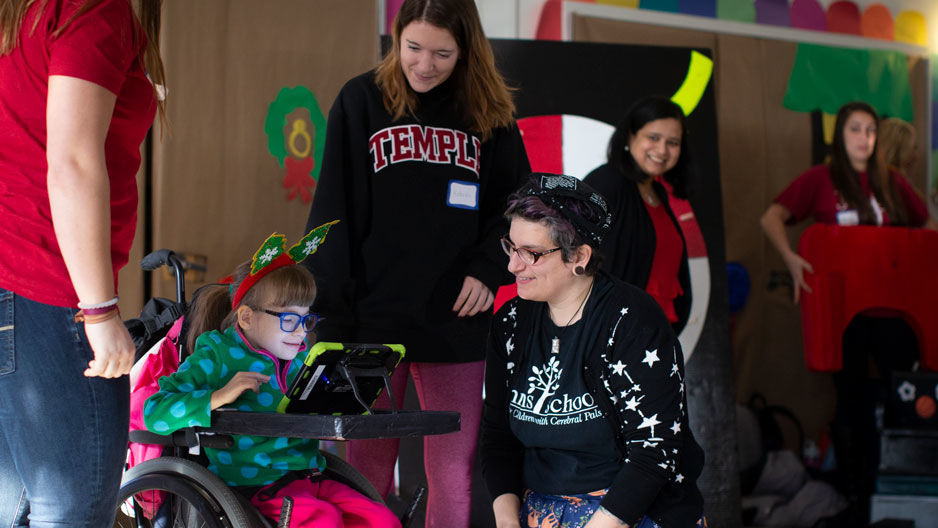 Two occupational therapy students from Temple University were looking to demonstrate a ramp they had built using three-ply cardboard. And Josh was more than willing to volunteer.
 
The student body president at HMS School for Children with Cerebral Palsy, Josh took a plastic truck handed to him by a teacher and pushed it down the freshly built play ramp. Next, he tossed a mini beach ball toward the ramp's berth and achieved a similar result.
 
He smiled with delight.
Last month, students from Temple's occupational therapy program delivered and demonstrated the ramp—along with other customized devices and fitted adaptations—for 30 students at the West Philadelphia-based HMS School. The devices are intended to help the students, many of whom face physical disabilities, more fully accomplish routine tasks and partake in social activities.
With grant funding, Temple's Institute on Disabilities established Adaptive Design Greater Philadelphia, a program that creates cardboard adaptations for children with mobility-related disorders.
 
The adaptive fittings and devices included:
a tray coated in a non-slip material, allowing a keyboard enthusiast to play the musical instrument without risk of it falling. Temple's students lined the tray's edges with sheet music to a favorite song—"The Circle of Life" from Disney's The Lion King.
a mailbox that affixes to the mobilized wheelchair of a teenage boy who enjoys delivering mail to his classmates and teachers.
stackable leg rests, allowing for easier stretching of legs.
a customized tray for an independent eater, allowing for spaces that will fit either a bowl or a plate.
a wheel that, when spun, helps students choose their partners for group activities.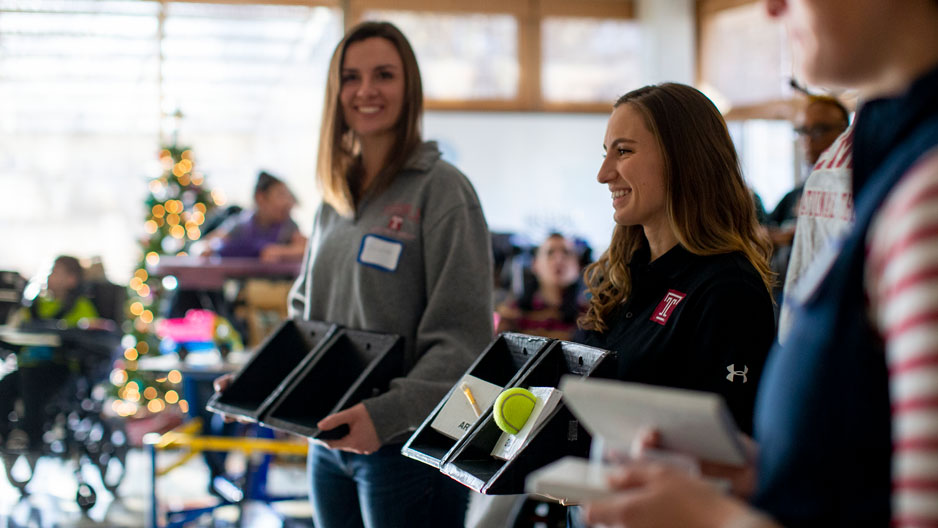 Occupational therapy students Christine Kaufmann, left, and Christina Neroni, right center, present adaptations designed for students at the HMS School in West Philadelphia. 
"I worked with a few others on the wheel," said Emily Manchick, a Cleveland native and second-year master's student in Temple's occupational therapy program. "We weren't sure how we would pull it off, but after meeting and consulting with the students, we can see how important this device will be to their large assemblies and classwork."
 
"It was fun to be this creative within our academic work," said fellow second-year graduate student Megan Reid, a native of Hillsdale, New Jersey. "Today allowed us to see the practical applications of our work."
The adaptations are designed with lightweight, yet durable three-ply cardboard, significantly improving the devices' portability and reducing production costs.
 
Earlier this semester, Temple's occupational therapy students met with students from HMS to assess their individual needs. Then, the students collaborated with their peers in Temple's art and architecture programs at the Tyler School of Art to design, build and decorate the customized devices.
 
"These young people can outgrow their adaptive fittings in a short period of time," said Rochelle Mendonca, associate professor of occupational therapy. "The use of this material allows us to expand the reach of our program and impact the lives of more students through this assistive technology. Last year, we produced seven adaptive fittings for HMS students. And as part of our work this year, we upgraded those same devices to accommodate the growth of those students."
 
Teresa Giardina, a special education teacher at HMS School, said the program has made an impact on the students and their families by providing affordable adaptations.
"Equipment is incredibly expensive and specific," she said. "This program through Temple helps us to increase the active participation of our students and to design devices for our students that would not be feasible to buy commercially."