Pharmacologist's research on rare diseases earns grant from Michael J. Fox Foundation
Marlene Jacobson, a pharmacologist at Temple's School of Pharmacy and member of the Moulder Center for Drug Discovery Research, discovered a treatment for a rare disease that could lead to drugs for Parkinson's disease.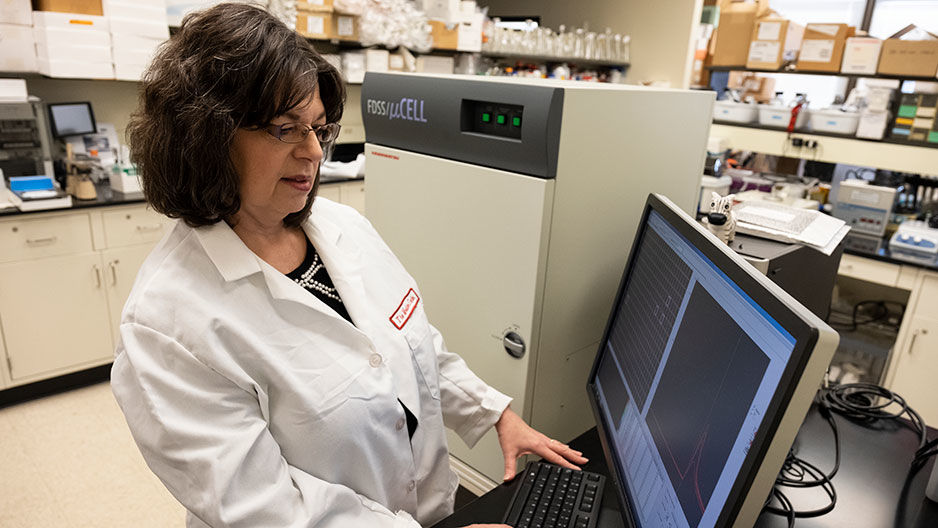 Rare diseases get Marlene Jacobson out of bed in the morning.
Six years ago, Jacobson, a molecular pharmacologist, joined the faculty of Temple's School of Pharmacy and the school's Moulder Center for Drug Discovery Research after a 24-year career in research and drug discovery at a large pharmaceutical company. As an associate professor of pharmacodynamics in the Department of Pharmaceutical Sciences and associate director of the Moulder Center, Jacobson now focuses her research on her passion: working to discovery therapies for rare diseases for patients that often have no treatment options or cures. 
"I came to Temple because I wanted to make a difference in patients' lives," Jacobson said. "I wanted to use my drug discovery skills and apply them to help patients who are underserved." 
That passion for rare diseases recently led Jacobson to a discovery that could have much larger implications: Through her study of Gaucher disease type 2, a rare disease that typically causes death before age 2, Jacobson discovered compounds that have the potential to reverse the disease, which arises from mutations in the GBA1 gene and disrupts normal cell function. This same mutation has also been found in roughly 10 percent of patients with Parkinson's disease.
"People with the GBA mutation develop Parkinson's disease at an earlier age, and their cognition symptoms are worse compared to those who do not have the mutation," Jacobson said. "The link between mutations in Gaucher disease and Parkinson's disease suggest a common disrupted mechanism or pathway. We can translate the compounds we have found to improve Gaucher to Parkinson's." 
To further explore her discovery, Jacobson was recently awarded a grant by the Michael J. Fox Foundation and The Silverstein Foundation for Parkinson's with GBA. 
"This work is so exciting and so primed for discovery," Jacobson said.
With the grant, Jacobson will expand her studies to Parkinson's patient cells that have the GBA1 mutation. 
Jacobson said she will use Parkinson's disease patient cell lines to continue her studies of the compound's effects. "The key is we have the full disease environment in the cell," she said. "We're very fortunate to have access to these patient cells, and we treat them with respect as they provide an advantage in demonstrating a compound's potential to reverse a disease state."
She said this kind of work is exactly what drew her to focus her academic research on rare diseases. The pharmaceutical industry is adept at drug development and clinical research, she explained—historically, pharmaceutical companies have focused on discovery and development of drugs that target larger patient populations. Rare diseases, by definition, affect small numbers of patients, and have not been a focus of investments by big pharma.  
"There is a paradigm shift in drug discovery where the pharmaceutical industry has increased its interest and is now looking to academic scientists for breakthrough ideas leading to drug discovery," Jacobson said. "That's what we do here at Temple and the Moulder Center." 

—Morgan Zalot