Temple hosts global teacher exchange sponsored by Department of State
Temple is the only U.S. university to secure this 2019 grant and the first Philadelphia-based university ever to receive it.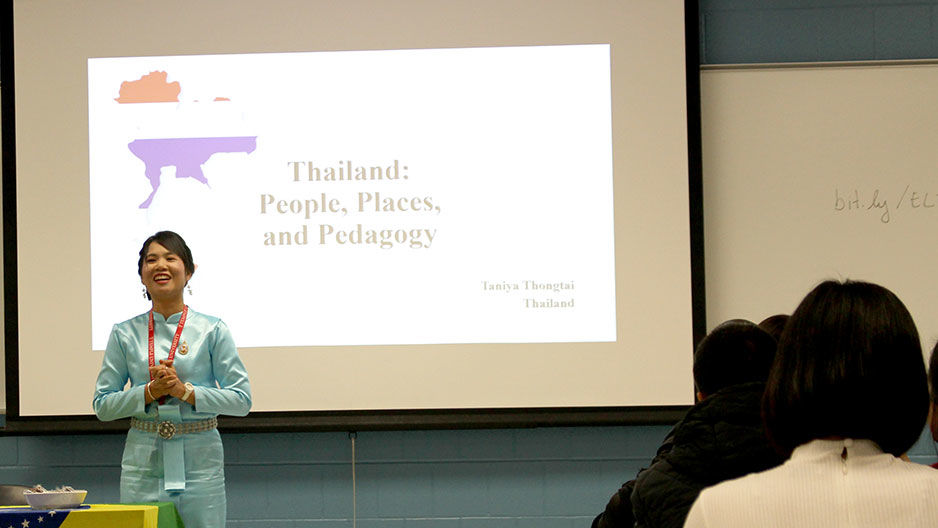 A grant from the U.S. Department of State's Bureau of Education and Cultural Affairs recently enabled Temple's Intensive English Language Program (IELP) to host 24 English teachers from 23 countries, from China to Madagascar, for a special two-week program.
"This was a rare opportunity to bring together educational representatives from around the world to share in unique global perspectives. In doing so, we learned that we are all confronted with similar challenges and are united in our desire to provide the best education possible for all students," said Jacqueline McCafferty, director of the IELP.
Guided by Temple's mission of accessibility, this program, known as "Developing 21st Century Skills for Globalizing EFL Classrooms," elevated U.S. methods for teaching English to a global scale. Influenced by the theme of democracy and civics, students were exposed to hot topics in education ranging from media literacy to service learning. Workshops emphasized culture and technology as core elements of curricula and exposed participants to U.S. history through excursions in Philadelphia, a powerhouse city of U.S. education.
The theme of accessibility was especially apparent at a daylong workshop at Esperanza Academy Charter School. Much like Temple University, the school was founded by a minister whose goal was to serve the local community—in this case, Hunting Park, a Hispanic neighborhood in North Philadelphia. Esperanza serves the surrounding community, offering middle school- and high school-level classes, continuing through college courses for associate's degrees. More than 80 percent of Esperanza's students are eligible for the National School Lunch Program, and 28 percent are learning English as a second language. 
"In a place like Hunting Park, there is a trend for community members to leave once they become educated. Here, we encourage our students to stay and become part of the change," said David Hurtado, interim executive dean of Esperanza College.
I have met teachers here who are from countries that are close or very far away, but we face the same concerns and are looking for similar solutions."
-- Sedat Beceren, teacher, Turkey
During their visit, the Teacher Exchange Program educators observed Esperanza's special approach to teaching and learning, conducted one-on-one interviews with local students and administrators, and participated in reflective workshops with teachers. The trip illustrated how the U.S. education system, including Temple's IELP, focuses on student-centered and goal-oriented learning. More crucially, it demonstrated how using these methods to teach English can provide greater opportunity for students in under-resourced communities, from North Philadelphia to Nepal.
"I can see that U.S. teachers know the way to empower students to learn and bring their potential to the fullest," said Thi Thu Huyen Nguyen, a teacher participant from Vietnam. "In Vietnam, there is a focus on examination-oriented teaching, but here, it's more about service learning and critical thinking skills. I have so many (lessons) to take home with me."
The program concluded as participants worked in pairs to develop digital lesson plans that incorporated the themes and methodologies they learned. Continuing with the goal of accessibility, these lesson plans are now posted on the Open Educational Resources Commons, an online digital resource library promoting free access to high-quality education. By doing this, participants are able to share what they learned not only with fellow teachers in their home countries, but also with educators around the world. The teachers presented their digital final lesson plans to IELP staff and Esperanza volunteers on the last day of the program, and received critical feedback.
"I've loved being a part of this program," said participant Sedat Beceren of Turkey. "Apart from learning the teaching experience in the United States, we also learn from each other. I have met teachers here who are from countries that are close or very far away, but we face the same concerns and are looking for similar solutions."
After their farewell dinner at Temple, the Teacher Exchange Program participants traveled to Atlanta for the TESOL 2019 International Convention and English Language Expo, where they continued to network with like-minded global educators and tailor their teaching methods to dedicated international English learners.

—Rachel Jenkins, Marketing Coordinator, Intensive English Language Program