Celebration champions globalization at Temple and in Philadelphia
Temple's annual Celebration of Globalization recognized two major influencers in making Philadelphia a global city and Temple a global university.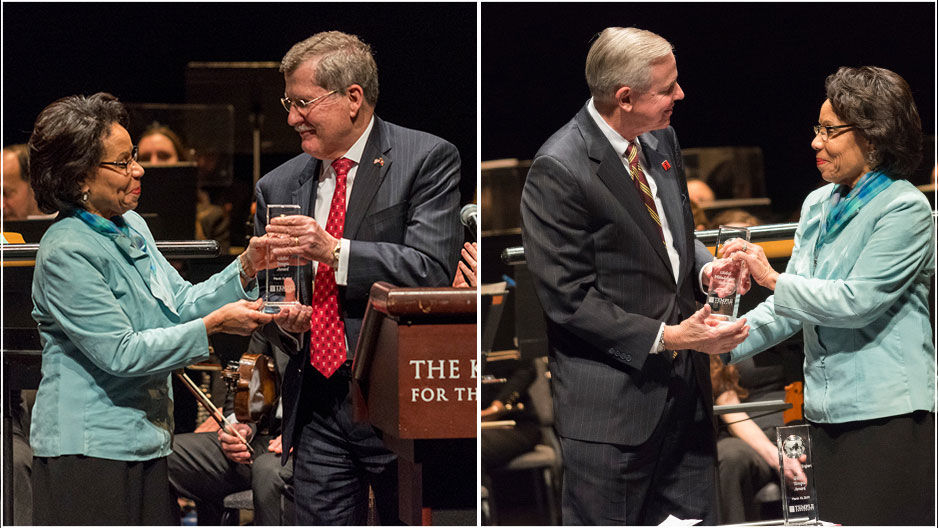 Temple's annual Celebration of Globalization this year honored two people who have championed globalization both at the university and in the city of Philadelphia.
On March 12, during Temple's fifth Celebration of Globalization—marked by a concert at the Kimmel Center in downtown Philadelphia—the university honored John F. Smith III, who was critical to Philadelphia becoming a World Heritage City, and Temple President Richard M. Englert, who has long championed the university's globalization. 
"Globalization is an American orchestra conducted by a Taiwan-born Chinese American playing Chinese music to an audience with multiple nationalities," Vice President of International Affairs Hai-Lung Dai said of this year's celebration. "Globalization is people on the planet Earth … solving problems and improving the quality of life together." 
This year marks many significant internationalization milestones for Temple, including the 40th anniversary of Temple awarding an honorary degree to China's transformational leader of the 1970s - 80s, Deng Xiaoping, the 20th anniversary of the groundbreaking Tsinghua Rule of Law Program in China, the 37th year of Temple University Japan and the 53rd anniversary of Temple Rome.
Dai also announced upcoming global developments, including Temple's sponsorship of the Philadelphia Orchestra's 40th anniversary tour in China this May and the move of Temple Japan to a new campus at Showa Women's University.
Dai served as guest conductor during the celebration, leading the Lansdowne Symphony Orchestra in their performance of Chen Gang and He Zanhao's historic "Butterfly Lovers' Concerto," the first violin concerto in Chinese classical music. The concerto featured soloist Liang Chai, a world-renowned violinist, and Boyer College of Music and Dance Professor Jeffrey Solow on cello. 
Showing the evening's full global scope, Lansdowne Symphony Music Director Reuben Blundell led the remainder of the concert, with classical music from Johannes Brahms of Germany, Pablo de Sarasate of Spain and Russian-born Alexander Borodin (who, like Dai, shared a passion for both chemistry and music).
After the intermission, Executive Vice President and Provost JoAnne A. Epps presented Smith with the Global Philadelphia Award. 
"Early on, John recognized the potential of being a World Heritage City to help Philadelphia boost tourism and commerce," Epps said. "Every year since earning this distinction, Philadelphia has welcomed increasing numbers of tourists and guests from abroad."
Believing that Philadelphia had not yet reached its full potential as a world city, in 2010 Smith joined with leading civic organizations to create the Global Philadelphia Association. Smith was also instrumental in successfully campaigning for Philadelphia to become the first World Heritage City in the United States.
For his dedication to internationalization at Temple, Epps presented Englert with the Global Temple Award. 
"Mention an international visitor or a cultural event, and President Englert clears his schedule," she said. "In the over 40 years since Dick has been here, his contributions to our university's internationalization run deep."
Much of the university's growth in internationalization occurred under Englert's leadership as president and provost. Since the formation of Temple's International Affairs Office in 2010, the number of international students has more than doubled, attracting more international students than ever—nearly 4,000 from 127 countries. Study abroad numbers have grown to a record 1,500-plus per year. 
Most recently, Englert's support of the nationwide Temple-initiated #YouAreWelcomeHere campaign, created to ensure that international students feel welcome at U.S. universities, helped achieve acclaim from the Chronicle of Higher Education and grow the campaign to more than 350 universities nationwide.
Englert will be donating his award prize to the International Student Emergency Financial Aid Fund at Temple, which assists students if they are unable to meet immediate and essential expenses.

—Rachel Jenkins, Marketing Coordinator, Intensive English Language Program