Temple and others make strides to promote bicycle safety
In 2015, while biking on campus, Rachel Hall, CLA '15, was struck by a hit-and-run driver. The incident inspired her brother to start a business and furthered bike safety discussions at Temple.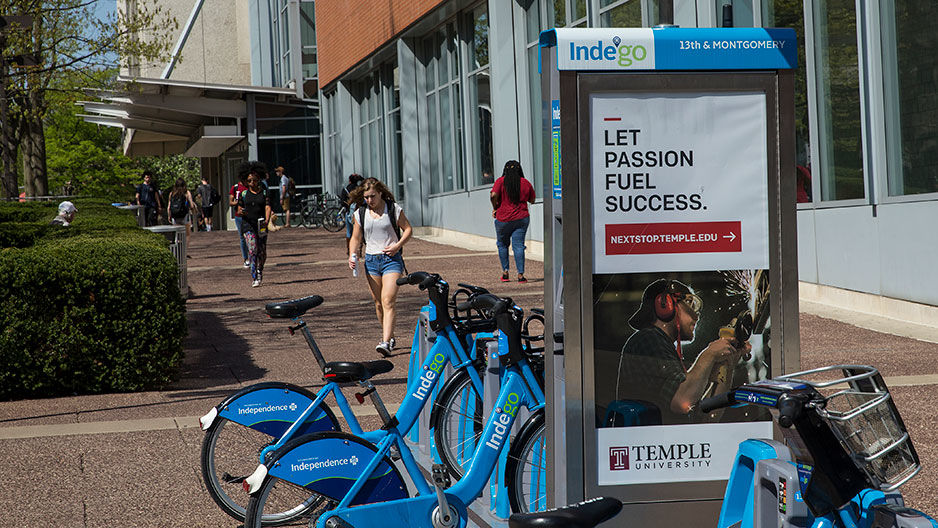 A month before Rachel Hall, CLA '15, was set to graduate, she was struck by a car while riding her bicycle near 13th and Diamond streets on Main Campus. 
Hall, then 22, a student-athlete on the lacrosse team and criminal justice major, was given a 20 percent chance to live and spent the next four months in a coma. That May, Rachel's mother attended Commencement to accept her daughter's diploma on her behalf. 
"We were asked all the time, 'Was she wearing a helmet?' and she did not," said her brother, David Hall. "I kept thinking about what to do."
According to the National Highway Traffic Safety Administration, roughly 60,000 cyclists suffered injuries in 2016, the most recent year for which data is available, in collisions with motor vehicles. The same year, more than half of cyclists killed in crashes—at least 51 percent—were not wearing helmets, according to the Bicycle Helmet Safety Institute. Common reasons for not wearing a helmet may include uncomfortable fit or the inconvenience of carrying one.
"I had Rachel in a few of my classes and we developed a mentor/mentee relationship. I also became familiar with her family, and I told her brother after the accident to take this negative experience and do something positive," said Joe Alkus, assistant professor of criminal justice in the College of Liberal Arts. 
David, along with friend and fellow engineering student Jordan Klein, took Alkus up on his advice: They set out to reimagine the use of bicycle helmets and created a startup, Park and Diamond, named for the intersection where Rachel Hall's crash occurred. The company makes collapsable, safe bicycle helmets that Hall and Klein designed.

Park and Diamond's helmets are made of composite materials that provide energy absorption while allowing the helmets to be collapsable to make them easily portable. The helmets, which resemble baseball caps, fold to about the size of a water bottle when not in use to fit into a backpack or handbag for easy travel. They are designed to, upon impact, direct energy away from the rider's head.
Park and Diamond has gone through a cycle of funding opportunities, and after a recent successful Indiegogo campaign, they plan to invest more in the helmets and eventually expand their ideas into other fields, like sport or medicine, where helmets may be used to help protect patients with head injuries during their recovery. 
"I think what Rachel's brother and his partner are doing with their company is great," said Kathleen Grady, director of Temple's Office of Sustainability. "It serves as a reminder of what we can collectively achieve to maintain bike safety, especially on campus."
Grady's office is tasked with creating and implementing a sustainable culture at Temple, including supporting alternative transportation initiatives like biking. Her office also manages bike share opportunities on campus provided by Indego, bike repair stations and equipment, and repair/maintenance services. One of the office's programs is Bike Temple, which promotes cycling on campus and throughout Philadelphia.
Founded in 2009, Bike Temple became part of the Office of Sustainability in 2012 and has expanded since its inception. It offers classes to help students and other members of the Temple community learn to safely navigate Philadelphia streets on bikes, as well as cycling groups through which people can join together for leisure rides.
"Our goal is to create a community of cyclists and a more bike-friendly culture on campus," Grady said. 
As a result of the university's various initiatives supporting cycling, Temple has been awarded silver status as a Bicycle Friendly University from the League of American Bicyclists. 
Since the university's recognition, a protected bike lane has been added to parts of 13th Street, a major campus thoroughfare.
"The bike lane on 13th Street provides a major impact to the local bicycle community and shows that the university and the City of Philadelphia are committed to making investments within the bicycle community to make the area safer for both riders and pedestrians," Grady said.
A year after the crash, Rachel Hall finally had the chance to walk at Commencement, marking both the receipt of her degree and the wonder of her recovery. 
At Temple, Grady said the university community will remember Rachel's crash and continue to strive to ensure bicycle safety for all.
"Rachel's incident was a wakeup call for all of us," she said. "We need to continue to stay awake."
—Jared Lowe