For 2019 graduate, home is where the start is
Klein College graduate Cassie Semyon, who went viral as "the girl in the blue dress" as she ran to report the verdict in the Paul Manafort trial as an NBC News intern, is starting her career as a multimedia journalist in her hometown of Scranton, Pennsylvania.
Video Production:
Louis Peluyera & Gina Poulos
Cassie Semyon of the Class of 2019 is a real-world example of how to maximize your college experience. 
During her time as a Temple student, Semyon held numerous internships—including at WPVI-TV (6ABC), ABC NewsOne and NBC News in Washington, D.C.—and also worked with TUTV, Temple's student-run television station. Semyon was a Fly in 4 graduate, completing her degree in media studies and production in three and a half years, and, notably, she even enjoyed a major moment as a viral Internet sensation while covering the Paul Manafort trial as an NBC News intern—it was Semyon who appeared in the iconic photo of the "journalist in the blue dress."
Coming home
Upon graduating in December 2018, Semyon landed a job with her hometown's local news station, WNEP-TV, located in Scranton, Pennsylvania. 
A normal day for Semyon now is far from the ordinary 9-to-5 job. Instead, every day brings new challenges and excitement. No matter what shift she is working, it starts with a meeting, where she and her colleagues discuss the news of the day and have the ability to pitch their stories to station producers and management executives. And while that meeting can go according to plan, most of the time, their on-air segments will deviate from the plan as they pivot to cover breaking news. 
As a multimedia journalist at WNEP, Semyon has a plethora of roles, including shooting video, conducting interviews, writing, editing and creating web content. 
"You are in every sense of the word a 'one-woman band,'" Semyon explained, using a term common in the television industry to refer to reporters who also shoot and edit video. "A lot of times, people look at me coming in the door with all this gear to shoot a story, and they ask where my cameraman is. There's this misconception that reporters, especially women, just have to stand there on camera and look good, but a lot of journalists do it all themselves."
After she completes her interviews and shoots b-roll (extra video for the story), she calls back in to the assignment desk at WNEP and shares details of what she has to include in her story. Once she gets the green light from the producer, she heads back to the station. There, she will write her script, get approval from management and then edit her piece using Final Cut. 
In cases of breaking news when Semyon works with a videographer, she may write and edit on the spot out of a news van. And with Scranton as a top-75 media market, there's always news to cover.
Semyon didn't always think she would be back home in Scranton after she graduated from Temple. Many multimedia journalists start their careers in markets much smaller than Scranton/Wilkes-Barre, and work their way up the chain incrementally until they arrive in a top market—like New York, Los Angeles, Chicago or Philadelphia. 
"I really didn't think coming home was an option for me," Semyon said. "When I was applying for jobs, I knew that the Scranton/Wilkes-Barre market was such a big one, I didn't think I could possibly get a job there. 
"But when I walked in for my interview, it just felt so comfortable, so welcoming. It's hard to describe the feeling that is getting to report for the station you grew up watching. Part of the Newswatch 16 brand is that we are 'proud to serve Northeastern and Central Pennsylvania,' and I truly am," she continued. "Getting to be a part of something that is so well recognized for its commitment to local storytelling, and having the opportunity to represent these communities that helped me become who I am is something I don't take for granted."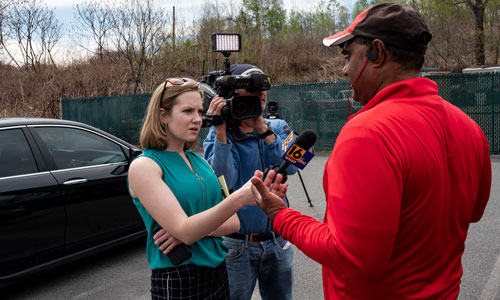 Semyon reports a story for WNEP. (PHOTO: Joseph V. Labolito)
Paving her way to success
Coming to Temple was an easy decision for Semyon after she reached out to Amy Caples, who was then the recruiting chair for the Media Studies and Production Department at Klein College of Media and Communication (known at the time as the School of Media and Communication). 
Semyon asked Caples if she could spare some time to meet with her and her parents to discuss the program, as Semyon already knew she wanted to go into news reporting. After learning more about the program and touring the studio spaces, Semyon knew Temple was somewhere she could learn, grow and pursue her dreams. 
Semyon had many mentors during her time at Temple, including Paul Gluck and George Cummings, the general managers of TUTV; Assistant Professor Amy Caples; Director for Career Services Lu Ann Cahn and many more with whom she still keeps in touch.
"I had so many people who guided me during my time at Temple. Paul Gluck, who is the general manager of TUTV, took me under his wing from day one," she said. "I walked into his office on my first day at Klein College, introduced myself and asked him, 'So what can I do here?'"
Semyon eventually worked for Gluck and Cummings in TUTV Master Control, programming and editing, as well as working on special projects. 
"I always say that Paul and George gave me my first break into the television industry, and they are always my biggest cheerleaders. They hired me with barely any television experience, and they had faith in me and my dreams, even when I was doubtful," Semyon said. "They have so much experience in the field of live television, and I feel like their insight and guidance really helped prepare me for my career in news."
Semyon wanted to make sure she finished her degree on time, so she enrolled in Temple's Fly in 4 program, where she exceeded expectations and finished her degree a semester early. 
 
"I originally planned to graduate in four years, but decided ultimately to graduate early, because I felt that my work in college and my mentors had prepared me to complete my education early," she said. "I had an incredible advisor, Candice Frazier, who helped me plan out every semester so that I could get the most out of my experience and have the opportunity to explore my other interests, such as politics."
Becoming a viral sensation 
It's not often that during your time in college, you become a viral sensation—but that's exactly what happened to Semyon in the summer of 2018 while she was covering the Paul Manafort trial as an intern for NBC News.
"It's kind of an out-of-body experience to see yourself on the news as the story, rather than covering the story," Semyon said. "I feel like that moment that's captured in the picture was such a blur. We weren't expecting a verdict. I remember hearing there was a knock at the jury room door, and we heard there was a piece of paper exchanged." 
She recounted approaching Manafort's lawyer in a hotel lobby across the street from the courthouse, asking him if there had been a verdict.
"He said that I knew more than he did. They hadn't been called into the courtroom yet," she recalled. "Shortly after that, I was chasing him down with a microphone and an NBC cameraman trying to ask what they were expecting … after I ran inside [the courthouse] and they announced the verdicts, I came running out to find that same cameraman so we could get video of Mrs. Manafort and ask both her and [the lawyer] questions. That's when the photo happened."
The now-iconic photo and video of Semyon running from the courthouse went viral on social media, garnering tweets from NBC's Andrea Mitchell, whose show Semyon was working on, NPR, and the Chicago Tribune, among others.
So proud. Have you ever seen a better picture of a journalist running to break news of a verdict? Our intern Cassie Semyon racing from the Manafort courtroom knows as "The Lady in the Blue Dress" @TempleUniv pic.twitter.com/gaEaJL72ad

— Andrea Mitchell (@mitchellreports) August 22, 2018
The sprint from the Manafort courthouse after the verdict: guilty on 8 felony counts; hung jury on 10 counts. (No phones allowed in courthouse, so news comes via fleet feet.) pic.twitter.com/JDc8QyMBxs

— melissa block (@NPRmelissablock) August 21, 2018
"All of a sudden, my phone started blowing up with the video that Melissa Block from NPR tweeted, and suddenly it was everywhere," Semyon said. "Those few seconds were such a blur but have had such an impact on my life. Being invited on the Today Show to share my story was such a cool experience. But I hope that the 'girl in the blue dress' is just the beginning for me, and that there is more excitement ahead."
Overcoming challenges and future goals 
Semyon continues to surmount any challenge that comes her way on her professional journey.
"My biggest challenge thus far has been finding my voice, which sounds crazy for someone who talks for a living, but coming out of college, you have this idea of who you are—but every single day on the job, you are kind of redrafting who that person is," she said. "Every day, I am working to become a better storyteller, whether that's working on my delivery, or my writing, or my shooting skills." 
Semyon hopes to eventually return to Washington D.C. and work as a correspondent on Capitol Hill or covering the White House.
But for now, she's happy starting her professional career in her hometown. 

—Ben Palestino