From Tehran to Temple, senior steps closer to dream of dentistry
Spending time as a child in his mother's dental office in Tehran, Iran, Radin Bonakdar always dreamed of following her footsteps. Graduating this May with a degree in biology, he's one step closer to achieving that goal.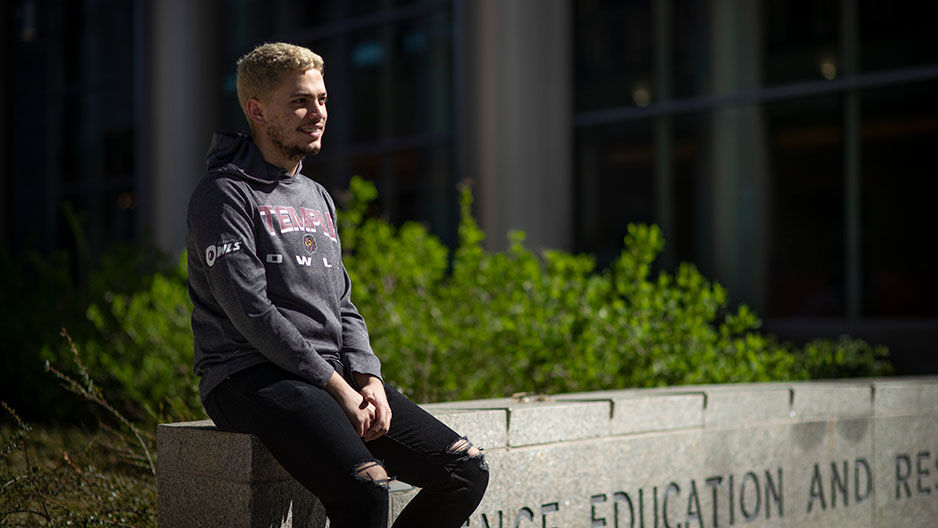 For senior biology major Radin Bonakdar, the road to earning his bachelor's degree has been longer than for most.
But when he accepts his diploma in May, he'll be one step closer to his dream of becoming a dentist. After graduation, Bonakdar, who grew up in Tehran, Iran, will begin a post-baccalaureate program as a bridge to admission to dental school.
"My mom is a dentist, and my parents divorced when I was 9 or 10, so I was with my mom 24/7. I went to school, and she would pick me up and bring me to her office," Bonakdar said. "So I grew up in her [dental] office … I always liked it."
Bonakdar said he always looked up to his mother, who has overcome considerable challenges. When she was a child living in Sanandaj, a city in Iran's Kurdistan Province near the Iran-Iraq border, her own mother, Bonakdar's grandmother, was killed at their home during a bombing.
"My mom, her mom, and everyone in the family were in the house, and they heard the siren to take shelter during a bombing," Bonakdar relayed. "My grandmom couldn't find two of her sons, so she went back in to find them, and a bomb dropped on the house. Both she and my aunt were killed. My mom was in middle school."
Despite the tragedy, Bonakdar's mother went on to excel in school, attending a university and training as a dentist in Tehran. 
"You have to be the top 100 in your class to be a dentist in Iran," Bonakdar said, explaining the competitive nature of the country's school system. "So she got in. She's really smart." At the university, Bonakdar's mother met his father, whom she would later divorce. 
Bonakdar and his mother eventually moved to the United States in 2014, after he graduated high school in Tehran. But when they arrived at their new home in Springfield, Montgomery County, he said, he couldn't jump right into college.
"I went back to high school in Springfield and graduated again," Bonakdar said. "I had to take a bunch of courses and learned English during my senior year of high school. It was hard in the beginning, but my [English as a second language] teacher was really sweet, and she would help me out."
By 2015, Bonakdar had applied and was accepted to Temple, where he decided to study biology to prepare to follow in his mother's footsteps as a dentist. As he prepares to graduate and move on to the next step, he reflected on his journey to earning his bachelor's degree and the people who've helped him along the way—among them his mother; the staff of the office in Vice President for Student Affairs Theresa Powell's office, where he works a student worker; and his Mosaics I professor, Travis Roy, who helped him early in his Temple career. 
"At first, it was really tough for me. I was crying to my mom, and I wanted to go back. But as time passed, I stopped resisting and went with the flow and really liked it," Bonakdar said. "I'm still not to my goal, which is to be a dentist, but I'm happy I did my best and really happy with the results now."