Temple to confer six honorary degrees at 2019 Commencement
University trustee Leonard Barrack, former men's basketball coach Fran Dunphy and world-champion Bernard Hopkins are among those to be recognized at the May 9 ceremony.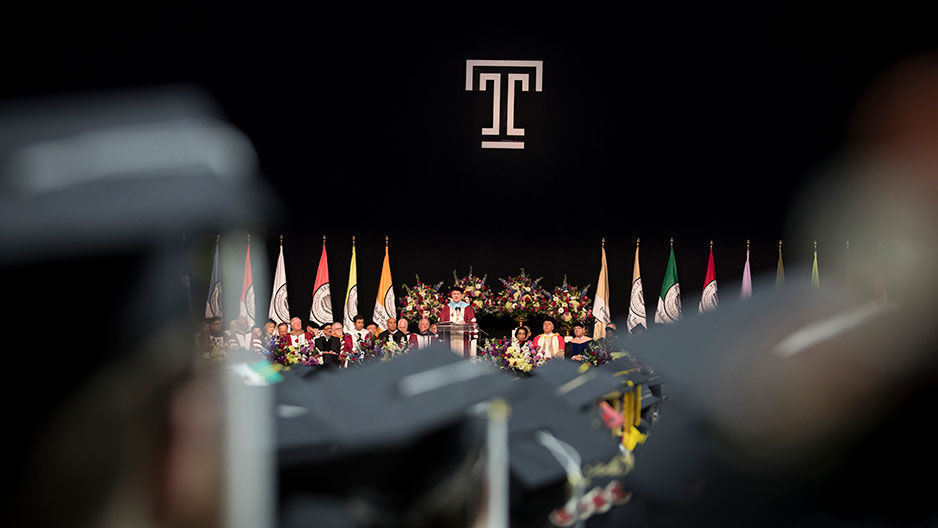 Former world-champion boxer Bernard Hopkins, former Temple men's basketball coach Fran Dunphy and longtime university trustee Leonard Barrack, FOX '65, LAW '68, will receive honorary degrees from Temple University next month during its 132nd Commencement ceremony.
 
The three will receive doctor of humane letters degrees during the May 9 celebration, held at the Liacouras Center. The university will confer three additional honorary degrees at separate school and college ceremonies.
 
In a tradition dating to the early 1890s, Temple bestows honorary degrees upon leaders from many backgrounds and fields whose achievements exemplify the university's ideals and mission. The university has awarded nearly 900 honorary degrees throughout its history.
 
"We are proud to welcome such distinguished leaders in their fields," said Temple University President Richard M. Englert. "Their contributions to Temple, North Philadelphia and beyond make these individuals ideal choices to receive honorary degrees. They will undoubtedly serve as inspirations to our many terrific graduates, who are bound for similarly remarkable futures."
 
Leonard Barrack
The senior and founding partner of Barrack, Rodos & Bacine, a firm that handles securities and antitrust class actions and complex commercial litigation, Barrack earned his undergraduate degree from the Fox School of Business in 1965 and went on to attend the Beasley School of Law—and has been giving back to the university ever since.
 
Since the enactment of the Private Securities Litigation Reform Act in late 1995, Barrack has been appointed lead or co-lead counsel in dozens of securities cases throughout the U.S., including three of the largest case settlements in securities class action history. He is also a leader in Philadelphia's civic and political circles.
 
His philanthropic efforts have included major gifts to Temple Law, such as support for a significant expansion of the law school in 2002, in which the historic College Hall on North Broad Street was renovated and renamed the Morris and Sylvia Barrack Hall.
 
Today, Barrack is a member of the board of trustees of Temple University, and for many years, he chaired the board's academic affairs committee. In 2002, he was appointed by then-board chairman Howard Gittis and then-university president David Adamany to chair Temple's first effort at a comprehensive capital campaign, which closed at $30 million above its initial goal of $350 million.
 
Fran Dunphy
Known as much for his successes on the basketball court as for his philanthropic work away from it, Fran Dunphy has been an integral figure in collegiate basketball for six decades. He recently stepped down as head coach of the Temple men's basketball team after leading the Owls to their eighth NCAA Tournament appearance in 13 seasons.
 
No coach in Philadelphia Big 5 history has won more games than Dunphy, who amassed 580 career victories. He is a college basketball icon and a dedicated educator in the Fox School of Business, where he has for 12 years co-led an honors course titled Management, Theory & Practice: From the Locker Room to the Board Room, in which he teaches students the importance of management skills and integrity.
 
A native Philadelphian, Dunphy is deeply committed to serving his community and is a leader for the city's chapter of Coaches vs. Cancer. He also serves as a member of the organization's national council.
 
Bernard Hopkins
A former professional boxer, Bernard H. Hopkins Jr. grew up in the Raymond Rosen Housing Projects in North Philadelphia, not far from Temple University's campus. His adolescence was marred by interactions with the criminal justice system, both as a victim and as a perpetrator. Today, Hopkins uses these experiences to encourage youth who are facing inner-city challenges to "fight like a champion and be a champion." 
At age 13, Hopkins had been stabbed three times and, four years later, received an 18-year prison sentence for a strong arm robbery conviction. He was exposed to boxing while incarcerated and, after serving five years in prison, pursued the sport upon his release.
Hopkins retired in 2016 after earning 55 career wins and world championships in two weight classes. At age 46, he became the oldest boxer in the history of the sport to win a world championship with a victory in 2014.
 
During the last few years of his boxing career, Hopkins became a minority partner in Golden Boy Promotions and is still involved in the company. Today, through philanthropy and mentoring, Hopkins regards himself as the people's champion.  

Vanessa Chandler, bachelor of science in tourism and hospitality management
Addressing graduates on behalf of the class is Vanessa Chandler, a tourism and hospitality management major from the School of Sport, Tourism and Hospitality Management. A native of Norristown, Pennsylvania, Chandler most recently interned with the Philadelphia Convention & Visitors Bureau to organize the 2019 Diversity and Inclusion Conference, held in March.
School and college ceremonies
For the third time, Temple will also grant university honorary degrees at school and college ceremonies that follow the university-wide ceremony.
 
The Fox School of Business will recognize alumnus Stanley Merves, FOX '51, an accountant at St. Clair CPA and former seat-holder of the Commodity Exchange of New York whose support of Fox has created student scholarship opportunities and endowed professorships.
 
The Beasley School of Law will celebrate Stephen A. Sheller, founding and managing partner of Sheller, P.C. and a passionate advocate for underdog clients. His philanthropic support helped establish the Stephen and Sandra Sheller Center for Social Justice at Beasley.
 
Merves and Sheller will receive doctor of humane letters degrees in May 9 and May 16 ceremonies, respectively.
 
The Klein College of Media and Communication will honor Bob Woodward with the doctor of letters degree at its May 9 ceremony. Woodward is associate editor of the Washington Post, for which he has won two Pulitzer Prizes for Public Service for coverage of the Watergate scandal and the 9/11 terrorist attacks.

—Christopher A. Vito