Unusual assignment gives students firsthand experience in the urban ecosystem
Students participated in a cleanup of a section of Tacony Creek Park as part of a general education course called Green vs. Gray: Improving and Sustaining Urban Ecosystems.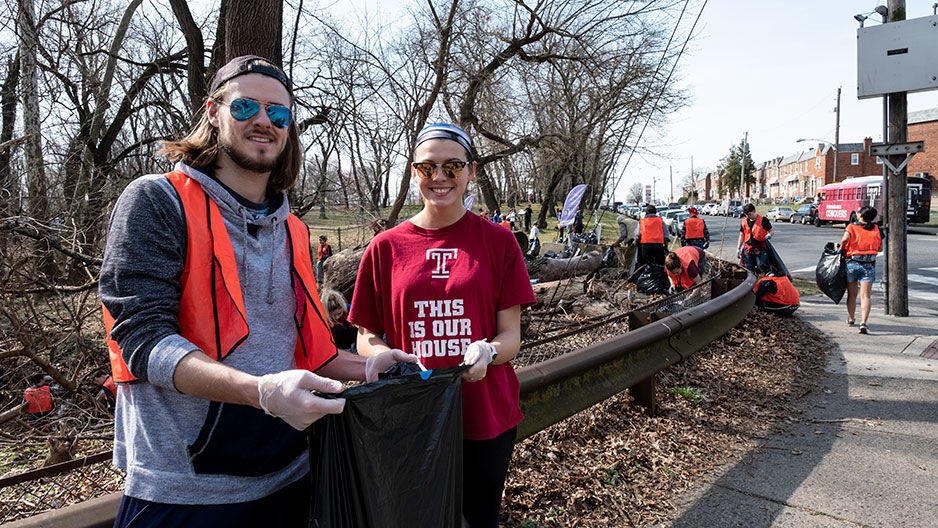 When Meara Kuhfahl and James Maguire signed up for a course on urban ecosystems, they figured they'd get a convenient online night class that fulfilled a general education science requirement and fit easily into their schedules.
But in Green vs. Gray: Improving and Sustaining Urban Ecosystems, they got much more, including hands-on experience helping to improve the environment.
As part of the course requirements, students must spend a certain number of hours participating in activities that help to better the environment in the area. One of those activities, which Kuhfahl and Maguire, who are engaged to be married, joined recently was a cleanup day at a section of Tacony Creek Park in Northeast Philadelphia. 
"It was a lot of fun, and definitely way better than sitting down and reading a 10-page article and answering questions on it," Kuhfahl, a sophomore speech therapy major, said of the cleanup. "We plan on doing another event," she added, saying the couple enjoyed participating.
In all, Kuhfahl and Maguire said the group from Temple, which was organized by Director of Sustainability Kathleen Grady, collected several hundred pounds of trash and other discarded items during the park cleanup that Saturday in late March. The idea was to prepare the park for seasonal use by residents of nearby neighborhoods—who often have very limited access to usable green space—as well as to clean it for an upcoming "fun run" event.
"The focus was on keeping [the park] pristine, and keeping it a natural area and healthy for wildlife and for aquatic life in the creek. That's really important," said Bess Wellborn Yates, an adjunct professor in Tyler School of Art's Department of Landscape Architecture and Horticulture who teaches the Green vs. Gray course. "In the class, we look at urban ecological issues and how we can take part in helping to solve some of those issues and problems we see in an urban environment that are related to soil health, water health, and water quality. We try to engage in community-based practices, so students are getting out there and really trying to experience what we're talking about in class."
Yates said that since she began teaching the course in 2010, she's seen a considerable increase in the amount of environmentally focused events around the city, making the experiential learning portion of the course easier for students to find and engage in.
"Even living in a city, there's a lot you can do to fight against littering and pollution," said Maguire, a senior media studies and production major. 
Kuhfahl agreed that Green vs. Gray and cleanup enhanced her perspective and urged other students to take the class.
"I've learned different ways I can contribute to the wellbeing of the environment," Kuhfahl said, adding that she believes college students often feel they can't contribute much to changing the environment. "But you can make a difference as a student to help your local community."