Temple sophomore Mitchell Young wins Goldwater Scholarship
Young, a mechanical engineering and physics major, is the second-ever Temple recipient of the prestigious STEM award.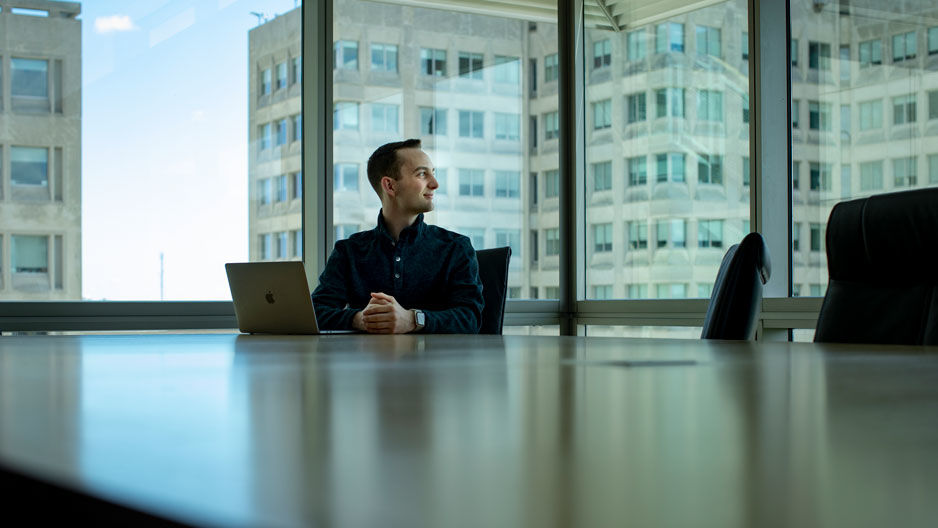 It's not uncommon for Mitchell Young to visit with Ruth Ost. After all, Young is a member of Temple University's Honors Program, for which Ost serves as senior director. So when Young received a text message asking him to stop by Ost's office recently, he thought nothing of the request.
"I walked back to her office, and there's this mirror that looks at Ruth's desk and I saw this giant camera and figured pretty quickly that this was no regular meeting," Young said.
Ost had assembled a small gathering of people to surprise Young with exciting news: The sophomore physics and mechanical engineering double major had been chosen as the second Temple University student in as many years—and the second Temple student ever—to win a prestigious Barry Goldwater Scholarship.
The Goldwater Scholarship is the most prestigious STEM (science, technology, engineering and math) award for undergraduates. Ost calls it "the Rhodes Scholarship of STEM."
"I was excited. I'm really happy about it," Young said.
Young is one of only 496 U.S. college students to have been selected for the scholarship this year from a pool of more than 5,000 college sophomores and juniors nominated by 443 academic institutions.
"It was a bit shocking when I first learned I about it," said Young, a native of Springfield, Pennsylvania, in nearby Delaware County. "Now it's become something I am very proud to have accomplished."
The scholarship will award Young $7,500 for tuition, housing and fees for both his junior and senior year. "It helps relieve the financial burden of attending college, gives me more freedom regarding where I want to go to graduate school and it makes it easier for me to focus more on my undergraduate research," said Young.
"As a sophomore in our Honors program, he already exhibits a promising research career in mechanical engineering," said Barbara Gorka, director of Temple's Scholarship Development and Fellowships Advising. "His goal is to earn a PhD in materials science and engineering and conduct research related to body armor and personal defense either at a university or in a national laboratory. His double major in mechanical engineering and physics spans two of our colleges and shows his ability to think across disciplines."
Young originally planned on majoring only in mechanical engineering, but added a physics major to include a more theoretical and mathematical basis for solving complex problems. 
During the summer of 2017, he worked in a mechanical engineering lab at Temple under Professor Shenqiang Ren. After Ren left Temple, Young, at the suggestion of Laura H. Carnell Professor Michael L. Klein, dean of the College of Science and Technology, began working as an undergraduate researcher in the laboratory of Professor Virgil Percec, a chemistry professor at the University of Pennsylvania. Among his investigations: helping develop and design new 2-D and 1-D polymers capable of hydrogen bonding, as well as creating visualizations of designed polymers and simulating X-ray diffractions.
"I like being able to collaborate between universities, meeting people both inside and outside of Temple and getting to know people who have made some incredible contributions to the scientific community," said Young, whose mother, Michele, is a senior administrative assistant in the College of Science and Technology.
Young hasn't decided whether he will pursue a career in academia or industry, but as he indicated on his Goldwater Scholarship application, he plans on earning a PhD in materials science/engineering in order to conduct defense-related research of advanced materials.
Marcus Forst, who earned his undergraduate degree in physics earlier this month, last year was the first Temple student to be named a Goldwater Scholar. After graduation, Forst will pursue a PhD in applied physics at Stanford University, where the full cost of his attendance will be supported by an esteemed Knight-Hennessy Scholarship.
"I had known Marcus. He was the president of Physics Club, where I succeeded him in office," Young said. "We were doing a resume review and he was just looking over mine. He asked me if I had ever thought about [applying for] the Goldwater Scholarship. Marcus encouraged me to apply, and I am thankful I did."

—Eric Horvath and Bruce Beans