Two-time Be Your Own Boss winner aims to help solve what ails her
For Emily Kight, a second undergraduate degree is opening up a promising future.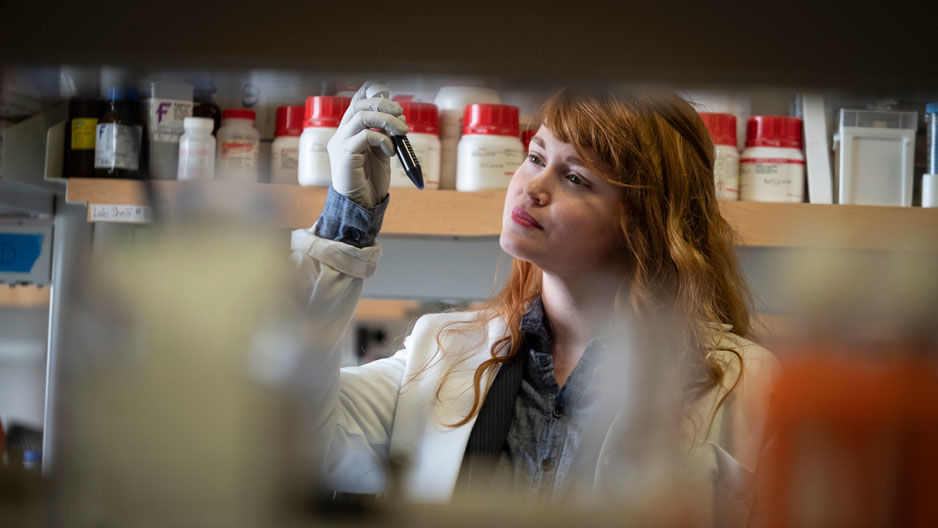 Emily Kight, KLN '12, is earning her bachelor of science degree this year as a multi-award-winning bioengineering researcher, a founder of two biomedical companies, and a ravenous learner with a passion for finding new methods to detect and treat medical conditions.
 
It's been a busy four years.
 
It all started when Kight made two big decisions that have changed her life.
 
First, after working in photography and marketing for five years, she chose to return to Temple for her second undergraduate degree, turning an interest in science into a promising new career.
 
Second, she publicly revealed what she describes as a "deep secret"—an urge to pull out her hair, eyebrows and eyelashes, a disorder known as trichotillomania.
 
"I wrote about having trichotillomania for the first time in my Frontiers in Bioengineering class my freshman year," Kight said. "The question was, 'If you could make something to solve a biomedical problem, what would it be?'"
 
Her answer to that question was a sensory scalp product for trichotillomania sufferers like herself that might curb—if not help eliminate—the urges over time. By revealing her secret, Kight found herself on a path to take control of it for herself and others.
 
With encouragement from her professor, her concept grew from an idea to an actual prototype and then to the launch and sale of her own brand Prohibere on Amazon to real customers across the country. After selling out of her first batch, Kight refined the product to make it even more effective.
 
But she didn't stop there.
Ovarian cancer—a particularly deadly cancer that runs in her family—became Kight's next target and the subject of her second company, Ovarian Lab. While continuing her school work, Kight developed the prototype of a urine test to detect an ovarian cancer biomarker, akin to a pregnancy test. Ideally, she said, her approach would be much more reasonably priced and less invasive for patients than the typical blood test common today.
Emily is one of the most creative students I have met in 20 years."
-- Jacqueline Tanaka, associate professor of biology
"Emily is one of the most creative students I have met in 20 years," said Jacqueline Tanaka, associate professor of biology and director of Temple's Maximizing Access to Research Careers (MARC) U*STAR program, through which she's gotten to know Kight—a MARC award recipient—well. 
"I've witnessed the unfolding of her insights with her bypassing mountains of barriers in days at a time just because she never gives up," Tanaka said. "I would talk to her one day and she'd be pretty upset that she was at a standstill. Then the next time I see her, she's talking on the phone with a lab in California that says it can help her and she's preparing to drive across the country to build her next test." 
Last summer, Kight spent two months at a biomedical company in San Diego, working alongside industry professionals while building and refining her ovarian cancer risk test, which so far has shown promising results. 
Throughout her studies, Kight has financed her projects by winning numerous awards worth tens of thousands of dollars from the Fox School of Business, including first- and second-place finishes in the
2016
and
2017
Innovative Idea Competition and first- and second-place prizes in the
2017
and
2018
Be Your Own Boss Bowl competitions. This spring, she was shortlisted for a VentureWell scholarship as well, which could be worth an additional $20,000. 
As her studies and accomplishments have grown, so has her confidence. 
"I refuse to feel shame about having trichotillomania anymore," Kight said. Instead, she's gratified to further the study and understanding around her condition. She's also proud to consider herself a scientist. 
"I feel really prepared," Kight said. "I've demonstrated I can tackle difficult projects. I know how to create a product. I know how to launch on Amazon. No matter what job I get, I can take the ball and run with it now." 
Next fall, Kight plans to begin pursuing her PhD in genetics, genomics, and cancer biology at Jefferson University with funding from the National Science Foundation's Graduate Research Fellowship Program, her largest scholarship yet.
—Andrew Lochrie