Engineering a modern heart
David Brookstein, professor of mechanical engineering and senior associate dean for undergraduate studies in the College of Engineering, returns to his high school alma mater to teach students about engineering.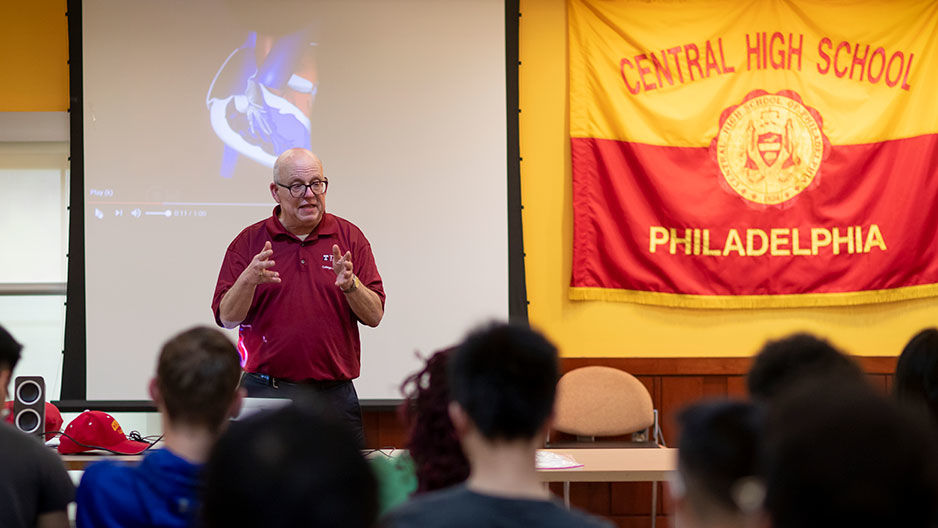 This is a story about heart: both having it and fixing it through engineering. It starts at Central High School, at Ogontz and Olney avenues in North Philadelphia, in 1967, when gas was 33 cents per gallon and "Ruby Tuesday" by the Rolling Stones debuted on the charts.
 
That is the year David Brookstein—raised in a lower middle class family in East Mount Airy—graduated as part of Central's 226th class and became a first-generation college student. And though the rest of his journey has included a mechanical engineering PhD from Massachusetts Institute of Technology, jobs in education and industry, and obtaining 13 U.S. patents, Brookstein's heart remains in Philadelphia.
 
Eventually, Brookstein made his way further down North Broad to Temple's College of Engineering, where he serves as mechanical engineering professor and senior associate dean of undergraduate studies. For much of that time, Brookstein has stayed true to his heart, taking the subway back to his alma mater regularly to give regular engineering lectures to Central students. 
But about two years ago, that same heart showed something unusual after a routine check-up.
"The ECG, or echocardiogram, showed some abnormalities," Brookstein said. "I had a diseased, tight aortic valve, or what's called 'aortic valve stenosis,' that was restricting blood flow from my heart. Physicians were able to move relatively quickly with a diagnosis."
 
Eventually, Brookstein would need to undergo a procedure known as SAVR, surgical aortic valve replacement, in which the calcified valve would be replaced.
 
He underwent the procedure in July 2017. For two hours of the four-hour surgery, Brookstein relied on the assistance of a heart-and-lung machine while surgeons worked to replace his valve. A few weeks later, Brookstein and his heart—complete with a new bioprosthetic valve—were back on campus.
 
"It's a prime example of how modern engineering and design thinking literally helped to save and extend my life," Brookstein said. "If I had this issue, say, in 1967, I wouldn't be alive. The ECG is able to better-identify the issue now, versus using simple auscultation (a stethoscope). And even then, physicians could have only identified the issue—in my case, aortic valve stenosis—after death."
 
The new valve, expected to last about 20 years, is already producing positive outcomes.
 
"At my most recent check-up about month ago, one of the measurements from an echocardiogram was the aortic valve peak pressure gradient," Brookstein said. "Just before surgery, my measurement was 114 mmHG. For scale, anything above 75 mmHG is categorized as 'severe,' compared to 35 mmHG after the surgery." 
Research has shown that 50 percent of patients with severe aortic stenosis die within two years of diagnosis.
 
In March, Brookstein's measure improved further, dropping to 14 mmHG.
 
Where is Brookstein's heart now? Recently, with him, returning again to Central, where he's back to giving introductory engineering lectures to students. One lecture focused on his own story, from diagnosis through surgery, detailing the engineering technology and design thinking that helped to keep him alive.
 
"Current Central High School students are always excited to welcome members of the alumni association back to our school," said Central President Timothy McKenna. "Through his lectures, Dr. Brookstein is expanding our students' understanding of bioengineering while sharing his personal experience. His presentations have helped our students make connections that textbooks cannot."
 
It's a familiar journey for Brookstein: The Broad Street Line shrieks to a sudden but somehow comfortable stop at the Olney Station. He makes the familiar march up the stairs, and on his way to his alma mater, stops for a pretzel (light on the salt, thankfully) before sharing his story with students from Central's 278th class and others.
 
He even got to mention another recent patient with whom he shared the heart disease in common: Mick Jagger, of those same Rolling Stones, who himself underwent a new version of the procedure.
 
"Modern engineering is about identifying needs, defining the problem and then solving it. The technology and solutions that were cutting-edge when I sat where you are, they're a thing of the past," Brookstein said to Central's students. "It's up to your generation to create the new ones."

—Eric Horvath