Temple revises its Climate Action Plan, aims to reach carbon neutrality by 2050
The university is committing to reduced emissions, better building and transportation practices, and developing a more sustainable Temple.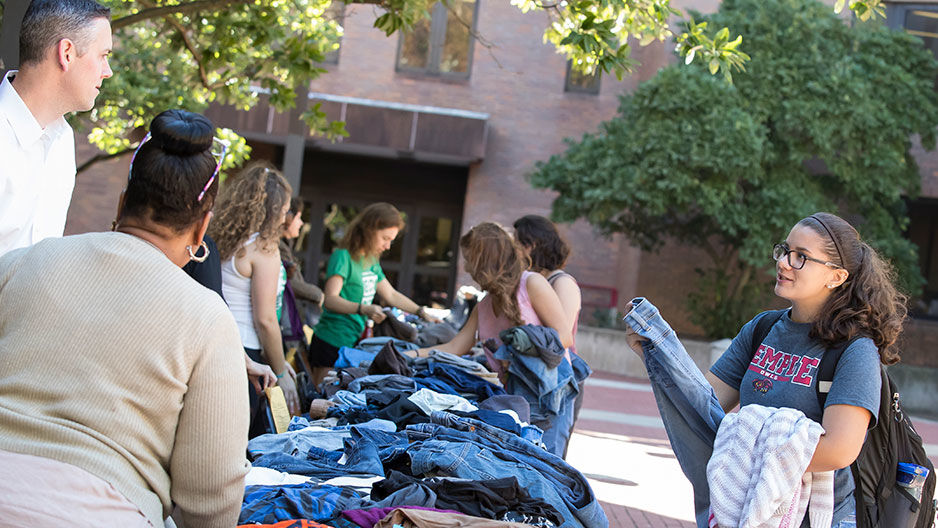 Temple President Richard M. Englert has approved the university's 2019 Climate Action Plan, which outlines Temple's long-term sustainability goals and its move toward carbon neutrality by 2050.
This environmental commitment is in line with Philadelphia's climate action plan, which in 2016 declared the city's intent to reduce carbon emissions by 80 percent by 2050. Additionally, Temple's Climate Action Plan is "more aggressive" than the reduction target set forth in the Paris Climate Agreement, said Kathleen Grady, director of Temple's Office of Sustainability.
"The science is clear. We urgently need individuals, institutions and government to take bold action on climate change," said Grady, a co-chair of the university's Climate Leadership group. "I'm proud of Temple University for taking seriously the effects of climate change and its threat to public health. Through this plan, Temple is holding itself accountable to current and future generations of students. The time to act is now."
Since 2016, Temple has worked with 300 partners—including students, faculty and staff at the university, government officials, climate-change experts, and other external leaders—to ensure diversity of the voices contributing to the university's revised Climate Action Plan, Grady said. Temple has held regular town hall meetings each of the last two academic years with students from its schools, colleges and residence halls to help Grady and her team hone in on "what a more sustainable Temple would look like," she added.
The university's Climate Action Plan aims to reduce greenhouse gas emissions each year. In the event that Temple falls short of annual goals, it has pledged to purchase renewable energy credits "to close the gap," Grady said. The Climate Action Plan's tactics include: switching to a 50 percent renewable source for electricity, launching a waste composition study, and pursuing energy-efficient projects and building practices. Also, Grady's office currently is conducting a university-wide transportation study to determine the means by which students, faculty and staff reach campus each day.
"Temple's updated Climate Action Plan will not only make an impact on reducing emissions from their own operations, but can help educate and shepherd the next generation into careers that will help us find necessary solutions to this global problem," said Christine Knapp, director of Philadelphia's Office of Sustainability.
Temple's latest Climate Action Plan "builds on the university's progress in environmental sustainability," said Kurt Bresser, Temple's director of utilities and energy management. "It also outlines the steps needed in energy procurement, building design, and energy efficiency to achieve its public climate commitment."
The 2019 Climate Action Plan is Temple's latest step toward carbon neutrality and securing a more sustainable campus. 
In 2008, Temple signed the American College and University Presidents Climate Commitment, positioning the university to take a leadership role in its community and larger society by modeling ways to minimize global warming emissions and provide knowledge and educated graduates to achieve climate neutrality. Temple's first Climate Action Plan, published in 2010, outlined its steps toward implementing its commitment to sustainability.
Temple issued a climate leadership statement in 2016, renewing the university's original climate commitment by integrating carbon neutrality and resilience. And this month, Englert approved Temple's 2019 Climate Action Plan, with a clearer path to carbon neutrality and strategies for building a more resilient university. 
"Temple University made a formal commitment to climate neutrality, sustainability education and sustainability research more than 12 years ago," said Jacek Ghosh, Temple's director of sustainability education and co-chair of the university's Climate Leadership group. "By providing the knowledge, research and practice in its curriculum, Temple students will become leaders in climate action and the execution of necessary sustainable solutions."
Smaller steps toward a more-resilient and more-sustainable Temple can be made every day, said Sarah Kuchan, a senior environmental science and political science major who provided a student voice within the Climate Leadership group. For example, students can reduce waste and electricity consumption, or eliminate single-use plastics. 
"But the health of the planet needs institutional action," said Kuchan, who serves as Temple Student Government's director of grounds and sustainability. "When an institution of Temple's size makes climate action a priority, it not only shows students that it cares about their futures, but it sets an example for similarly sized organizations and corporations to do the same."
—Christopher A. Vito