Local teens explore architecture and engineering careers
Temple's building professionals share their expertise with area youth.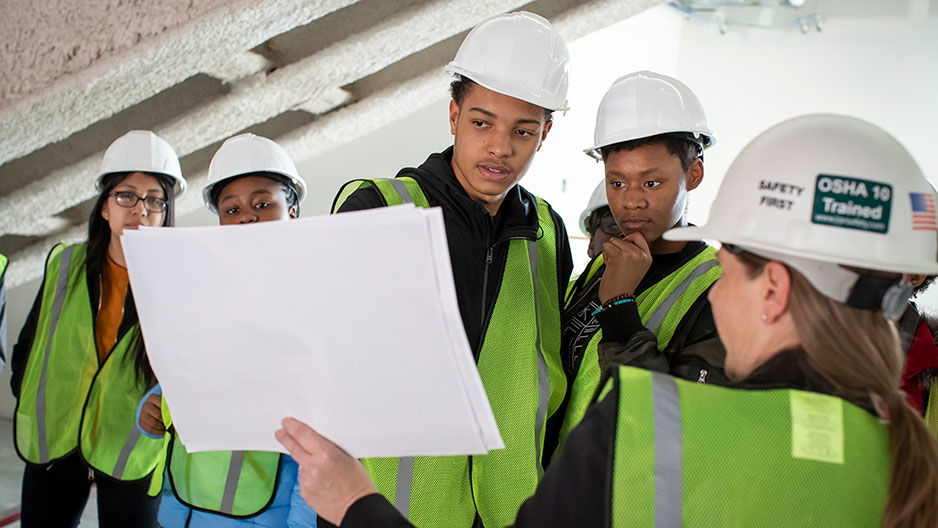 With teenagers donning hard hats and caution vests, and quizzing seasoned architects about their design choices, it's clear the ACE Mentor Program isn't your average after-school program.
The national program offers a unique opportunity for high school students to explore the fields of architecture, construction and engineering—where ACE gets its initials.
Through the winter and spring, students from two Philadelphia public high schools have made ACE part of their afternoon routine, walking or riding the subway to Temple University after school every other Wednesday.
"Right now I'm more into architecture, but before I got here I was more into engineering," said Bethany Swan, a sophomore at Carver High School of Engineering and Science, who said her school's robotics teacher let her know about ACE. "I like mapping out and designing how certain things should be."
The ACE Mentor Program is a not-for-profit organization in its 25th year. Last year, it enrolled nearly 10,000 students nationally and awarded $2 million in college scholarships to its mentees.
For the first time this year, Temple University employees with backgrounds in architecture and construction management are hosting their own ACE team for area high school students, including those who attend Carver and Girls' High. 
"Programs like these are great to introduce young people to our industry," said Dozie Ibeh, associate vice president of Temple's Project Delivery Group, which oversees construction on campus. He and his colleagues have been sharing their expertise with the ACE students since December through a combination of classroom discussions and site visits.
Ibeh has been gratified to see his mentees—particularly women and people of color, who are underrepresented in the profession—think more seriously about those fields as career choices.
"Our objective isn't just to get you into this profession; it's to do whatever your passion is," Ibeh said. "If you happen to join this industry, great. We want you to think about your future."
Swan and her classmates have enjoyed thinking not only about their own futures, but also about the future of the community they know so well. Their team project has been to design a theoretical community space and navigate the design challenges of implementing their ideas.
"I like being focused on this area and benefiting the people here," Swan said. "I think that made me want to succeed more in this project."
The program culminates with a May 9 final project presentation for all Philadelphia ACE teams and a selection of ACE college scholarships for the program's graduating seniors.

—Andy Lochrie