From the track to a doctoral program, Temple senior is running her own race
After graduation, Temple Female Scholar-Athlete of the Year Ashton Dunkley will go on to research Native American history through the University of Minnesota's doctoral program in American studies.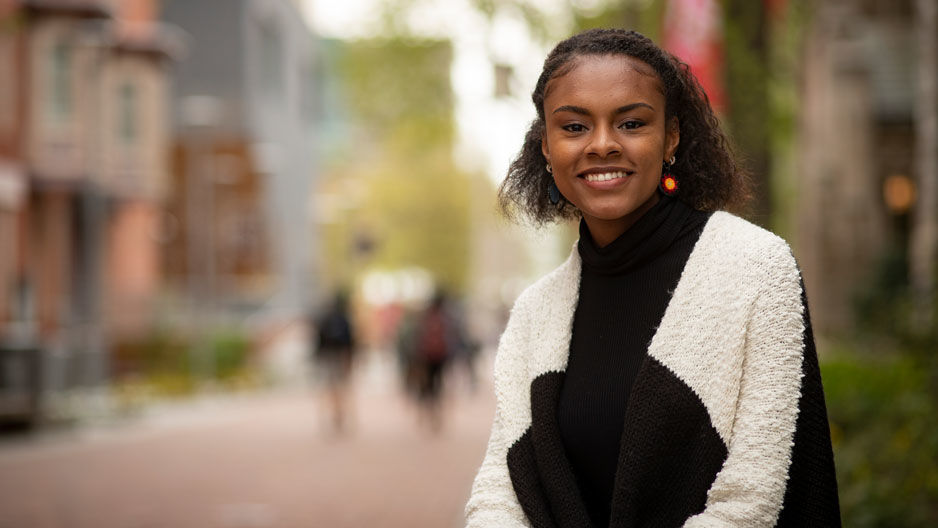 Ashton Pemapanick Dunkley is on the move—literally.
As a Division I track and cross-country athlete, Dunkley wakes up early every morning for 7 a.m. practice. After that, she trains for a couple of hours before she heads to class and then off to tutor other student-athletes at the Resnick Academic Support Center.
"I see it all as training me for what I really want to do, to be a professor," Dunkley said of her routine. Dunkley has been a tutor at Resnick since her sophomore year and meets one-on-one with freshman student-athletes. "Tutoring has allowed me to dip my toe into the teaching world. I have the opportunity to see other students grow, and it's pretty amazing."
Dunkley, a history and anthropology double major and Italian minor, is now Temple's first ever two-time Female Scholar-Athlete of the Year — a title she holds for both the 2017–2018 and 2018–2019 academic year. An Honors student, Dunkley has one of the highest GPAs among all student-athletes and has been a finalist for a prestigious Truman Scholarship and received honorable mentions twice from the Udall Foundation, which awards scholarships to students who are American Indians or Alaska Natives. Despite her hard work during her undergraduate years, Dunkley is showing no signs of slowing down, especially when it comes to her passion: generating awareness of the history and heritage of eastern Native Americans. 
Born to a Native American mother and a British Jamaican father, Dunkley was exposed to both cultures as a child. Last fall, her Native nation, Nanticoke-Lenni Lenape, settled a six-year litigation in New Jersey, reinstating state recognition after it was stripped of its status in 2011 due to the state's worry that the tribe would want its own casino. For religious reasons, her Nation is not interested in casino gaming. The issue hit particularly close to home for Dunkley as a member of the tribe. 

"There's a misconception that Native peoples have been wiped away from the East Coast, which is not true, and [about] the legitimacy of our tribes in those regions," Dunkley said. "And I think that our status being stripped brought to light how easily entities can erase our identity on paper."
Dunkley cites her own experiences with her identity as a motivator to pursue her interests.  Growing up, she attended tribal meetings, ceremonies and other events that allowed her to become more involved in her community. Given her identity, most kids questioned her ethnicity and nationality. 
"Kids in my classroom would say, 'You don't look like you're Native or Indian,' after I told them that I am," Dunkley said. "I've been in situations where I've gone to the doctor's office, and I will self-identify as Native on medical forms to find out [later] it was switched to black." 
Dunkley points to a frequent occurrence in which many indigenous people undergo misidentification because of their appearances. "There's a perception of what a Native person looks like that doesn't quite fit into who Native people actually are," she said. 
Ashton pursues her education like a craftswoman, acquiring piece by piece the tools she needs for her life work."
-- Associate Professor of History Jessica Choppin Roney
"Ashton pursues her education like a craftswoman, acquiring piece by piece the tools she needs for her life work. She's getting her education for a very specific purpose: to help her Nation and broaden understanding within and about her community," said Associate Professor of History Jessica Choppin Roney, one of Dunkley's professors. 
With the goal of becoming both an educator and preservationist, Dunkley wishes to do more exploration around eastern woodland Native people and their experiences throughout the 20th century, an area she surmises as scant in research. Last summer, she took on an internship at the American Philosophical Society, where her research project with the Native American Scholars Initiative focused on the experiences of Lenape people who remained in their homelands. 
Dunkley credits the Office of Scholar Development and Fellowships Advising and its director, Barbara Gorka, with helping her secure scholarships and other opportunities related to her interests, as well as the tight-knit community of Temple's Honors Program, for supporting her in becoming a voice for her tribal community. 
In the fall, Dunkley will head to the University of Minnesota to pursue her PhD in American studies, focusing her research on Native American history. 
"She's talented and very personable, and it will be very exciting to see what she steps into at the University of Minnesota," said Nick Plack, Dunkley's academic advisor, adding that he's never met a student-athlete as versatile as she is. 
For Dunkley, the PhD program in Minnesota is the next step toward her long-term goals. 
"I not only want to be an educator, but a voice for my Nation and my community," Dunkley said. "And help develop more discussion around Native people."

—Jared Lowe