Broadcast pioneer Lew Klein, 91, namesake of Temple's Klein College of Media and Communication
Klein dedicated more than six decades of his life to teaching at Temple and mentored hundreds of professionals, including Bob Saget, throughout his career.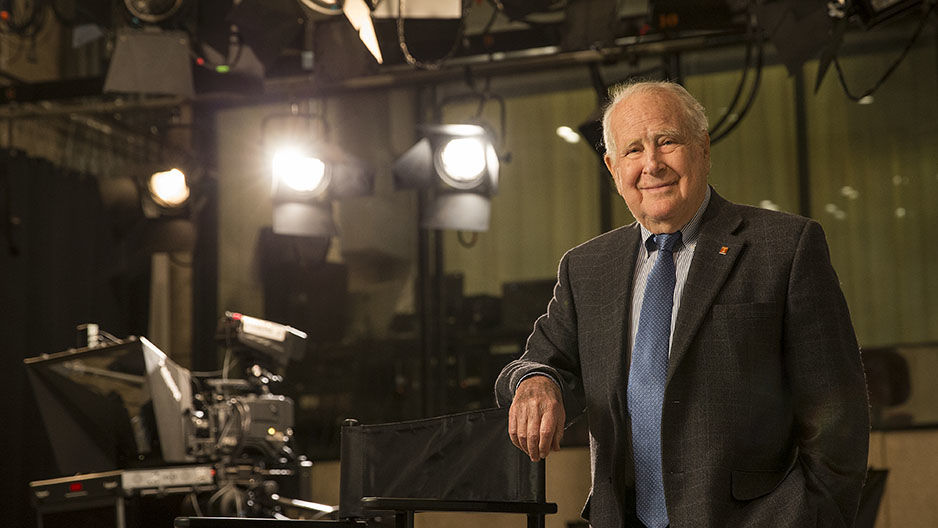 Lew Klein, the television pioneer who spent more than six decades teaching at Temple University and mentored innumerable broadcast professionals throughout his career, died Wednesday, June 12. He was 91.
Klein was honored several times at Temple for his service to the university, his support of education in media and communication, and his extraordinary career, culminating with the university's School of Media and Communication being renamed the Lew Klein College of Media and Communication in March 2017. 
"Lew Klein has left an indelible imprint on the lives of countless Temple students who have gone on to build successful careers in media, communication and related fields. Those graduates are Lew's true gift to journalism. His influence will be felt for generations to come," said Temple President Richard M. Englert. 
"Through the decades of his remarkable career as a pioneer of television, Lew Klein taught part-time at Temple University, starting in 1952," noted Klein College Dean David Boardman. "He did that not for money, but as a way to serve his community and his profession by helping shape the journalists and broadcasters of the future.
"Over his 67 years at Temple, Lew had a profound impact on thousands of careers, including my own. I could not be more proud to have our college graced with the name of this creative, generous and honorable man. We will miss him deeply," Boardman said.
A television pioneer
Klein began teaching TV courses at Temple University in 1952, while he also worked as an executive at WFIL-TV (now WPVI) in Philadelphia. In the ensuing 65 years, he helped launch the careers of hundreds of professionals, including CBS Evening News Executive Producer Steve Capus, KLN '86; comedian Bob Saget, KLN '78; and the late host and producer Dick Clark.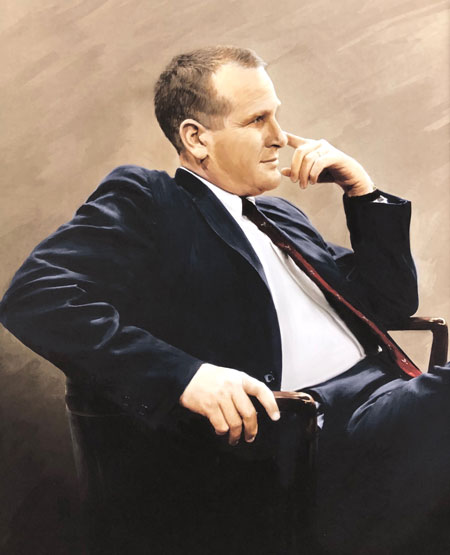 In addition to serving as executive producer of American Bandstand and producing legendary Philadelphia-area programs including Captain Noah and His Magical Ark, Klein played an instrumental role in launching Channel 6's Action News format as program director of the station in 1970. He spent 15 years producing Philadelphia Phillies telecasts and lured former players Richie Ashburn, Bill White and Tim McCarver into sportscasting careers. 
At one point, Klein was also president of Gateway Communications, which owned four TV stations in the East.
  
Temple honors
In 2000, Gerry and Marguerite Lenfest, Klein's longtime friends and colleagues, established the Lew Klein Alumni in the Media Awards Ceremony fund. The proceeds both from that fund and the event itself support scholarships for students in Klein College while honoring alumni who have made distinguished contributions in their fields. For many Temple alumni, receiving a "Lewie" at the annual fall ceremony is a career highlight. 
The school's 2017 naming honored Klein's dedication to education, his remarkable career and a multimillion-dollar gift made to the college by Klein and his wife, Janet.
At the college's naming, Klein said he was "so proud and thankful" to be honored in such a profound way by Temple, which previously named the Lew Klein Hall in the Temple Performing Arts Center for him, prompted by a gift from Gerry and Marguerite Lenfest.
The college naming ceremony included remarks from Saget, Temple University Board of Trustees Chair Patrick O'Connor, former Philadelphia Police Commissioner Charles Ramsey, Eagles broadcaster Merrill Reese, KLN '64, and WPVI President and General Manager Bernie Prazenica, KLN '79, among others. Janet Klein also shared reflections of her husband, saying "Integrity and self-confidence are the essence of his life."
 
"Thinking about the thousands of communications scholars who will graduate in future years, I am very optimistic about their success," Lew Klein said during the ceremony. "They will be coming from one of the finest and most prestigious schools in the nation. I have been blessed with other examples of appreciation and recognition at Temple, and this is the culmination of them all."
In summarizing Klein's many contributions, Englert noted he was a great teacher, a tremendous colleague and a good friend.
"I want to extend my sincere condolences to Janet and the entire Klein family, who are in our thoughts and prayers. Lew was a caring and thoughtful member of the Temple family, and we all mourn his loss," said the president. 
Klein is survived by his wife, Janet, his children, Ellen and Stephen, granddaughter Anna and her husband John, and great-grandchildren Oscar and Miriam.