Two digital scholarship programs help Temple throw the book at big textbook expenses
Temple's Textbook Affordability Project and the newly established North Broad Press are encouraging faculty to give their students access to open educational resources.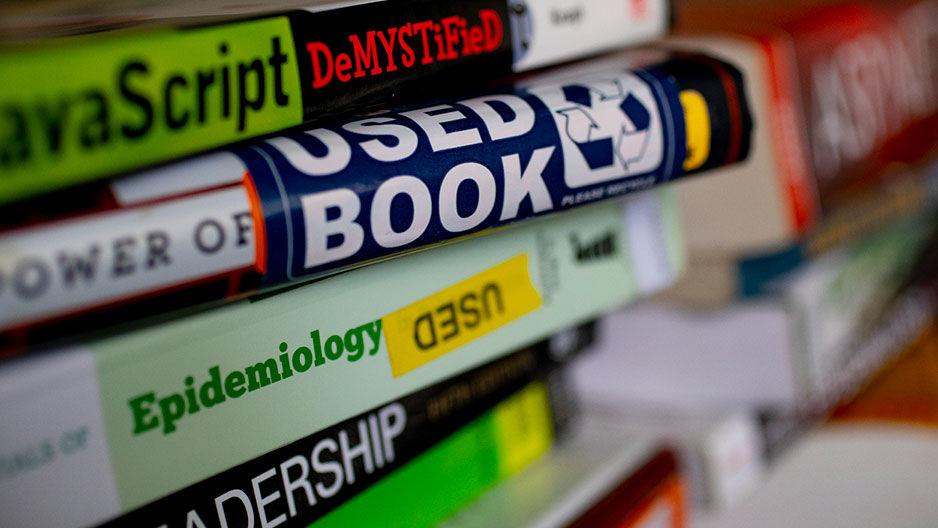 As a new academic year approaches, students will soon begin purchasing textbooks for their courses—or contemplating alternative means for acquiring them.
Temple University's Textbook Affordability Project helps manage the financial obstacles between students and learning. Since its 2011 launch, the Temple program has worked with 86 Temple faculty members across multiple disciplines. The goal? To help faculty either adopt an existing open educational resource (OER) for use in their courses, adapt their syllabi to include learning materials that are freely available through the Temple University Libraries system, or create a new OER for use by students at Temple and elsewhere.
 
Last year, the Textbook Affordability Project celebrated a critical milestone when it crossed the $1 million threshold for dollars it has saved Temple students on the cost of required course materials like textbooks.
"In higher education, administrators and educators seldom discuss textbooks and their prohibitive costs," said Steven Bell, Temple's associate university librarian. "Our Textbook Affordability Project was the first of its kind in Pennsylvania. It has spurred wider discussion on the subject, as well as the creation of a statewide initiative called Affordable Learning Pennsylvania, to bring together the libraries at colleges and universities statewide to implement similar programs at their institutions."
Bell describes textbook costliness as "a higher education crisis." Data validates his claim. Seven out of 10 college students nationally have at least once decided against purchasing the required text for a course in which they were enrolled because they could not afford it, according to 2014
data from the U.S. Public Interest Research Group
. The organization also discovered an 812 percent increase in the cost of textbooks over the last four decades, a figure that has grown at more than three times the rate of inflation.
Whether in the Commonwealth or across the country, Temple is a leading advocate for textbook affordability. The university launched North Broad Press in Fall 2018, becoming the first university in the nation to bridge its university press and its university library system to help faculty draft and publish open textbooks that will be freely available to their students and others around the globe.
 
North Broad Press projects are peer-reviewed by at least two independent reviewers, and then undergo rounds of professional copyediting, said Temple University Press director Mary Rose Muccie. North Broad Press' inaugural call for submissions yielded 19 submissions for Temple faculty-led projects. The OERs span disciplines like economics and engineering, to criminal justice, physics, and social work—all with varying expected dates of completion. Four of the 19 submissions earned acceptance, receiving $5,000 awards from Temple Libraries. The awards, however, are tertiary to faculty.
 
"It's not about the money. The faculty members who participate are most concerned with accessibility and affordability of course materials for students," said Annie Johnson, the publishing and scholarly communications specialist for Temple University Libraries and Temple University Press.
Johnson said North Broad Press has the capacity to take on additional projects and will put out another call for submissions in Spring 2020.
 
Programs like Temple's Textbook Affordability Project are helpful for students like Nicholas Carmack, a junior sociology major looking each semester to make ends meet. He transferred to Temple from Portland Community College in Portland, Oregon, where he had served as president of the honors society and the student body. Carmack's roles enabled him to organize a forum with students to discuss textbook affordability and honor faculty members who had adopted OERs in their courses.
The results of those conversations with students, he said, "were astonishing and saddening."
"Although tuition is the largest line item when budgeting for college, there are many other expenses, and all financial issues are interrelated," said Carmack, a native of Salt Lake City.
 
Understanding these constraints upon their students, Temple faculty have begun adapting the course materials they utilize.
Jacqueline Phillips, an assistant professor of kinesiology, previously asked her students if they had purchased her course's $300 text. Only 10 percent said they had. That's when Phillips sought to implement an existing OER in her class. Along the way, she took note of a student who had been struggling. Phillips learned the student had rented a book from her local library, but it wasn't the exact text her classmates had been using.
This $300 textbook I was asking students to buy had created a barrier to their learning. Now I use an OER that was created by professors at another university. I can customize it, manipulate it, and mold it to my students' needs. I have become an advocate for this in my department."
-- Jacqueline Phillips, assistant professor of kinesiology
"This $300 textbook I was asking students to buy had created a barrier to their learning," Phillips said. "Now I use an OER that was created by professors at another university. I can customize it, manipulate it, and mold it to my students' needs. I have become an advocate for this in my department. I don't think all faculty know these resources are available through Temple Libraries." 
While students employ inventive means of acquiring textbooks, none is ideal, Johnson said. "When students don't have full or even temporary access to the textbook, their grades suffer," she said.
Isabelle Chang, an assistant professor of psychology, recently analyzed the performance of her students in a Fall 2018 section, for which an OER was used as the primary learning material, and a prior section, which had relied upon a traditional textbook.
 
This study compared student performance, engagement and attendance in OER and textbook classes. Results show no differences in final grades between classes. Students in the textbook class had higher page views in Canvas, whereas those in the OER class had higher attendance and no difference in on-time assignment submissions. Attendance was a strong predictor of grades, and the on-time assignment submissions were significantly correlated with grades and attendance for both classes, Chang said. Her study shows a correlation between OER and student academic success. 
 
Chang is unabashed in her support of OERs and Temple's Textbook Affordability Project.
 
"I think every faculty member at the university should adopt them," she said.

—Christopher A. Vito