Posted
September 16, 2019
With Temple Libraries' help, he self-published a book
Tony Ransome, who lives in North Philadelphia not far from Temple's Main Campus, utilized the services at Temple Libraries to self-publish a passion project of his: a book of poetry.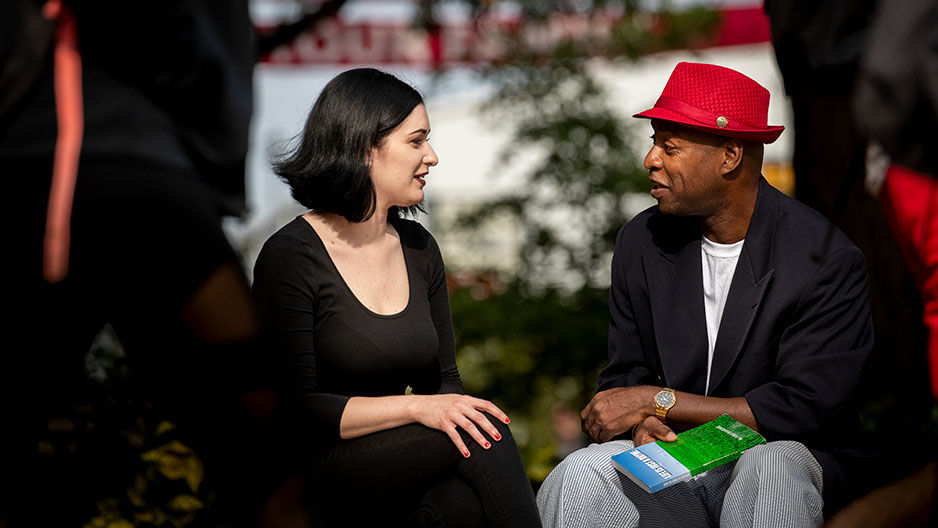 A year ago, Tony Ransome moved from Baltimore to York Street in North Philadelphia. He had visited Philadelphia in the summers of his childhood. But in a city relatively new to him, Mr. Ransome said, his professional work as a paratransit driver occupied most of his waking hours.
 
"I was doing 10- and 11-hour shifts until I broke my foot," the 59-year-old said. "You could almost say the injury was a blessing in disguise because it allowed me to finish a book that was a passion project of mine and personal to my heart."
 
While out of work, he became a regular visitor to Temple's Paley Library. He utilized the library's public-access computer stations and printers, borrowed books and tapped into the staff's collective expertise.
 
This enabled him to self-publish yet another book of poetry, his fourth.
 
Mr. Ransome is one of roughly 1,000 visitors who utilize the community resident privileges at Temple Libraries. Now open to the public in its new space, Temple's transformational Charles Library will offer access to services, resources and exclusive space intended for the community—just as its predecessor did.
 
"My experience at Temple was great, and I enjoyed it very much," Mr. Ransome said. "I am not that computer-savvy. The staff there was amazing. I got to know them all through their shifts. I was there almost every day, from March to May, and it would have been extremely difficult to have finished this book without one person—Emily. I had my whole manuscript in my email and I had it there for seven years before I got locked out of it. Emily saved me. She helped save my book." 
 
Emily Schiller, a bibliographic assistant with Temple Libraries, is the staffer who helped Mr. Ransome. Schiller, CLA '16, is the library system's guest computer program coordinator. While writing his book, he encountered trouble attempting to access documents in his email account. Schiller worked closely with him to recover the documents.
 
Their work paid off: He sold all 200 copies of his poetry book during its first round of printing. Soon, he plans to make the book available on Amazon.
 
"Tony is someone who, once you've met him, you'll never forget him," Schiller said. "He's a very gregarious person with a passionate personality. He knows how to make a meaningful connection, and I enjoyed working with him to find a solution to the problem."
 
In addition to the 1,000 guests in its system, Temple Libraries has about 200 active book-borrowers, according to Schiller. 
 
Temple Libraries also offers community members access to professional development opportunities. Schiller and her colleagues with Temple Libraries collaborate with Temple's Office of Community Relations to offer monthly job-readiness workshops focused on giving members of the community a competitive advantage in the job market. Workshop topics range from resume writing and job search strategy to effective interviewing skills and professional etiquette.
Over the last year, the library system has helped nearly 100 community members with specific job-related queries, Schiller said. Even during the typically slow month like July, especially as Temple Libraries relocated to Charles, Schiller and the staff managed 10 job- or GED-related requests.
 
Community guests can utilize resources like computers and printers at Temple's new Charles Library in a welcoming first-floor space. First-time visitors to Temple are encouraged to visit Charles Library's front desk to begin their registration process, for computer usage or book borrowing privileges—or both.
"Our relationships with community members are very rewarding," Schiller said. "We're always looking to help them and support their many passions and interests."

—Christopher A. Vito