'A World War II kind of effort': Task force produces equipment for Temple University Hospital
Creators and researchers from across the university have joined forces in a collective, cross-disciplinary effort to produce much-needed equipment for Temple University Hospital amid the fight against COVID-19.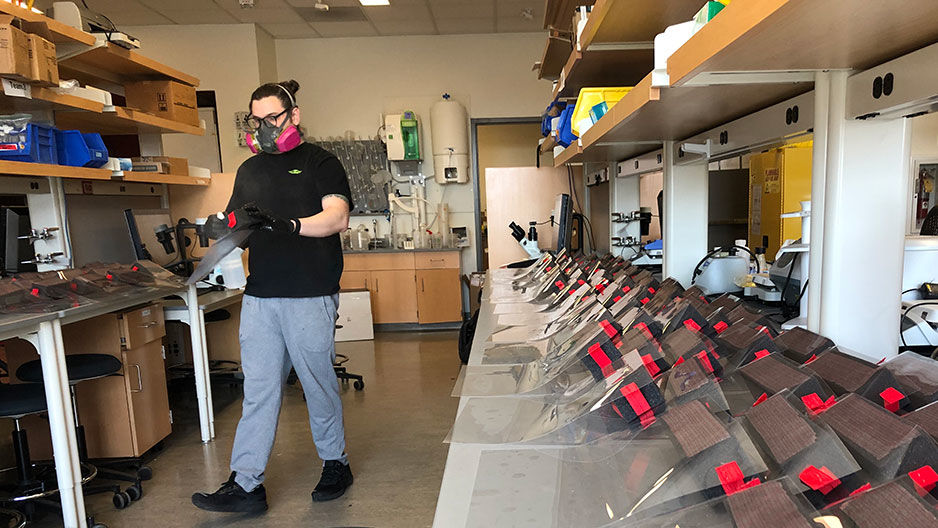 Within days after they heard the call from Temple University Health System and other local hospitals running direly low on the supply of protective equipment amid the COVID-19 pandemic, a group of faculty, staff and students launched a bona fide wartime manufacturing operation to produce more.
The most impressive part? The dozens working in the group now known as the Temple University COVID-19 Assistance Team (TUCAT)—from research operations to architecture, and from 3D printing to basic science—got the operation up and running remotely, at a safe social distance, to avoid further spread of the coronavirus.
"At this point, it's a World War II, all-hands-on-deck kind of effort," said Michael Kala`i, senior director of technology, facilities and operations in the College of Engineering, who is spearheading the effort. "I can't stress enough how much of a partnership across the university this is. You can't build a house with one person."
TUCAT is made up of several dozen Temple faculty members, employees and students whose areas of expertise span from administration and research, to materials fabrication and 3D printing, to healthcare and emergency medical services. Experts from the College of Engineering, College of Science and Technology, Tyler School of Art and Architecture, Temple Libraries, Temple Health and the Office of the Vice President for Research, among other areas, have joined forces in the effort. 
"A big part of the library's mission in general is to connect people. The best thing about the whole nightmare of COVID-19 is that everyone is in the same boat, and everyone is reaching out and coordinating." 
-- David Ross, makerspace manager, Charles Library
Since the group's launch in mid-March, they have produced, procured and delivered more than 1,200 protective face shields and holders for Temple University Hospital, and they anticipate delivering an additional roughly 2,200 shields this week. They continue to work to update and improve the process and materials. 
"The idea was to make it something reusable that could be quickly built in five minutes, tops, and to have it be sterilizable and reusable," explained Tonia Hsieh, an associate professor of biology who specializes in biomechanics and has been leading design and production of some of the face shields.
Some of the shields have been 3D printed in Charles Library's makerspace, which includes a 3D printing "farm" with the ability to print several items at once, said David Ross, the makerspace manager, who's regularly been the only person in the cavernous library space as he oversees printing of materials and molds for face shields.
"A big part of the library's mission in general is to connect people," Ross said. "The best thing about the whole nightmare of COVID-19 is that everyone is in the same boat, and everyone is reaching out and coordinating." 
Bill Wohl, a transplant coordinator for Temple University Hospital who's also served as one of the leaders on the task force due to his experience as a first responder and knowledge of 3D printing and construction, said the 3D printed shields are one of three prototypes the group came up with—it's imperative to have plan Bs and Cs, he said, in case there's a supply-chain disruption.
"We have three versions of the face shields. One is 3D printed, one is foam that's adhesively attached and the other one is made from a mold that we pour liquid plastic into," Wohl explained. "This provides redundancy. Now we've had two other manufacturing processes we've verified." 
Creators from the Tyler School of Art and Architecture have been making use of their skills and equipment to pour liquid plastic into the molds that Ross is 3D printing in Charles Library to create several shields at a time. Jason Fowler, the fabrication facilities coordinator for the Architecture Department, is among several others at Tyler who are heading up the school's role in the effort.
Jason Fowler, the fabrication facilities coordinator for the Architecture Department, is among several others at Tyler who are heading up the school's role in the effort.
"A number of my studio tech colleagues on the art side of Tyler, combined with the speed of the casting process, will produce high volumes of the product for the hospital," Fowler said.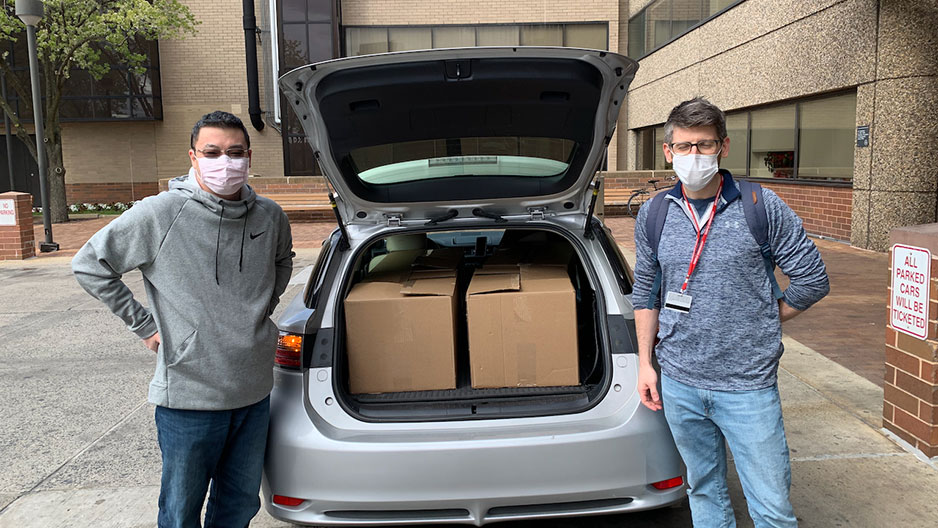 Task force members deliver face shields to Temple University Hospital. (PHOTO: Michael Kala`i)
Looking to the future
But the team's tireless work doesn't stop at faceshields.
Kala`i said they're planning to prototype and eventually produce a number of other important supplies for the hospital, including: 
National Institutes of Health (NIH)-approved respirator masks, likely made of flexible plastic material; 
replacement ventilator parts (which they plan to prototype and manufacture and procure through vendors if possible); 
devices that can bring the ability to control ventilators outside of patient rooms, to reduce the number of times that nurses and other medical staff need to enter patient rooms, cutting down on personal protective equipment (PPE) use and risk to healthcare workers;
simple ventilators ("Something that pinches and opens the [oxygen] bag at a measured pace," Kala`i explained); and
general medical supply/equipment repair and replacement parts, such as knobs, brackets and chassis. 
Looking ahead, the team plans to share their manufacturing plans with other institutions so that others with 3D printing and manufacturing capabilities can produce supplies with materials they have on hand. "A few weeks from now, I hope to have a citywide collaboration. Not only will bringing in other people help to scale our workforce, but there are more institutions in need of our assistance," Wohl said. "Our goal is to contribute to the entire community."
Perhaps most impressive about the undertaking, Wohl pointed out, is that it's all been done remotely, at a distance, and, when necessary, while wearing PPE.
"This would be easy if there wasn't a pandemic," Wohl said. "If we had to make 20,000 face shields, normally we could do it in a day, but instead we have this humongous extra challenge that we have to isolate and separate people, so this large-scale manufacturing is happening at multiple different locations. Over a weekend, we had volunteers construct more than 250 face shields in their own homes." 
A fight close to home
For many on the task force, the fight against COVID-19 is personal.
"My sister works at a hospital in New York City, so when it exploded there, I was feeling helpless. Here I was in the midst of this enormous outbreak with all this training behind me and all this intellectual power, feeling totally helpless," Hsieh said. "She said they needed N95 masks and ventilators … and I thought, 'I can't get you a ventilator, but I know enough about building things and engineering things that I can probably build something [similar to] an N95.'"
For Wohl, experience working as a paramedic and now with organ transplants has given him an inside look at not only how integral PPE is to healthcare workers staying safe on the job, but also how difficult it can be to work while wearing the equipment. His firsthand knowledge has helped to inform the design and functionality of the equipment the group is manufacturing.
For his part, Fowler said this project is one of the most meaningful of his career. 
"Everything impresses me about this project: the students' knowledge, ability, their problem-solving abilities; the upper level leads like Mike Kala`i and Bill Wohl, who are steering this project; and the rest of us who are working equally hard and selflessly to do something that is really good," Fowler said. "I've worked on some large projects in the past as a production artist, some on a national level, but this is easily the most meaningful because of the purpose it serves, to just help keep people safe so they can provide the care so desperately needed."
Hsieh and others echoed the sentiment.
"It really emphasizes the talent, dedication and passion we have at Temple, which we should all be very proud of. I've been floored by the dedication, creativity and sheer hard work people have been putting into this," Hsieh said. "It's miraculous to see it come together, and I feel honored to be a part of this experience."
MEDIA CONTACT:
Eric Horvath
eric.horvath@temple.edu
267-340-7377