Temple's Health and Safety Plan: 8 things you need to know
As the fall semester approaches, learn more about what measures the university is taking to create a safe work and study environment.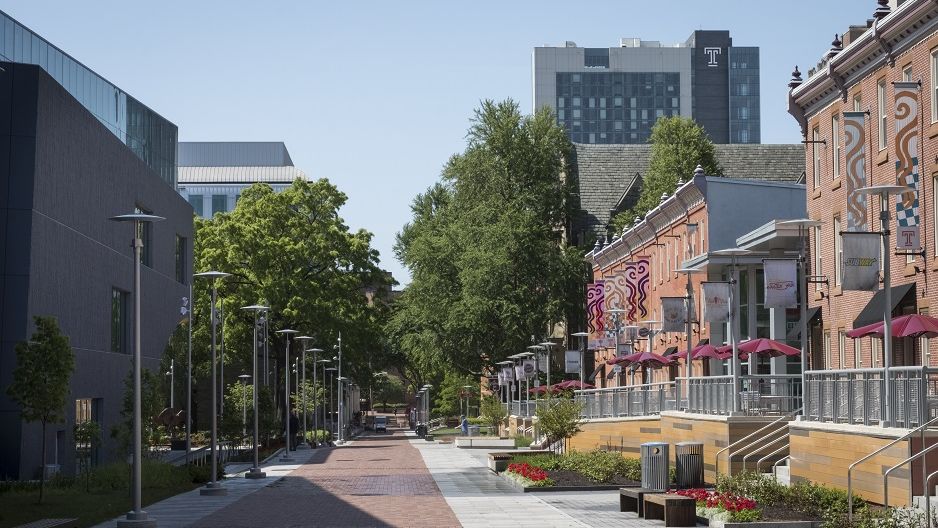 Wash your hands. Wear a mask. Physically distance yourself. Monitor your health. These must-dos might already be stuck in your head. And unlike a bad song, that's a good thing. 
But, what else? Keeping our community safe and healthy requires other actions to be taken—from the university and from our students, faculty, staff and neighbors. 
Temple's Health and Safety Plan outlines how we're approaching the return to campus and what measures we're implementing to provide a safe environment for working, learning and living. And what you can do to make sure you are protecting yourself and others. 
The return to campus is phased and explores a few different scenarios for what to expect. 
There are five phases leading up to the start of the fall semester. We're currently in phase three, which started on June 23 when Summer II began and will last through July 31. During phase three there's a small population on campus and risk mitigation measures are being tested. Next, in phase four starting on Aug. 1, students will start returning to off-campus housing and the on-campus COVID-19 Testing and Treatment Center will open. Phase five kicks off when the fall semester starts on Aug. 24 and the return will continue to be guided by the Pennsylvania Gov. Tom Wolf and public health conditions. 
The scenarios being explored are unlikely to be perfect matches. What's more realistic is a Temple experience that incorporates measures from multiple scenarios. 
Reasonably normal (in-person classes, no large gatherings, NCAA sports, etc.) 
Restricted semester (some in-person classes, no sport and recreation, low density housing, NCAA sports with restrictions, etc.) 
Essential only (in-personal classes and housing heavily restricted, take out meals only, No NCAA sports, etc.) 
Comprehensive remote (essential employees only, emergency housing, research prioritization, etc.) 
What you can do: If you're an employee, be sure to have clear communication with your supervisor so you know what to expect, because work spaces must be prepared and physical distance must be maintained during the course of a work day. Safe resumption of on-campus operations will also result in a need to amend staffing schedules or academic instruction protocols accordingly. If you're a student, be sure to frequently check TUportal and your Temple email for the most recent information. 
There are four healthy behaviors that we all need to be following to keep each other safe. 
Use a facial covering.  (Cloth, reusable facial coverings, whether they are handmade or manufactured are sufficient. Coverings with a vent, handkerchiefs and gaiters are not considered acceptable.)
Wash your hands. 
Practice physical distancing. 
Monitor your health.



Video Production:

Gina Poulos
What you can do: Always practice the above, encourage your peers to do the same and know what your resources are, such as where to pick up a mask if you forgot one or where to find some hand sanitizer (in the lobby of every building). If you're ill, stay home and let either Student or Employee Health Services know. This will help with tracing efforts. 
There will be a COVID-19 Testing and Treatment facility on campus and a Contact Tracing Unit. 
The new testing center will be located in a storefront along Cecil B. Moore Avenue on the street level of Morgan Hall and will have its own capabilities to run tests for SARS-CoV-2, the virus that causes COVID-19, on location. The site will be able to run up to 400 tests per week to start, with rapid results available in as little as 15 minutes. Visits will be by appointment only, and pre-screening will be conducted via telemedicine.
The in-house contact-tracing team will be established to work hand-in-hand with the Philadelphia Department of Public Health to identify close contacts of cases and ensure they are tested for the virus and follow proper quarantine protocols. Plans for isolation and quarantine spaces on campus are currently in development.
What you can do: Get tested. The rapid testing will be prioritized for students, faculty and staff who are symptomatic with COVID-19 and their close contacts. Student and Employee Health Services will also be conducting regular screening and testing of high-risk populations in the Temple community, including those who work in clinical settings, those who work with the public regularly, and student-athletes.
Directional signs, physical distancing barriers, touchless features, enhanced ventilation and more will be implemented across campus. 
Expect to see floor decals to guide a safe flow of foot traffic, water fountains only having the bottle refill option and plexiglass shields at security desks to enhance building safety. Read more about what measures we're taking in regard to building safety. 
What you can do: Follow all directional signage you encounter and take advantage of the hand sanitizer that will be abundantly available in every building. 


High-risk or vulnerable individuals can seek reasonable accommodations for remote work or study. 
Students who may not be able to come to campus because they meet high-risk criteria will be provided with alternative arrangements to allow them to continue with their academic program, and staff and faculty can be provided with reasonable accommodations as much as possible to ensure student services are still able to be provided. 
What you can do: Staff or faculty who have been advised by a physician to avoid on-site work and who wish to seek reasonable accommodations related to returning to the workplace should
contact their supervisor and HR representative as soon as possible at 215-926-2298. Students who have a physical or mental health condition that supports the need for reasonable accommodations should contact Temple's Office of Disability Resources and Services for assistance at drs@temple.edu or 215-204-1280.

There is a standardized attendance policy for across the university which accommodates students who are sick or are required to isolate during the semester. 
If you're a student exhibiting COVID-19 symptoms or have been in close contact with others who have symptoms and are engaging in self-quarantine at the direction of the Health
Department or your healthcare professional, you should not attend in-person classes and will not be penalized for absences. If you are able, you may attend remote courses, but if you miss classes or activities, you will not be required to provide formal documentation from a healthcare provider.
Faculty will be required to record attendance for each in-person or synchronous class using an online attendance system. This is to facilitate contact tracing if a student or instructor tests positive for COVID-19.
What you can do: If you're a student and cannot attend an in-person class or course activity, or are unable to participate in an online class or course activity, you should notify your instructor in advance and call Student Health Services at 215-204-7500.

University services, programs and events will be offered both virtually and in person as health guidelines allow. 
Temple is embracing innovative strategies to adapt engagement efforts to accommodate small group and virtual experiences. Campus recreation and other fitness facilities will implement a staged open, dependent upon the guidelines and directives from local and state government.
What you can do: Connect with student organizations and departments around campus on social media to keep up with events and check the Campus Recreation website for more information.
This plan is evolving and will be in place for the foreseeable future. 
Until it's determined by university leadership that COVID-19 is no longer a risk to our community, we'll be following some iteration of this plan. We say some because plans need to be fluid to account for how quickly changes happen with the spread of the virus. Adaptability is the name of the game. For example, if there's a local outbreak, we may need to return to tighter restrictions. 
What you can do: Be flexible and stay up-to-date with the most recent information by frequently checking the COVID-19 tab on TUportal and reading all emails from university leadership. 

This is a collection of select takeaways—read the full Health and Safety Plan to learn more.