Reimagining the role of police in society through research
Ajima Olaghere, assistant professor of criminal justice, discusses policing, its significance in our current climate and how we can drive meaningful change.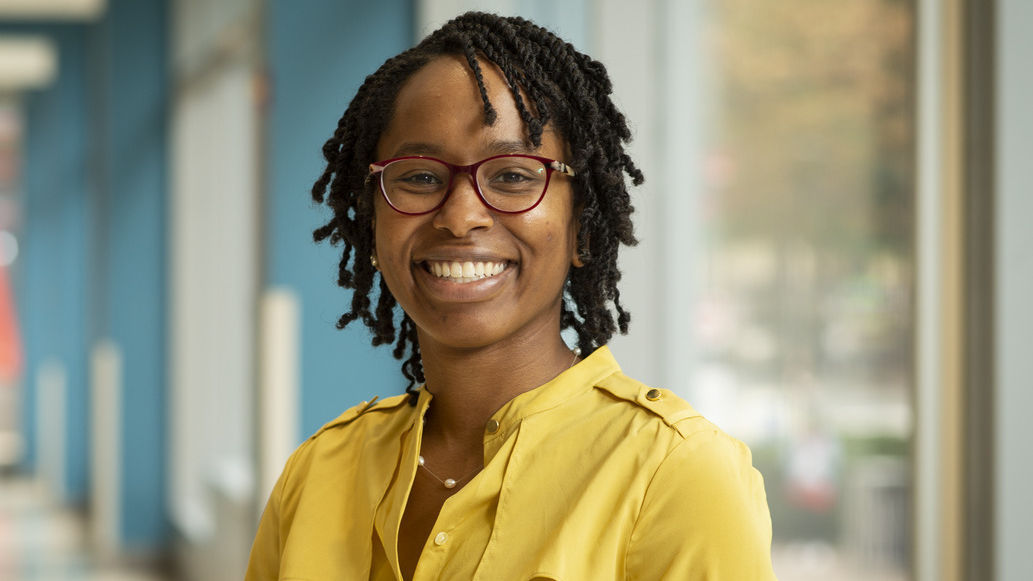 Ajima Olaghere's scholarship doesn't just stay within the confines of the college classroom or on the pages of an academic journal. For the assistant professor of criminal justice whose current research focuses on policing and communities, it's all about building relationships and understanding others. 
"Working outside of my own scholarship to literally translate the work and build relationships is the hallmark of how I work as an academic," said Olaghere. "I try to translate my work in three ways: involve members of the community in the work from the beginning, adopt their problems as my own and attempt to provide insights through the practice of research."
At a time when policing has come under intense scrutiny, Olaghere talked with Temple Now about how we can rethink the role of police in our society.
Temple Now: What are the implications of your scholarship on policing in the current climate?
Ajima Olaghere: I think the most relevant scholarship I will talk about is my interest in policing and communities. 
We have this default practice where police are often providing solutions for communities, instead of with them and so people feel over-policed, people feel under-policed, people feel like the police are not doing what they should be doing to protect the community. My work is about trying to bring the community into the larger conversation about their public safety and their life outcomes. This involves using research models such as community-based participatory action research, whereby members of the community are involved in all aspects of a project. As an academic researcher who reads policing scholarship and cares about the community, I strive to bridge the information gap, and include the voice of the community and, in turn, share what research evidence indicates about public safety. The hope is that through this mutual exchange of information and including people in the endeavors of research, we achieve a more inclusive conversation about public safety and achieving productive life outcomes.
Another aspect of my research as it concerns the current climate with policing is really trying to understand and get inside the black box of policing and an officer's mind. What are the contextual, the professional and the unspoken realities that drive their decision-making? It's an effort to step aside from the images and stories of police brutality, the human and civil rights violations that we see and just begin to seek to understand why. Research on this question is currently in progress. I hope to share and translate findings by the end of the academic year.
TN: Where do you stand on abolishing the police vs. defunding the police? 
AO: This is a crucial time where we have to actively talk about transforming our institutions and our structures, if not for us right now, then for future generations. 
It's so easy just to get into the semantics of it, but the current movement and discussions on reimagining the police is really just talking about, in my opinion, that structural change, that essential reform. These institutions no longer work, so how do you fundamentally change them or turn them into something different? And I think abolitionists are calling for, in the case of policing, reduced dependency on and liberation from police because right now police are the gatekeepers to the criminal justice system as a whole—a system that is predicated on, and that imposes, retribution and deprivation.
We have a chronic problem in our criminal justice policies, practices, and thus, a system that disproportionately impacts and incarcerates Black, Latinx, Asian, Indigenous, Queer, and Trans members of our society, as well as our youth, those who are poor and mentally ill, and our undereducated. We should have other institutions taking a larger and more proactive role in ensuring that we don't let people fall through the cracks. And so, I think when you talk about abolition and defunding, it's about course correction. What is the thoughtful approach and how do we course correct? How are we going to reconstruct, particularly for individuals who are going to be impacted, by course correction? How do we then think about reintegrating them or shifting how they will work in a new reality?
TN: Do you feel this time in our country's history is any different than other movements to defend and protect Black lives?
AO: For me this time isn't different. We're still operating within the same structure in which we're not growing the pie nor shifting cultural practices; we're just carving it up in ways that give the impression this time is different. I still exist and work in a world where people feel empowered to call me the N-word, where people still relate to me through stereotypes, where race is the main construct that we use to relate to each other. 
The protests, the civil unrest, the outcries—these activities are fundamental to this country to people who are oppressed as humans. They're always going to raise their voices, they're always going to be our conscience in that regard. They're doing what they should do, but the fact that they're still talking about the same things, it means that we haven't sufficiently done the job of course correction.
And so, I think things will be different when we abolish racism, to borrow from the language of abolitionists, where we completely dismantle the system that was designed to divide and conquer people. I think we're still divided.
TN: How can we begin to reimagine the police and at the same time ensure safety for all of our communities?
AO: In terms of reducing our dependence on police and the broader criminal justice system, a lot of the work is already done. There are mental models and programs available that have been evaluated and researched over time.
It's really a concerted effort to get to a more inclusive approach of emergency response and using police. Pinpoint the pain points that give rise to the issues we're talking about and then make adjustments. But in a way that we're not setting ourselves up for failure in 15, 20 years time, where we've done something to one institution and we have created a problem somewhere else. 
We've crossed the threshold where policing is no longer an appropriate sole practice or institution and our use of and reliance on it needs to be completely revamped. Those of us working within and outside the system to reform and improve practices can bring together theory and vision with research evidence and creative ideas on how to do that.
TN: What can students and the larger Temple community do to harness this time and help advocate for real change?
AO: I think Temple students, as they come back, particularly this fall, need to come to campus and spend their entire Temple career with an open mind and engaging with the community. We're in North Philadelphia, which is a predominantly Black neighborhood heavily impacted by institutional neglect and racial bias. To be this close to a community that, in some sense, is the archetype of what we envision when we think and talk about activating social justice reform, is perhaps a once in a lifetime opportunity for some students, or the beginning of a journey.
I tell my students, just introduce yourself to your neighbor and build a relationship and learn. Reduce the anonymity, engage that discomfort and try your best. It doesn't require an investment of money. It just requires support and mentoring. 
As educators we can incorporate that challenge into our coursework and for several of us that might be easier than for others. In my classes I like to send students out in the field. I try to set them up with a frame, a mental model of how they should approach the world. Listen, but not in a judgmental way. Be vulnerable about your own biases, grapple with those biases to get over them, to abolish them, if you will.
It's just building relationships in the same way that you build a relationship with your best friend. What is that like? Go back to that point.