COVID-19 can't stop Temple Police holiday events for neighborhood kids
Campus Safety Services officers continue their annual tradition of giveaways to "support and elevate local families" for Halloween, Thanksgiving, Christmas and December holidays.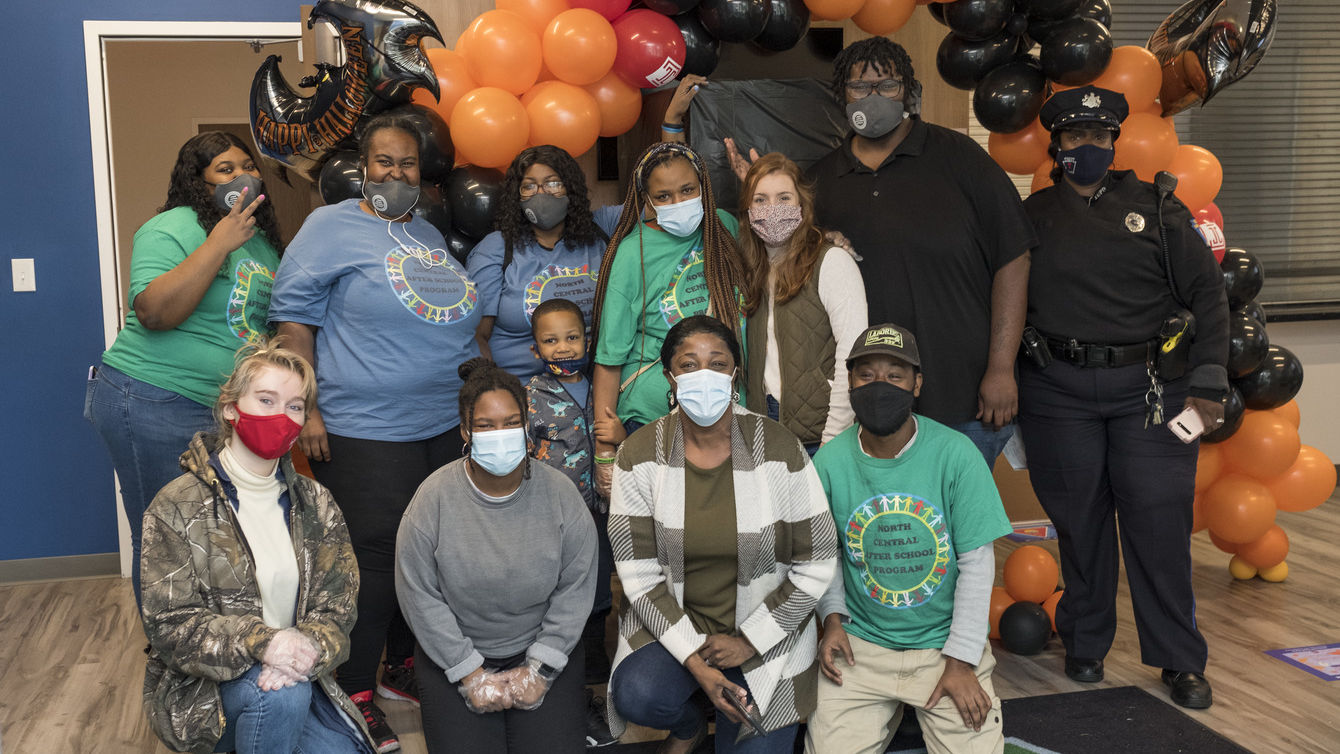 The COVID-19 pandemic has disrupted the rhythm of daily life for many families in North Philadelphia: classrooms have been closed, stores have been shuttered, and jobs have been lost. But Temple Campus Safety Services officers are working to ensure that some annual neighborhood traditions can continue this fall and winter—with accommodations for health and safety. 
Officers in Campus Safety are well-known for bringing holiday cheer to a generation of local children and families. For more than a decade, they've brought candy to kids at community centers and churches for Halloween. They've delivered baskets with Thanksgiving meals to families in North Philadelphia for 15-plus years. And every December for more than a quarter century, they've invited hundreds of families to a campus holiday party where kids receive toys.
"It's important for us to be connected to the community, and one of the best ways to do that is to work with children," said Charles Leone, executive director of Campus Safety. "We always want to be a good neighbor, and part of that means supporting and elevating local families."
This year, however, the specter of COVID-19 threatened to put a temporary halt to the group's annual holiday traditions. Temple's police officers, led by long-time community liaison Eileen Bradley, refused to let that happen.
"This has been a difficult time for our neighbors," said Bradley, the retired captain of special services who returned as project coordinator in 2012 after serving on Temple's force for 40 years. "Because there's more of a need, it's more important than ever that we step up and help, and children are the most important. We want to show families that we're still here." 
Bradley and her fellow officers worked with Temple Director of Community Affairs Andrea D. Swan to develop holiday events that helped neighborhood families in need (identified by local churches, community leaders and Swan), making adjustments to keep all participants safe and healthy.
The fun started in late October, when officers delivered bags of candy to local children at North Philadelphia community landmarks as part of a two-day Halloween Trail event. After taking bags to St. Malachy Catholic School, Tree House Books, Penrose Recreation Center, the Columbia North YMCA, and the 8th and Diamond Playground, the trail ended at Norris Homes, where children in costumes picked up their candy bags while officers watched from a safe distance.
For Thanksgiving, Campus Safety officers and staff from the Office of Community Relations will be purchasing and packaging 120 baskets with a complete holiday meal—a turkey, bread, vegetables, stuffing, cranberry sauce, cake, pie and more—on Nov. 23 and then delivering them directly to the doors of families, focusing on the neighborhoods closest to the officers' patrol zones.
Instead of their traditional big party in December, Campus Safety will be delivering hundreds of toys and treats by van to St. Malachy Catholic School, Norris Homes, the Columbia North YMCA, the Woodstock Family Center and other community institutions starting on Nov. 20 and continuing throughout the month. The holiday presents will then be distributed by the community organizations to the families they serve for Christmas and the December holidays.
Putting smiles on children's faces is part of Campus Safety's greater mission, says Leone.
 "Our officers believe in a holistic approach to law enforcement," he said. "The connections, the good feelings and the trust that we build at these holiday events are all part of that."
—Hillel Hoffmann