A different kind of diamond
Nasir Pittman becomes the first male member of the Diamond Gems Dance Team.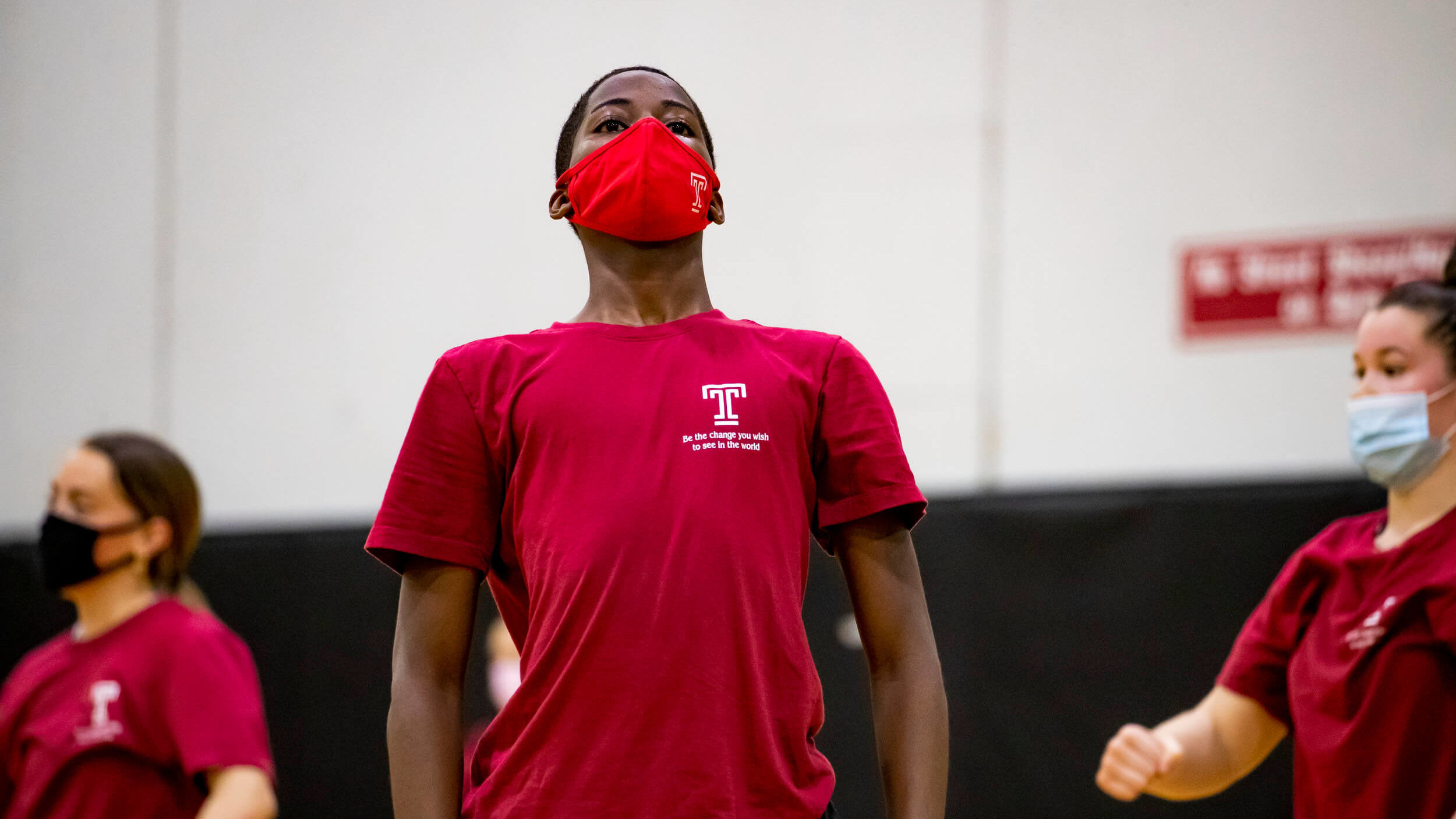 A longstanding Temple dance team has made a historic change to its roster. Nasir Pittman, Class of 2024, became the first male member of the Diamond Gems Dance Team this fall semester.
A North Philadelphia native, Pittman did not originally anticipate attending Temple. The once-certain high school senior had it all mapped out: he would attend a small university with just about 2,000 (all male) students in Atlanta, Georgia, and join the dance team there. For Pittman, however, things did not exactly go according to plan when he was denied admission to his dream program and had to figure out an alternative.
Pittman performed for three days a week while in-person practices were allowed for the Diamond Gems Dance Team. (Photo by Ryan S. Brandenberg)
"I never thought going to a coed school would be fun. But once Temple emailed me that I got in, I just dumped everything else," he said. As for his previous dream? "I shed a few tears, but it wasn't meant for me to go obviously," Pittman shared. He committed to Temple the same day he received his acceptance. "I'm really grateful that I found the Diamond Gems (Dance Team)."
Pittman had a friend on the Diamond Gems Dance Team who convinced him to audition, and he immediately made the team. He is now proud to be the first male Diamond Gem and to unapologetically do what he loves, because challenging the status quo is in his DNA.
"Nasir fits in so naturally with our team culture and is an extremely hard worker," Diamond Gems Dance Team Coach Jennifer Keller shared. "I couldn't have asked for a better experience welcoming the first male Diamond Gem into our dance family, and I hope this will encourage other talented male dancers to consider auditioning for the team."
After conducting virtual practices for the first several months of the semester, the Diamond Gems were given the green light to resume in-person practice in the beginning of October. 
"The dance team is like a sisterhood. We all love each other but work really hard—we dance three hours Monday through Wednesday," he said.
Despite his first semester of college being entirely online, Pittman remains optimistic for the future. For him, his experience is still rewarding and he believes his professors are good at keeping students engaged in a virtual space. Outside of class and dance practice, Nasir is serious about building an online presence as an influencer.
Even though he lives off campus, Pittman finds himself on campus frequently for dance practice and study sessions. (Photo by Ryan S. Brandenberg)
Although he just started college two months ago, Pittman is already thinking beyond his time at Temple with a future plan to open his own business, while still focusing on the present. 
"Before I own a business, I want to be an influencer," he said. "I have a love for influencing others in my generation, people of color and the LGBTQ community. And with that drive, I'll give the best story that you need or want."
Pittman's business plan perfectly ties in with his passion for dance, as he hopes to launch a dancewear line inclusive of all races (especially the Black community), offering items such as leotards, dance shoes, tights and more. 
"I've noticed that coming across dancewear for us is really hard to find," he explained. "We would have to use makeup—foundation our color—to blend it in. I want to open a dancewear brand with a wider color palette so we don't have to go the extra mile to fit in."
Socially, Pittman continues to forge new connections and friendships both online and in person in the Temple community.
"I find out I make a new friend every day," he joked, before turning more serious. "I feel wanted here at Temple. So that's all I ever asked for—to feel safe in a space that I love and feel wanted. So I love it here."
Check out Nasir's Instagram takeover by tapping through the highlights on our stories and see more of his experience.